Review of The Nokia 2330 classic design
Introduction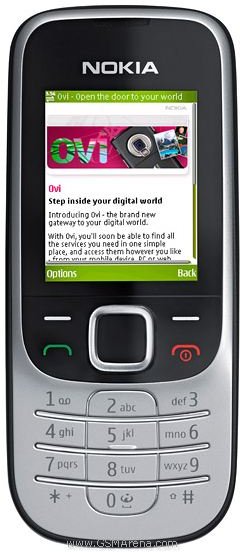 Released in June 2009, the Nokia 2330 is a member of the Nokia S40 line of phones. This candy bar phone from Nokia comes in as an entry level phone clearly targeting the fun loving low end user. This is a phone that is clearly functional and fairly basic, it doesn't try to push it to the limits.
The Nokia 2330 is compact phone and has a modern look with the design focusing on rounded edges and curvy panels. The phone is small enough to tuck away and packs some features you would not really expect to see in a phone at this price range.
Design (4 out of 5)
The Nokia 2330 is available in a Black and Deep Red color scheme. It comes with a 1.8 inch color screen with 65K colors. Not such a good contrast from that screen when viewing photos. The resolution of the screen is 128 x 160 pixels. Again, not much to go on. Below the screen the phone has two soft key button for call and and end call operations. In the center the Nokia 2330 has got the Nokia signature five way scroll key button also known as the D-pad.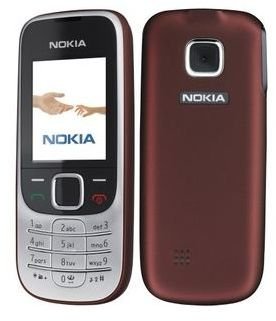 Below the screen and the softkey button panel is the number pad. You will not expect to see a full QWERTY keyboard on this phone. Above the screen is the ear piece which you can use for voice calls. The phone also includes a speaker phone.
The back of the Nokia 2330 has a single camera with a resolution of 640x480 pixels. Again this is quite low on the picture quality. Below the camera is the housing for the battery and the SIM card slot is tucked underneath as well. The sides of the Nokia 2330 are pretty bare. So other than the slot that houses the headphones jack socket and the charging port there is nothing more to see as far as hardware goes.
This phone weighs in at 80g with dimensions standing at 107 x 46 x 13.8 mm. The Nokia 2330 is quite small and compact and extremely light.
Generally speaking, even though this phone has the classic Nokia look and feel, it sure is a sleek looking phone.
User Interface (3 out of 5)
The Nokia 2330 comes with a low level grid that shows the applications all in a single pane this pane can be accessed by pressing the center D-pad button. It has the standard series 40 icon set and navigation that is all so familiar wth Nokia phones. All applications and settings are available form this pane which can be navigated by using the scroll keys on the D-pad.
Choosing an app will automatically load the app while choosing an administrative function will open a list view with further options to act on, depending on what administrative function you clicked on. This is true whether you are accessing emails, text messages, opening the web browser and basically any other phone functions. There is not much going on as far as the user interface goes as this phone has been kept as simple as possible.
Features (3 out of 5)
Depending on how you look at the Nokia 2330, what you will realize is that it does come with some features that you would not expect out of this phone. This does not go to say that the Nokia 2330 classic has every possible feature squeezed into it, it simply means the Nokia 2330 offers a pretty decent array of functionality to counterbalance the shortcomings.
For starters, the phone is limited in the capacity at which it can store both contacts or messages. The phone limits these capabilities to 1000 contact entries, 20 entries as far as missed and received calls go. That is quite good considering the phone has only 32MB internal memory and no external storage so with this phone memory preservation is everything.
Other than Bluetooth, the Nokia 2330 does not offer any great means of data transfer that you would find in most modern phones today. Internet access is restricted to GPRS at 32 - 48 kbps and EDGE on the WAP 2.0/xHTML browser. Probably not what you would want for serious Internet accessibility even though this phone functions as a data modem as well.
There is a stereo FM radio on this phone and it supports audio media playing in MP3 or AAC formats. The Nokia 2330 is capable of playing video in H.263 format.
There is a basic organizer that you can use on the Nokia 2330 phone to manage your events and memos.
That is it as far as features go. As you can see that phone is pretty limited but it does have features you wouldn't expect, this phone with apparently so little going for it, is able to store contacts with images, play videos, play FM radio and play audio files. Even though I highly suspect that the audio is intended to be restricted to ringtones.
The Nokia 2330 is also impressive in that it has voice memo recording. It also comes with Opera browser. Nokia has managed to squeeze the essentials into the Nokia 2330 and they've done a good job considering the budget nature of this handset.
Performance (3 out of 5)
With the limited resources that the Nokia 2330 has you would be excused for thinking that this phone doesn't stand out. Amazingly this phone has outstanding performance. The sound quality on playback on the hands free speaker is amazing. The reception of the FM radio is quite awesome. Mobile phones have really been challenged when it comes to receiving static free radio broadcast and I can say that the Nokia 2330 is remarkable.
The call quality for both ends of the call is great. I had no trouble being heard and the same goes for me hearing the person on the other end of the phone.
One thing I did not like about this phone is the limited performance while surfing the Internet. I can say that this phone is certainly far from being the best when it comes to speed of Internet access.
The performance of the camera leaves a lot to be desired as well. It has grainy pictures and the screen size does not make the situation any better. Maybe Nokia should scrap any screen smaller than 240 x 320 pixels. The keypad feels easy and comfortable to use for calls as well as text messaging.
The phone could surely do with a performance boost especially in the area of memory as 32MB is certainly no good when it comes to listening to music or playing videos. Though I would not think of using this phone to watch video.
Verdict (3 out of 5)
It is in no doubt that the Nokia 2330 is meant for the low end of the market. For about $65 you cannot ask for much from this phone. I must say at that price range this surely is quite a functional phone. As much as I would like to, I would not recommend this phone to any serious mobile phone user other than those strictly interested in making and receiving voice calls with an occasional text message. On the other hand, I do think this is a great first phone for little kids.