Introduction
The Nokia N73 is a vast improvement over its predecessor the N70 and considered to be one of the greatest inventions of its time. The N73 takes better pics, has better speakers, is faster and it looks good. Flaunting functionality and astounding camera results the Nokia N73 features executive class that simply entwines you around its beautifully designed body.
Design (5 out of 5)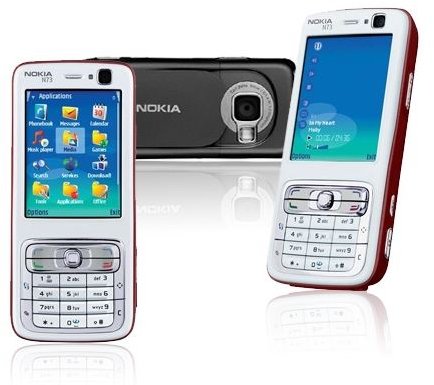 A beautifully shaped mobile the N73 boats a vivid, six cm, 262 K color display. Available in three colors namely frost white / mocha brown, frost white / metallic red and silver grey / deep plum, the Nokia N73 is a big phone measuring 110 mm x 49mm x 19mm but compared to these dimensions the weight of this magnificent phone is an acceptable 116 gm's. Considering Nokia's emphasis on the photography aspect, the camera is situated at the back of the Nokia N73 and can be activated by simply sliding the lens cover. A short cut that will take you directly to the image gallery is provided on the side of the N73 allowing you quick access in case you want to show your skills to your friends. A large-sized display screen is one of its most obvious features but it is definitely not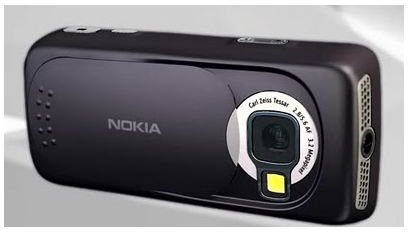 something you would want to store in your shirt pocket.
Image Credit: www.phonedog.com
User Interface (5 out of 5)
Provided at the bottom of the Nokia N73 is a miniSD slot but since it has been placed quite securely, it becomes difficult to pull it out especially for people with short finger nails. Another negative aspect of the Nokia N73 is its keypad which seems to be choking on itself as there are eight short cut keys allocated around the numerical buttons. Maneuvering the N73 can be slightly tricky as the joy stick present beneath the screen is very small. The camera button needs a firm press in order to take pictures but to think about it that can be a positive trait as the phone will not be taking any pictures on its own, but then again it can become quite annoying when there is a need to capture a passing moment. The light sensor incorporated in the Nokia N73 has a mind of its own and is quite unpredictable. The call quality of the phone can be rated as above average as there are no traces of dropped calls
Features (5 out of 5)
Showcasing a resolution of 3.2 mega pixels, the Nokia N73 can now assist you in taking print outs of your favorite moments which are less grainy and suit your needs. The Red Eye reduction capabilities have also been installed in the N73 but when it comes to the flash, the creators at Nokia could have opted for a better model. Videos can be easily recorded on the N73 and come with the option of saving them in MP4 or 3GPP format. The Nokia N73 permits the use of MMS, email, printing or transferring pictures or videos through Bluetooth.
The music options of the N73 allow you to play AAC, MP3 and WMA tracks and the FM Radio becomes truly efficient once the stereo headsets are plugged in. Productivity applications include note taker, e-mail (IMAP4 and POP3), unit converter, PDF viewer and voice recorder. If that wasn't enough to satisfy your mobile needs quick office can assist you in editing your Word, Excel and Power Point documents. 3G technology is also present in the Nokia N73 but there is no WLAN support which is a disappointment for most Nokia aficionados. The web browser is so far the best one offered on a mobile phone.
Performance (5 out of 5)
The battery life of the N73 can be deemed quite exceptional and reaches almost a week during with minimal use of the phone but if you were to use any of the Bluetooth or multimedia options you might find yourself charging the device after 3 to 4 days. The images obtained from the Nokia N73 are slightly sharper and certainly more vibrant than previous models, though there were some glitches here and there but nothing that can't be overlooked. In a nutshell the Nokia N73 is a great buy but if you want to take pictures that are out of this world simply practice in day light with the N73 and you will not be disappointed.
The Verdict (5 out of 5)
All in all the Nokia N73 is a winner, an admirable phone it is a much better version of its former self, the N70. It is faster, trendier, has great sound qualities and provides better pictures. Asking for more would mean that you are simply greedy.
-- Have you got a Nokia N73? What features do you use most, which network have you got your N73 running on, how do you feel when it's in your hand and how would you rate the phone, any good's or bad's? Let us know by leaving a comment below!