Nokia C5 Review - Design, Display and Hardware
Introduction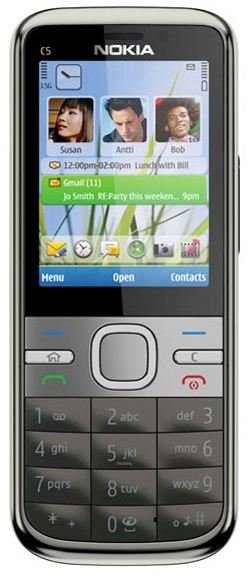 The Nokia C5 is a new low budget Symbian powered smartphone by Nokia. It offers almost all the basic features you would expect in a smartphone with the exception of Wi-Fi. It has nice hardware specifications and is one of the cheapest smartphones money can buy. When it comes to price, no one can beat Nokia in any category.
Nokia C5 Specifications
Dimensions: 112 x 46 x 12.3 mm
Weight: 89.3 gms
Display: 2.2 inch TFT display, 240 x 320 pixels, 16 M colors
Processor: ARM 11 600 MHz
RAM: 128 MB RAM
Memory: 50 MB internal, 2 GB microSD card
Connectivity: GPRS, EDGE, 3G HSDPA, Bluetooth 2.0 with A2DP, MicroUSB 2.0
OS: Symbian OS v9.3
Camera: 3.15 MP camera, 2048 x 1536 pixels, LED flash
Radio: Stereo FM Radio with RDS
GPS: GPS with A-GPS and Ovi Maps 3.0
Battery: Standard Li-ion battery, 1050 mAh
Design (2 out of 5)
Design and Display
The Nokia C5 is a very compact smartphone - it has dimensions of 112 x 46 x 12.3 mm and weighs about 90 grams. It has a simple design and excellent build quality. The 2.2 inch display covers most of the front face along with the keypad. Below the display lies the D Pad and the soft keys - Left and Right select, Menu, Clear, Call and End. Above the display is the secondary camera. The right side has the volume rocker and the microSD slot while the top sports the microUSB port, the 3.5 mm audio jack and the charger slot. The back houses the 3.15 MP camera with the LED flash and the battery cover.
The 2.2 inch TFT display has a resolution of 240 x 320 pixels and supports up to 16 M colors - the standard in Symbian smartphones. The display quality is good but cannot compare with the excellent AMOLED displays Samsung offers in its high end Android phones. However, considering the price, the C5's display is pretty good. Even the sunlight legibility is great.
User Interface (3 out of 5)
The Nokia C5 runs on Symbian OS v9.3 and comes with Feature Pack 2. The UI is exactly the same as in almost all Nokia smartphones - fast, intuitive and very easy to use. It sports an improved Active Standby screen which allows you to access contacts, email, calendar entries and add shortcuts to applications. The C5 has a 600 MHz ARM 11 processor with 128 MB RAM and 50 MB of internal memory. It also has comes with a 2 GB micro SD card and supports up to 16 GB. It also comes with the Ovi Store, Nokia's answer to the iPhone App Store and Android Market, which you can use to download, buy and install applications.
Multimedia Features (3 out of 5)
The Nokia C5 is quite good when it comes to multimedia capabilities. The default video player can handle 3GP and MP4 videos. However, as it is a Symbian smartphone, you can install applications like Core Player, Smartmovie and play almost all popular video formats on your phone. The small 2.2 inch screen isn't very good for watching movies though. It has excellent sound quality and performs extremely well as an audio player. It can easily double up as a PMP. It also comes with a 3.5 mm headphone jack so you can plug in your favorite earphones. It has a nice music player app which can handle MP3, WAV, eAAC+, WMA files directly. It also comes with an FM Radio with RDS. The image gallery is also pretty good and allows you to view all the images on the phone and zoom into them.
It comes with a 3.15 MP camera without autofocus which can capture images at a maximum resolution of 2048 x 1536 pixels. It also has a small LED flash which helps with night time shots. The camera quality is decent and should work for casual shots. The camera interface offers basic customization settings like timer, night mode, contrast, sensitivity etc. It can also record VGA video at 15 FPS.
Connectivity Features (3 out of 5)
It comes with the full basket of connectivity options - GPRS, EDGE, 3G HSDPA and Bluetooth 2.0 with A2DP. The only feature missing is Wi-Fi. But that is understandable considering its price. The Nokia C5 is not really suited for web browsing, due to its small display. Both the Webkit browser (with Flash support) and Opera work great on it, thanks to the fast processor and a nice helping of RAM.
It also has a GPS transceiver with A-GPS. it comes with Ovi Maps 3.0 which is now free. It also has free voice navigation enabled which is really good. It comes with email capabilities and Ovi Contacts which allows you to sync contacts with the Ovi cloud.
The Nokia C5 has excellent reception - this is one area where it beats the iPhone 4. The call quality is awesome with no dropped call issues.
It comes bundled with a 2 GB micro SD card and a micro USB cable which can be used to transfer data to your computer. It also comes with a regular charger, a headset and a user manual. It is powered by a standard 1050 mAh Li-ion battery which easily lasts a day even with a lot of usage.
The Verdict (3 out of 5)
All in all, the Nokia C5 is a very nice, cheap smartphone which measures up moderately well on all aspects. It has only two major flaws - small display and no Wi-Fi. If you can manage without that, it is a very good option which offers good value for money.