Nokia N800 Mozilla Browser
Mozilla Browser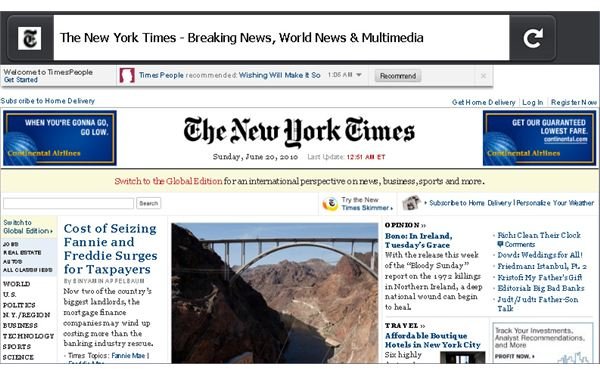 The Mozilla browser, which is actually the Firefox mobile browser version, is also known as Fennec. It is named after the African desert fox. It has been in the making for a couple of years now and has reached a level of maturity which makes it fit for production. Mozilla has been working on improving performance, adding features and fixing bugs based on user input. Here are the highlights of the Nokia N800 Mozilla browser and the results of all the work Mozilla has put into this browser.
Design (5 out of 5)
The Mozilla browser for Nokia N800 features a simple design and the user interface is not too busy. With a single address bar, and refresh button placed at the top, the Mozilla browser leaves plenty of screen real estate to be able to view your web pages. With this browser, users have the ability to experience browsing full version websites rather than the limited mobile versions, as happens with most other smartphones.
User Experience (5 out of 5)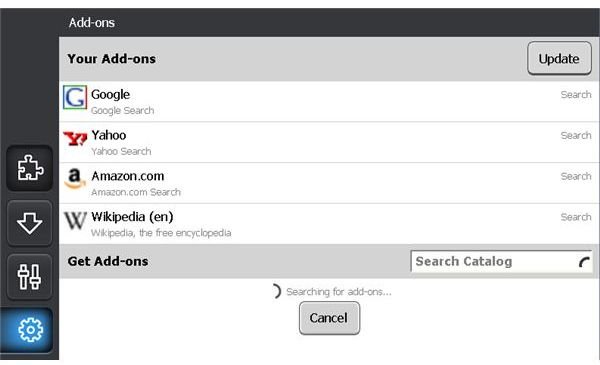 The Nokia N800 Mozilla browser comes with some hidden navigation options that make this browser simple to use yet powerful enough to give a rich Internet surfing experience. Fennec, as it is commonly called, supports touch enabled controls that reveal some additional capabilities of this Nokia N800 Mozilla browser.
The browser supports tabbed browsing which may not be obvious at first; however, sliding the screen to the right reveals the tab bar that places an thumbnail icon for every tab that is open. Sliding the screen to the left reveals buttons that allow you to bookmark a web page and also the back and forward navigation buttons and a button for setting preferences.
For accessibility, ease and convenience while browsing, Mozilla browser for Nokia N800 allows you to scroll through web pages by sliding along the page. To read a particular section of the text on screen all you need to do is double tap that section and it will be zoomed in for a bigger and more legible font size. Double tapping again restores it to its previous size. The same method can be used to get a better view of images.
Features (5 out of 5)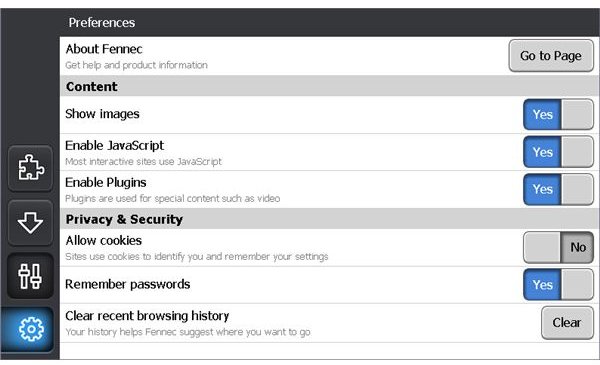 As far as browsers go, let alone mobile browsers, Fennec comes top of the line in terms of features. The Nokia N800 Mozilla browser comes packed with features that are inherited from the very successful Firefox web browser. It comes with anti-phishing measures built in, has a password manager and comes with a download manager similar to the one found on Firefox.
Fennec supports Add-ons and is actually the first mobile browser to do so. Through Firefox Sync, formally called Weave, this Mozilla browser for N800 can sync your passwords, tabs, add-ons, bookmarks, and other browsing data with Firefox on your PC. It uses the same browsing engines, Gecko and XUL, that are found in Firefox and that speaks volumes for performance and security.
Mozilla Browser for Nokia N800 supports Flash and therefore seamlessly renders Flash sites such as YouTube and Hulu. It also comes with a built in form assistant which makes filling in forms easier.
To totally customize your web browsing experience, the Nokia N800 Mozilla browser lets users to decide whether they should view images or not. Users can also decide to disable JavaScript and plugins and all this can be done with one tap of a button.
Conclusion (5 out of 5)
I have come across very many mobile browsers in my time and I can say that the Mozilla browser for Nokia N800 is a great browser with great features, great performance, and quite stable even in its infancy stages. I do not foresee a case where you would have to go out of your way to look for an alternative web browser for the Nokia N800 because the Mozilla browser for N800 has definitely got what it takes.
For more ideas to get the best from your Nokia N800 check out Best Free Apps for Nokia N800.