Review of the Nokia E63 Design
Introduction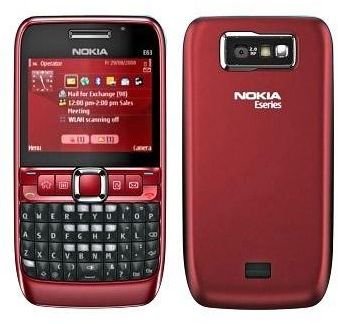 The Nokia E63 phone was released in December 2008, It came in as a watered down version of the Nokia E71, thereby allowing users to have the success of the Nokia E71 with slightly less features and most importantly at a fraction of the cost.
With that said, it is safe to say that this phone comes in looking pretty good, it feels great and is comfortable to handle. It is also up to the job as far as what is required in terms of business oriented features. Breaking down the phone, let us see what it has to offer.
Design (4 out of 5)
At first glance you are likely to mistake the Nokia E63 for the Nokia E71, at least for me it took a moment to realize that it was actually the Nokia E63 that I was holding. Despite the remarkable similarities when you first look at it, noticeable differences start to emerge.
One of the most significant differences is the color scheme. The Nokia E63 comes in either Ultramarine Blue, Ruby Red or Black. No full steel casing on this model. That does not mean that the phone doesn't feel sturdy when handling it. Also noticeably different is the full QWERTY keyboard with its slightly smaller space key and additional buttons beside it.
You cannot help but notice that there is no power button on the top side of the phone, as with most Nokia phones, but instead there is the headphone slot that takes that spot. The power button on this model is no longer a dedicated button. Instead it shares its location with the red global cancel Softkey button.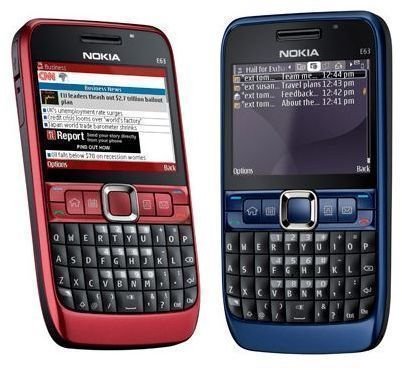 The other design flaw, in my opinion, was to get rid of the dedicated volume buttons on the side. Those buttons come in very convenient on other Nokia E-Series models for obvious reasons. Looking at the back you find the 2MP camera which comes with a self portrait mirror and a flash. The right side of the phone has practically nothing while the left side has slots for a miniUSB and a microSD card.
Weighing in at 126g with dimensions of 113 x 59 x 13 mm, 87 cc, this phone perceptively much feels lighter than expected. It is larger that the Nokia E71 but it weighs less.
The Nokia E63 comes with a TFT VGA landscape screen measuring 2.36 inches with a resolution of 320 x 240 pixels. The contrast is great with vivid graphics.
Just like its predecessor, the Nokia E63 boasts a full QWERTY keyboard as mentioned above. Unfortunately it maintains the signature cramped nature of the keys positioning. As usual this is not a design flaw as the keyboard is quite easy and comfortable to use.
There is set of soft keys for accessing the menus as well as four keys dedicated to accessing the Home Screen, Calendar, Contacts and Messaging Applications respectively. Finally there is the usual set of scroll keys right at the center.
In general the Nokia E63 feels like a cheap imitation of the Nokia E71 but if you have never handled the Nokia E71 then you would feel that this is an amazing phone with an amazing design.
User Interface (4 out of 5)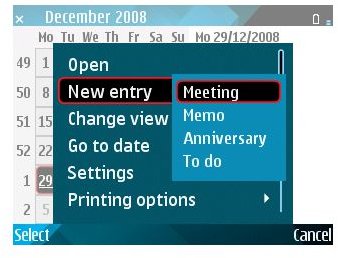 I keep saying you cannot get enough of Symbian User Interfaces. This means there is a standard user interface across the board as this Symbian OS 9.2, Series 60 v3 with feature pack 1 proves right from the start.
One enhancement on the Nokia E63 as far as user interface goes, is the ability to assign two applications to the same softkey shortcuts above the keyboard instead of just one application. This phone maintains its business oriented personality as far as icons goes as it does not allow animated or flashy icons.
Navigating around the phone is simple and straightforward and this is especially true for veteran Nokia users. As usual to navigate you start off at the Home Screen and use the dedicated menu button on the left to access all the available icons to get to any application of your choice. Another way is to go through the dedicated application icons at the top of the Home Screen.
From the Home Screen, users of the Nokia E63 are able to keep track of incoming emails, appointments, voice calls, text messages and voice mail as this phone provides adequate notification messages.
All-in-all the user interface gravitates towards catering for the business oriented users. No flashy animations, straight to the point navigation, lack of games and practical service reminders on the Home Screen.
Features (3 out of 5)
One thing people cannot disagree with is the fact that Nokia E-Series phones come loaded with features. At least this was true at the time of release when compared to competitors in the market back then. The Nokia E63 comes with an unlimited entry phone book and the ability to use a 16GB microSD card which is an upgrade from previous models limited to 8GB microSD cards.
As for data capability, the Nokia E63 has GPRS class 32at 100kbps, EDGE class 32 at 296 kbps, 3G at 384kbps, WLAN Wi-Fi 802.11 b/g, Bluetooth v2.0 with A2Dp and microUSB. By todays standards, these features are quite functional.
The Nokia E63 comes with no games preinstalled so one would have to rely on downloadable games. The phone has a single 2 MP camera supportive of video calling. Included is a WAP 2.0/xHTML/HTML browser with options to download and use more feature rich web browsers such as Opera Mobile if the existing one is not good enough. Java support? Yes, MIDP 2.0.
Being a business phone, the Nokia E63 is able to read and edit MS Office documents such as Word, Excel and Powerpoint. This does not include MS Office 2007 document formats unless you download a free update. With this phone you can also read PDF documents and Txt files.
With a WMV/RV/MP4/3GP video player, a MP3/WMA/WAV/RA/AAC/M4A music player and an FM radio, you are well covered as far as audio visual entertainment goes. With the Nokia E63 you can record voice memos as well as record music.
No Ovi Maps on this phone by default. Well you could download and install the application but unfortunately there happens to be no GPS receiver on the Nokia E63. To enjoy the benefits that GPS brings, it means investing in an external GPS receiver.
The phone features two cameras. One of which can be used for video conferencing. With the Nokia E63, a user is able to record voice memos as well as take advantage of the Organizer applications.
Other applications available with the Nokia E63 include the dictionary with English preloaded by default, there is a metric converter, a bar code scanner, ability to connect to printers remotely and an organizer. More applications are available for download at your discretion.
All in all the Nokia E63 is a very functional phone that would suit the business needs of any individual.
Performance (4 out of 5)
Based on the features as compared with the Nokia E63's cousin, the Nokia E71. I was not expecting to get much out of this phone as far as performance goes but I must say I was impressed at what this phone could do with the little resources it had.
Unfortunately the connectivity as far as 3G goes could have done with a slight boost, but again, unless you are being hypercritical, the browsing on this phone happens to be pretty decent. I also like the fact that it comes with additional memory over its predecessor.
The camera on the Nokia E63 leaves a lot to be desired. The camera on the Nokia E71 is not great and this one is worse. You may prefer it if they just ditched the camera altogether. I guess the business nature of this phone covers this shortfall and would still keep this phone in the running to be a great phone.
Another thing I like about the Nokia E63 is its ability to multi-task. Interestingly enough, the phone is really responsive, even when running several tasks at a go. Launching applications form the menu is quite pleasant as the phone does not keep you waiting and waiting.
Battery life is another thing that was spot on as far Nokia E63s go. The phone just keeps going on and on between recharges. There is absolutely no cause to worry about the battery running out when on a trip a couple of days long. The battery performance is awesome.
Graphics are pretty clear with great contrast as long as you are looking at images that did not originate from the inbuilt phone. In which case the images would look grainy.
The Nokia E63 comes with great sound and call quality. Audio playback is also awesome but video is restricted to the 15fps barrier.
The Nokia E63 in general is a cost friendly, loosely featured phone that somehow manages to perform with unusually high performance benchmarks. Even though there is much a user would want to squeeze out of this phone, I must say it performs well enough.
The Verdict (3 out of 5)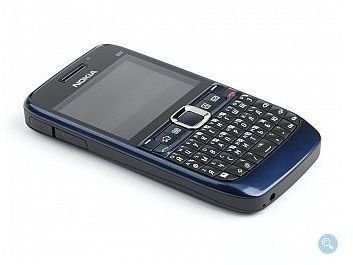 One shocking revelation about this phone, is that right out of the box Nokia does not provide you with the USB data cable nor does it provide the microSD card. The cost savings made on this phone may be eaten by the need to buy a cable and memory card.
All-in-all the design is great and at the market price at which it is set, one would be willing to sacrifice on the steel casing that comes with Nokia E63's relatives. Unfortunately this phone lacks quite a number of must haves such as in-built GPS, good camera, vital accessories, better 3G performance and games. I would say for the price of about $180, I would still give this phone the nod if I had limited needs.