Review of the Nokia E71 Design
Introduction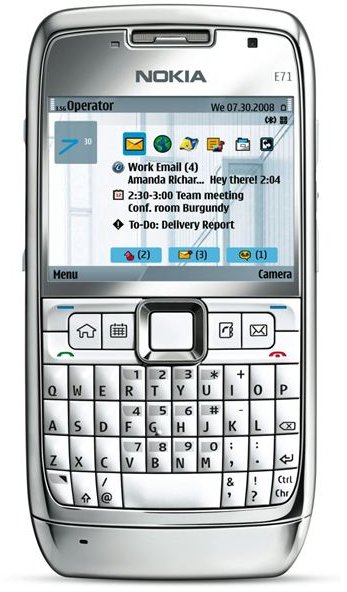 The Nokia E71, which is part of the Nokia's E-Series line of business oriented phones, is available to use for work or play throughout every region in the world. First announced in mid 2008, this smartphone immediately lived up to its billing and bagged the award of Phone of the Year and Best Smartphone in the Mobile Choice Consumer Awards 2008 held at London's Old Billingsgate Market.
Deceptively heavy for its size, the Nokia E71 is comfortable to handle, rigid and has an easy to use keypad. It fits remarkably well in most pockets, even the little ones. That is a plus for the Nokia E71 as it is the smartphone that Nokia designed to succeeded the Nokia E61 and Nokia E61i.
A few years down the road since it's release, the Nokia E71 is still one of Nokia's most popular smartphones.
Design (4 out of 5)
Nokia took some bold steps with the Nokia E71 as far as design goes. Moving away from traditional plastic casings, the Nokia E71 comes in a stainless steel case design which accounts for its weight of 127g. Originally released with two possible color schemes namely White Steel and Grey Steel, Nokia later on introduced Black and Red into the existing color line up. From other sources one can probably get a wide range of custom colors for this phone.
Measuring in at an astonishing 114 x 57 x 10 mm you can't help but notice how slim this phone is. Nokia cut down on the size of TFT QVGA screen to 2.36 inches compared to the Nokia E61. This does not mean it is a pain to use. In fact, its quite the opposite. The 320 x 240 pixels screen happens to be of sharp quality, the picture quality is stunning and that is evident, especially when watching videos.
Interestingly enough, given the phone's relative small size, the Nokia E71 comes with a full QWERTY keyboard that on first glance looks cramped but is surprisingly easy to use and rigid to the touch. However, due to the cramped nature of the buttons and since there is no space between the keys, I would recommend users with fat fingers give it a test drive and see how it feels before buying.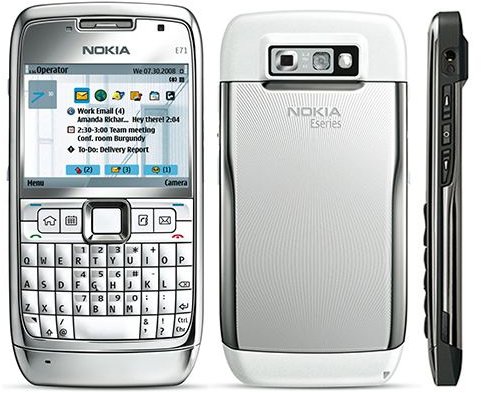 Users that are familiar with Nokia phones will notice that in between the display and the full QWERTY keyboard the Nokia E71 retains the standard Nokia navigation of two soft keys, The green call and the red cancel keys. Also included are the standard five-way scroll keys and four shortcut keys to the Home screen, Calendar, Contacts, and Messages.
The left side of the Nokia E71 has got three design components, two of which address connectivity and the other storage. This phone comes with an infra red port, a miniUSB port and a microSD card slot. The top side has the Nokia standard Power control button and a mono speaker that is sufficient in sound quality and volume and is primarily used for hands-free operations. The right side of the phone has the headset port and the volume controls.
Flipping over the phone, the Nokia E71 comes with a 3.2 Megapixel, 2048x1536 pixels camera with autofocus and zoom. Next to the camera there is an LED flash and a mini mirror ideal for using to take self portraits. The remaining space below is reserved for the battery and the SIM card slot. Finally the bottom side comes fitted with a slot solely reserved for charging the phone.
All in all the Nokia E71 has got quite an innovative design, with a screen that is not hard on the eyes, great graphics quality, easy to use keyboard, small enough to tuck away and stylish to look at as a whole.
User Interface (4 out of 5)
The Nokia E71 is a classic Symbian OS 9.2, Series 60 v3.1 User Interface based phone with a surprise or two. For easy navigation the phone starts off with a Home Screen but unlike other Symbian OS 9.2 based phones, this one comes with two Home Screens. One for business and another for pleasure. Accessing the menu is reserved for the left soft key button. Once the menu view is displayed on screen, the five-way scroll keys allow you to move back and forth between different apps all with a simple use of the thumb. The entire design enables the phone to be used with only one hand and that includes typing.
The Nokia E71 allows you to customize your Home Screens by changing the default shortcuts to those that are most comfortable to you. The phone allows you to also access services like Email, Calendar, Messages and back to your Home Screen at the press of a single reserved button.
The full QWERTY keyboard is designed with easy business oriented shortcuts. In general, the Nokia E71 proves itself to be a user friendly phone.
Features (5 out of 5)
The Nokia E71 comes packed with a whole load of features. For business minded people, this phone makes it easy to set up email without the help of a qualified IT support person. It automatically does most of the configurations for you. Since this phone uses Symbian OS 9.2, the phone is capable of accessing and editing MS Office documents such as Word and Excel, presentations such as Power point and you can also read PDF documents.
The phone comes with a built in Calendar that you can use to set up your to do items, meetings and record important occasions. In addition to this you can record voice memo's and take notes in the form of voice and even video.
With the Nokia E71, an English dictionary is available at your finger tips.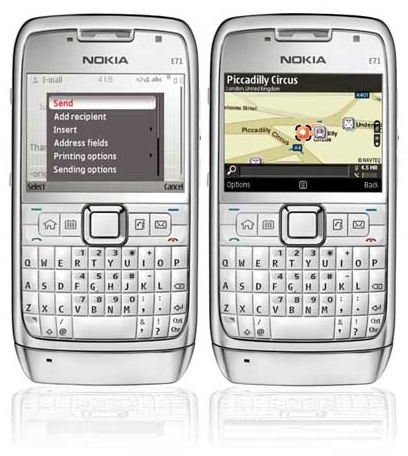 When it comes to connectivity, the Nokia E71 can connect to other devices for file tranfer using infra red, USB with A2DP and USB version 2.0 as microUSB and Bluetooth version 2.0 which can also be used for other functions such as wireless headsets and other Bluetooth compatible devices. Other data capabilities include Wi-Fi 802.11 b/g, GPRS Class 32 at 100 kbps, EDGE Class 32 at 296 kbps and 3G HSDPA at 3.6 Mbps.
The phone can also be used as a modem to connect your PC to the Internet. It comes with a Podcast player, sound recorder, flash player, an MP3/WMA/WAV/RA/AAC/M4A music player, a WMV/RV/MP4/3GP video player and an FM radio that must be used with the wired headphones that act as an antenna.
The Nokia E71 comes with a built in GPS receiver with A-GPS support. Nokia Maps are upgradeable to OVI Maps which offer turn by turn voice guided navigation. This voice guided feature is offered as a premium feature so there is a subscription you must pay to use the service.
The phone has a 3.2 Megapixel camera for taking still photos as well as QVGA video clips at 15fps. This phone also comes with a secondary camera that is ideal for video conferencing calls.
Other features of the Nokia E71 include a built in WAP 2.0/xHTML, HTML Web Browser, a built in Bar code scanner, printer support, voice command and dialing.
Vibration alerts, downloadable polyphonic, monophonic and MP3 ringtones, downloadable apps for practically any use from the Nokia Ovi Store, an ARM 11 369 MHz processor and 110 MB of built in storage with 128MB RAM.
Overall, the Nokia E71 has got features that cater to most modern needs for someone on the go and it allows you to keep in touch with your business objectives.
Performance (4 out of 5)
The Nokia E71 happens to be a very responsive smartphone. Right from boot time to launching applications in general. This phone generally doesn't freeze up and in my book I would say this is a very stable and fast phone.
For starters this phone has the capability to multitask. You can talk on the phone at the same time as access the Internet or any other applications on the phone. The voice quality on this phone is great with a single speaker that is loud enough to make calls audible even over large areas or outdoors. The phone has also got great connectivity to phone networks and Wi-Fi hot spots.
Another lovely performance benchmark is the fact that even with heavy use, this phone has a battery that lasts a couple of days. You can listen to radio all day, surf the Internet occasionally, make a few calls, access your Maps and still have a number of bars to spare on the battery meter.
The camera on this phone isn't that great as it takes grainy images. The inbuilt English dictionary is a little short on its word index so that is not a great app to use. The GPS is a little questionable as sometimes it has difficulty detecting the satellites. The upside is once it connects to the satellite it maintains the connection even in area with high concentration od buidling and other possible obstractions.
There are a few quirks with this phone but I must say that you can surely live with them as they are hard to duplicate. One example is such as after using several graphics and sound intense applications the phone may occasionally freeze up and reboot. So for example after playing music for a while and using the Ovi Maps application then jumping into playing a 3D racing game you just downloaded, chances are you could trigger this quirk.
I'd say the battery life on this phone, its multitasking capabilities and stability are a big plus and that is what makes this phone functional not only for the business minded user but anyone who is looking for a great phone.
The Verdict (5 out of 5)
The Nokia E71 is a smartphone Nokia certainly got right. It has an excellent design, great performance and it is easy to use. This phone is so well thought out that you really have to look hard to find something wrong with it.
Other than the lack of a quality camera as far as today's standards go, and the glitches that may occur when using sound and graphic intense apps, I would say for about $300 today and probably much less if you really look around, this phone is totally worth getting.
Even though the Nokia E71 has been replaced by the Nokia E72 in the E-Series range of phones, it still has its reputation as probably one of the most successful smartphones to be released by Nokia.