SMS Timer Symbian App Review
Overview
SMS Timer provides the highest degree of convenience by allowing you to schedule your text messages so they can be sent later to multiple recipients. The program is also closely integrated with your address book contacts and messaging application so that whenever you compose a text message, the program prompts you as to whether you want to send your message right now or schedule it to be sent at a desired time. The program even allows you to compose a text message with up to 1600 characters that can be sent to 1000 recipients at a time.
SMS Timer is developed by MobiMonster and can be purchased from their website after providing your IMEI number and email address. If you want to try and test application before buying, a download link for a trial version (limited only to sending 5 scheduled text messages) is provided on the description page for the program. The program is compatible with all smartphones operating on Symbian S60 and Windows Mobile platforms and readers are advised to check their device compatibility by clicking here.
After connecting and establishing synchronization between my Symbian smartphone and a desktop computer, I used Nokia PC Suite to install the application on my device.
Examining SMS Timer App
After installing the application on my device, I could schedule my composed text messages easily by opening the inbuilt messaging app and then clicking on → Create new SMS → Send.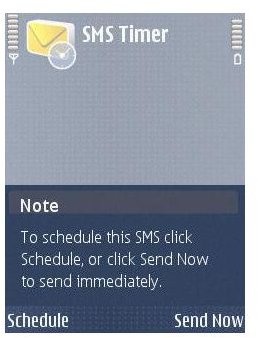 This further initialized a pop-up message on my screen asking me whether I wanted to send this message now or schedule it to be sent later at a desired date and time.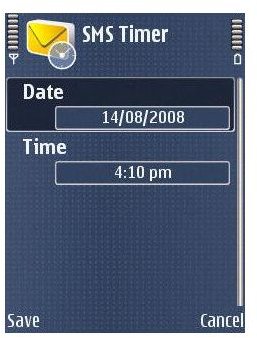 Selecting the 'Schedule' option guided me to a new screen where I could define the date and time when I wanted this message to be sent to the selected recipients.
Then I pressed the left soft key to select the 'Save' option to save this scheduled message on my device.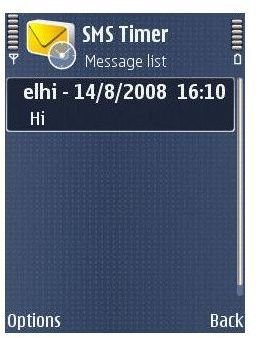 After doing this, I navigated back to my home screen and opened the SMS Timer app by clicking on → Main Menu → Applications → SMS Timer which further directed me to its main menu where I could see a list of all the schedule messages.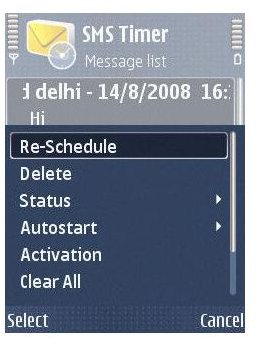 Here I could re-schedule my messages by selecting a message and then pressing the main options menu to select the 'Re-schedule' option.
This opened the message and I was able to edit the text and also changed the time and date. I could delete any scheduled message by pressing the 'Delete' option and I was able to view the status whether the message was scheduled or not by selecting the 'Status' option. Here I could also select the 'Autostart' option to automatically start the app whenever I restarted my phone. Finally I could delete all the scheduled messages displayed on the list by selecting the 'Clear all' option from this menu.
Final Verdict
Before laying my eyes on SMS Timer, I was quite satisfied with the conventional messaging app installed on my Symbian smartphone. After using the trial version of SMS Timer for several days, things were never the same again and I got addicted to the application and finally decided to buy it.
For my personal use it's the most convenient messaging tool available on the market and comes in quite handy if you want to schedule your text messages to be sent at a later date and time.
The user interface is also extremely easy to handle and it will hardly take a few minutes to configure the application according to your convenience.
Most of all, the program is closely integrated with the built-in messaging app and is present as an option while sending a message so that you don't have to open it every time you want to schedule a text message.
Also, its capability to compose a text message with up to 1,600 characters that can be sent to a 1,000 recipients at the same time is simply great and will be deeply appreciated by text messaging fans.
However, I think the application is a bit overpriced, but looking at the convenience and usability it has to offer the price can be overlooked.
Overall, SMS Timer is a great tool for people use text messaging as a primary medium to communicate with family and friends and I highly recommend it to all my readers.
SOURCE: MobiMonster