Hidden Contacts Symbian App Review
If for some reason you don't want to display a specific contact in your Symbian Smartphone's address book, Hidden Contacts app is just for you. Your contacts can now be saved within the app and can only be viewed by entering a password previously configured by you. This comes in extremely handy if you want to practice complete privacy on your phone, even if your phone is exposed to other people.
The program also automatically clears message logs and call losg so that no one will have the slightest hint about your communication details. The program also allows you to lock the messaging and installer application on your device so that your messages and installed apps are never tampered with. It even allows you to send a direct text message without saving it in the 'sent' folder, allowing you to hide its content and other details.
Hidden Contacts is developed by Tektronic and can be purchased from their website. I recommend my readers to download and test the trial version provided on the description webpage before buying the final product.
The app is compatible with all Symbian Smartphones operating on S60 3rd and 5th edition platforms, including the latest touchscreen models and my readers are advised to check device compatibility before buying the product.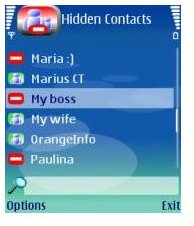 Installation was easy with use of Nokia PC Suite and I then opened the app by going to → Main Menu → Applications → Hidden Contacts which further directed me to its main screen that displays a list of all the contacts originally saved in your address book. Now you can select any contact and press the 'Options' tab that displays a list of all the available options.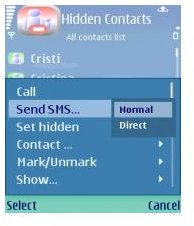 The first option is 'Call' and it allowed me to make any outgoing call to the selected contact from within the app. The second option is 'Send SMS' and it allowed me to send a normal text message to the selected contact or I could choose the 'Direct' option to send a direct text message without saving it in the 'sent' folder of my built-in messaging application.
The next option is 'Set hidden' and it allowed me to hide the selected contact from the in-built address book app of my Symbian device. These hidden contacts are only visible by entering a password which is by default 1234 and can be changed any time by going to the 'Change Password' option. Here, you can select the 'Set Visible option if you no longer want to hide a contact and want to make it visible in your address book. The 'Contacts' option then allows you to add a new contact from within the app.
You can also select the 'mark/unmark' option if you want to select multiple contacts at one time and go to the 'Show' option if you want to display hidden or visible on all contacts in the list.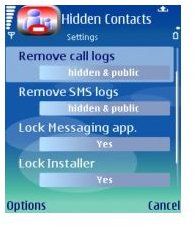 Then I navigated to the 'Settings menu' where I selected the 'Show contact name' option to display contact's last name first. I enabled the next two options to automatically clear the call log and text message log on my Smartphone.
Similarly, the next two options allowed me to lock the built-in messaging and installer applications so that no person other than me could have access to these. Then I selected the 'Exit After' option and defined a time period after which the application shuts automatically, which comes in handy to safeguard your confidential data if somehow you have forgotten to close the app manually.
Final Verdict
Hidden Contacts is a simple yet very useful and reliable tool for people who don't want to display certain contacts in their in-built address book app. The user interface is quite friendly and it hardly takes a few minutes to configure the settings according to your requirements.
Now I could not only hide some of my secret contacts but was quite impressed to see that the Symbian app automatically cleared the message and call log, leaving no trace or any other detail about the communications I have had. My smartphone was now in the most true sense mine and even if it was exposed to any other person, no information could be accessed without entering a password.
However, things might become complicated if you somehow forget this password. I searched the user manual to find a solution for this situation but sadly couldn't find one. Also, I think that the application is quite expensively priced and potential buyers will really have to make up their mind whether they want to spend approximately $20 to hide private information on their smartphones.
But for people who want to hide communication details, this price might be easily affordable and overlooked.
SOURCE: Tektronic