Best BatterySaver App Review
The performance of the phone battery is one of the most important factors to consider while buying a mobile phone. Nobody likes having a dead battery on their hands and the situation becomes even worse when you need to make an emergency call while traveling on a train and there is no charging source available. The best solution is to conserve precious battery power when the device is not in use so that you can use your phone when needed most.
This is where Best BatterySaver comes into the picture. It is a useful tool for Symbian Smartphones that allows you to set different profiles to improve the battery performance on your device. It is developed by Smartphoneware (same developer who gave us applications like Best CallRecorder and Best Full Screen Caller) and can be purchased from their website for $4.95. A 15-days fully functional trial version is also available on the developer's website and can be downloaded by clicking here. The app is also compatible with all Smartphones operating on Symbian S60 3rd and 5th edition platforms.
Examining Best BatterySaver App
After completing the installation process, I opened the app by going to my phone's Main Menu → Applications → Best BatterySaver which further guided me to its main menu where I could activate or deactivate the application.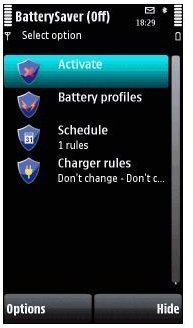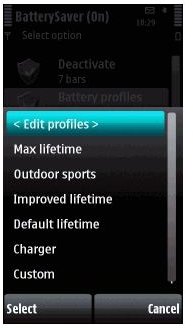 The 'Battery Profiles' option allows you to add new profiles or edit previously configured profiles.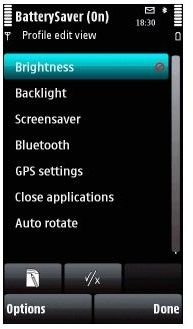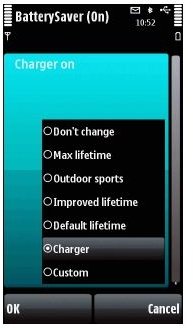 I could easily initiate and configure automatic profile switching by clicking on the 'Schedule' tab. The 'Charger Rules' option allows you to define profiles when the device is connected to AC mains through a charger or when it is disconnected from a charger.
The application also has several pre-installed profiles and I could activate any configured profile manually or simply activated the automatic profile switching mode to automatically load a specific profile according to my schedule or various situations. These profiles are highly customizable with a lot of options and can be configured in any way you want.
For example, I could configure a profile that automatically changed the screen brightness from low to high when I connected my device to AC mains for charging. I could also configure a profile to switch off the Bluetooth on my device when the battery status was low. An auto-restart option is also available that automatically initializes the app when you restart your phone.
Final Verdict
Best BatterySaver is an intelligent application that allows you to get maximum efficiency from the battery installed on your Symbian Smartphone. The program offers a wide range of options and is highly customizable, allowing you to control various parameters when your device is low on battery power.
Also, I found that the application was extremely easy to handle. The user interface might have a lot of configuration options but it offers easy browsing through various menus and settings. The price factor is also favorable for budget users and I think that the application is quite reasonably priced at $4.95.
I will give this application 9 out of 10 points for its simplicity, usability, and inexpensive price.
Overall, this application is a must-have for every Symbian Smartphone user and I highly recommend it to all my readers who are always concerned that their phone battery might drop dead when they need it the most.
SOURCE: Smartphoneware