Overview and Main Features
PhoneScreen allows you to display your Symbian mobile phone screen on a Windows-based PC. I doubt that a normal user would acknowledge the usability of this application but it is definitely an extremely useful and necessary tool for business users who need to exhibit their mobile phone screen on a big PC screen during presentations and demonstrations.
The application constitutes two components; one is to be installed on your Symbian device and the other component should be installed on a Windows-based PC. These two devices should then be connected to each other by using either a Bluetooth or a Wi-Fi or even a GPRS/3G connection.
The app supports full-screen demonstration mode and allows you to view your device screen in its natural screen resolution, supporting both portrait and landscape modes. It also allows you to connect multiple mobile phones at the same time and gives you the freedom to place your phone at a distance ranging up to 30 feet from your PC. It even lets you view your actual phone skin on the PC screen while giving a presentation.
PhoneScreen is developed by Devlex Industries and can be purchased from their website. A trial version includes PC setup component along with a .SIS setup loader for mobile phone and can be downloaded from developer's website.
The application is compatible with Windows XP or Windows Vista and can be installed on all Symbian Smartphones operating on S60 3rd edition platform. It also has native support for Microsoft, Widcomm and Toshiba Bluetooth modules and can also be used on Smartphones with Wi-Fi or GPRS/3G support.
Examining PhoneScreen
After completing payment details, I downloaded the setup file which is approximately 5.23 MB in size. Running this setup file on your desktop PC will install the PC component during which time it will ask you to install the phone component if your device is already connected to your PC via a Bluetooth, Wi-Fi or GPRS/3G connection. The phone component can also be manually installed later if your device is not connected to your desktop PC or if you are facing Connection problems.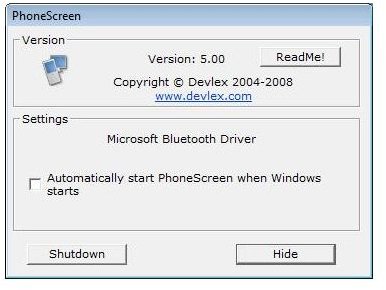 After the installation is complete, you will notice a PhoneScreen icon in your system tray, clicking on which will display a dialog box used for changing Bluetooth settings. Here, users should note that their PC's Bluetooth mode should be set to 'Discoverable' mode so that the Bluetooth on your phone can easily locate and establish a connection. Similarly, your phone (WiFi and 3G enabled) should be properly connected to your desktop PC via a WiFi or 3G connection. I faced some minor connection problems while establishing a Bluetooth connection but I got past these by following the user manual which clearly explains every aspect of the programs connection settings.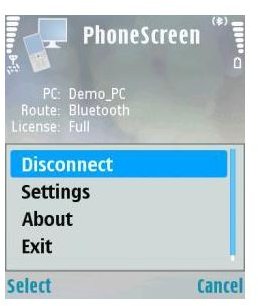 Once connected I opened application on my phone by navigating to Main Menu → Applications → PhoneScreen which guided me to its main screen where I could connect or disconnect the connection between my phone and PC so that my phone screen can be displayed on PC's screen.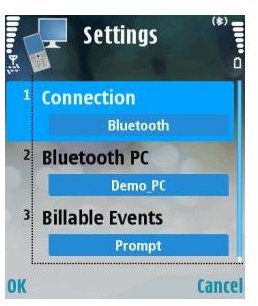 Then I navigated to 'Settings' tab where I could configure connection settings. The connection tab allows you to select the type of connection you want to establish between your phone and desktop PC. This can either be a Bluetooth Wi-Fi or GPRS/3G connection.
I chose to connect through a Bluetooth connection, saved my settings and started the connection. Now I could see my phone screen on my PC's screen exactly in the same manner, the only difference being that now it was much bigger.
Final Verdict
PhoneScreen is an excellent piece of software and has proven to be very useful for business people while giving presentations or demonstrations. There is no doubt that the application works exactly as advertised by the developer but it is also a fact that connection settings are not easy to configure and it takes a lot of time and sweat if you are using a Bluetooth module other than the one supported by the application.
It took me almost two hours to configure the connection settings and I had to follow the user manual several times to do this in a proper way. Since I could not find a Wi-Fi enabled device, I cannot say much about establishing a Wi-Fi connection. Also I discovered that using the Bluetooth option had a drastic effect on my phone's battery life and you have to be very careful that your phone is fully charged while giving a presentation to your clients.
Other than that, I think that this application is quite reasonably priced at $19.95, considering the fact that it becomes an essential tool for business users who own Symbian smartphones and give presentations on the road or at the last minute.
SOURCE: Devlex Industries