Best CallRecorder for Symbian Smartphones – Record Phone Conversations
Examining Best CallRecorder
Nobody can deny the irresistible desire to record conversations over incoming and outgoing calls. Well, Best CallRecorder exactly does that. It is a small application that allows you to record conversations while you are making or receiving a call.
These recorded conversations might come in handy and can be used as a source of undisputed reference while fixing business deals over the phone. However, it is illegal in certain countries to record conversations over a call without warning to the other party and for this reason Best CallRecorder does not eliminates the beeping sound that confirms that the call is being recorded.
So then, what's the use of having a call conversational recorder if it lets people know that the conversation they are having with you is being recorded? This factor definitely raises a big question on the usability of this application. We will talk about this later, first let me described the how it works and the main features.
Best CallRecorder comes from Smartphoneware (the same people who gave you applications like Best Full Screen Caller and Best Call Cheater) and can be purchased from the developer's website. You can also download the fully-featured 15-day trial version along with the user manual by clicking here.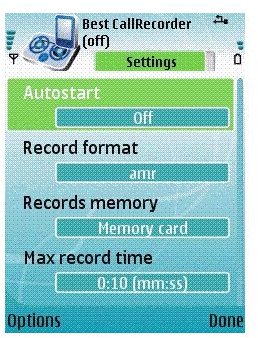 After I had finished installing the application with almost negligible effort and time, I navigated to its main settings menu where I could configure the recordings according to my requirements. Here I was able to enable/disable the auto-start feature and select the format of the audio file I wanted to save on my system.
I selected to save all the recorded conversations on my storage card and I recommend that my readers to do the same to save internal phone memory in order to keep other applications running effectively. I could also define the maximum record time and pressed the 'Done' button to save my settings and navigated to the Rules menu where I was able to define rules for customizing the application.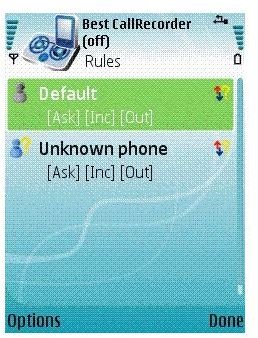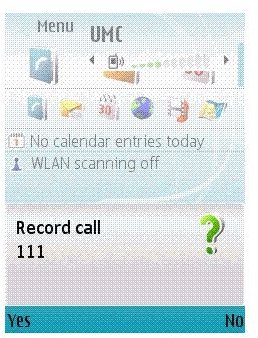 These rules included asking before recording a call, record only incoming calls, recording only outgoing calls, recording both incoming and outgoing calls and much more. This list is long and goes on until you have configured the application according to your needs. Pressing the 'Done' button again saved all my settings and I came out of the settings menu while the application kept running in the background.
The whole process was very simple and I could configure my call recordings in any way that suited me best. Finally, this application is compatible with all Symbian mobile phones working on S60 3rd edition platform and you can check your device compatibility at the bottom of the developer's website.
Final Verdict
The application works smoothly and really does what it is designed to do, except that I heard a beeping sound while recording the conversation over a call which was slightly annoying.
As I told you above this factor almost make this application worthless because as soon as the recording starts the person on the other side can hear a beeping sound that tells them that the conversation is being recorded. Personally, for some reason it is hard to digest that anyone will continue with the conversation after knowing the fact that it is being recorded.
I recommend my readers try and test the trial version before finally spending their hard-earned money on an application that scores one out of ten when it comes to usability.
SOURCE: Smartphoneware