Nokia N97 Review: Examining the Build Factor, Display and Connectivity Options.
Build Factor and Design (3 out of 5)
Plain and simply put, the Nokia N97 felt great when I held it in my hands. The device offers a length of 117.2mm, width of 55.3mm and is 15.9 mm thick. The size makes it perfect for throwing in your pocket, but it is still large enough to navigate around without the need of a stylus (finger friendly).
The N97 is dominated by the very large 3.5 inch touch-screen display that takes up most of the device's frontside realty. The only other buttons you'll notice on the front side of the screen are the call and end buttons which are flush and touch compatible, offering a nice blended option that keeps the front of the display smooth, while offering simple dialing functionality. You'll also notice a video conferencing camera option on the front which is also flush to the device.
The back of the device features a 5 MP camera with a dual LED flash that isn't as flush as the front side of the device, but which offers a nice lens cover to protect your camera.
Users can also slide their display in an upward motion to reveal a rather large and useful full size QWERTY keyboard. This keyboard is complemented by soft keys that can access screen functions in landscape mode and a D-pad to the right of the keyboard which offers some of the best non-touch-screen navigation I've seen on a touch-screen based device. The keyboard also offers keys that are well spaced and raised high enough to make for easy typing with a fast learning curve.
The rest of the options on the device are pretty standard, including the microUSB slot for charging and syncing.
The device feels well built when you hold it, except for the battery cover which feels more like cheap plastic than a type of high-end plastic or metal. The sliding mechanism didn't show any signs of gaping or loose components either, although the thin plastic piece that holds it up worried me since it's rather thin and looks ready to break.
Overall the build quality is comparable to the HTC TouchPro 2 and didn't give me any problems.
Here's a look at the design factor of the device: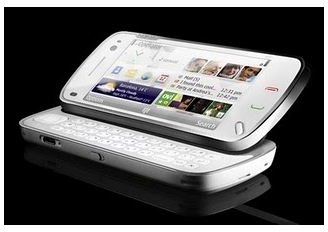 Display (4 out of 5)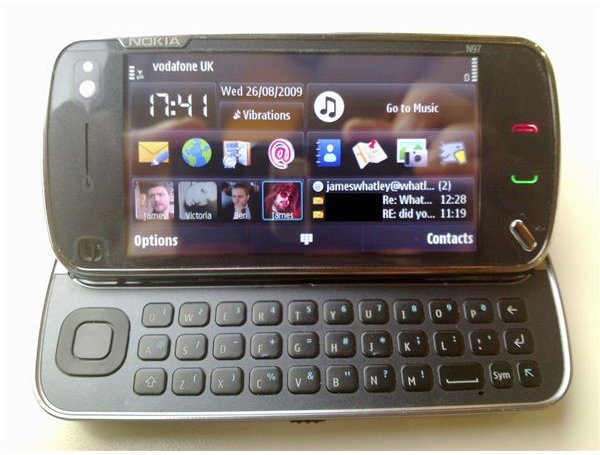 The display on the Nokia N97 offers a 3.5 inch screen that supports a 640 x 360 pixel resolution. While the output isn't too bad, the colors on many apps appeared faded compared to other high-end devices. However, when using Nokia icons and the basic Nokia provided themes the screen appeared more optimized.
On a separate point, the touch-screen capabilities didn't feel too bad. I found that navigating around the device's display was simple and even the lightest of touches gave quick feedback. When dialing contacts and swiping my finger from screen to screen, there was little to no delay and the tactile feedback made the screen feel more like a keyboard than the Nokia 5800.
Overall, Nokia is moving towards better touch-screen displays and for a relatively newcomer to the touch screen device market, the company is off to a relatively good start.
Connectivity (5 out of 5)
The Nokia N97 comes in two versions; the worldwide version with non-3G in the U.S. and the more U.S. network friendly Nokia N97 NAM. In the U.S., the NAM version offers super fast 3G connectivity that's perfect on the AT&T Wireless network, while Edge and GPRS functions also work well in non-3G areas or on the T-Mobile network and on a variety of Canadian 3G networks. Setup of the mobile data networks is not only easy, it's automatic. Simply plug in your SIM card and you're ready to go.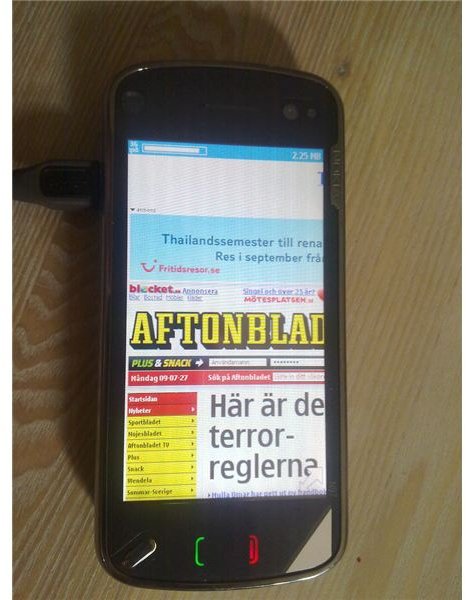 The N97 also offers Wi-Fi 802.11 b/g with UPnP technology. It's extremely simple to choose an available network and connect to those networks in just a few quick clicks. I was able to connect in a matter of seconds to my unsecured home network and to a secured network after entering the required password. The Wi-Fi option not only connected quickly, web pages via the included mobile browser loaded quickly.
This Symbian smartphone also offers Bluetooth 2.0 with A2DP, a function that allows Bluetooth Stereo headphones to be used alongside the device's stereo output. I tried out the A2DP function with an older Motorola S9 headset and found the quality to be on par with other Nokia music based devices.
If you want to connect via GPS, this N-Series device offers Assisted GPS with Nokia Maps. Simply wait 10-15 seconds and your location shows up on the mapping service and directs you with turn-by-turn directions. I found the GPS to be competent and rather fast, but overall I would have preferred the stronger antennas of Sirf III processors typically found on Windows and Google Android based devices.
Finally, the Nokia N97 offers a microUSB port that not only charges the phone, it can sync the device to your computer as well. The port is well placed along the side of the device, and it offers quick connectivity when you have the device you want to attach to within your reach.
Overall, the connectivity is standard but offers excellent options for even the most high-end of users. Whether you need a quick connection or a more robust set of options, you get them on the N97.
Performance And Storage (4 out of 5)
The processor found on the Nokia N97 is an ARM 11 434 MHz option. I was slightly disappointed that Nokia didn't up their game in respect to this offering, considering that the iPhone 3GS is already operating at 600mhz and many HTC (Windows and Android) based devices are already hitting 524Mhz. However, the device was rather speedy with even 4 or 5 applications open at one time. I can only imagine how a faster processor would have made this device blazingly fast.
The smartphone also includes 32 GB of on-board memory which should be enough space for most users. If you're storage hungry however, there is a MicroSDHC card slot that can add 16 GB of extra space, enough to store even the most storage hungry applications, multimedia and other files.
Finally, the device features 128 MB RAM, a rather dismal amount of memory considering the huge hard drive and the stress already being placed on the slower than average processor. 256 MB would be appreciated on future models.
Overall, the performance works for what it offers. However, more could have been done in terms of increasing device speed and bringing the amount of RAM up to par. If you plan on light use (up to 4-5 apps at one time), you'll be fine but some processor intensive applications will seem slow when compared to other high-end smartphones currently available. With that being said, this device has strong storage capabilities and for that, Nokia should be commended.
Camera (4 out of 5)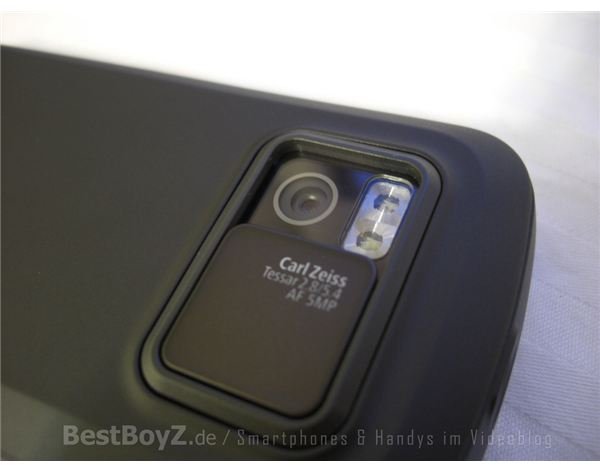 I really wanted to give Nokia a 5/5 rating for their device's camera. However, I've grown tired of the same old camera being recycled throughout the Nokia N-Series line of devices. A past co-worker of mine had been playing with the Nokia N97 for weeks and loved the device. I started playing with it this past weekend and thought I would be blown away. What I found instead was the same feeling I had when I first used the Nokia N95, a solid camera that takes decent pictures but offers nothing to write home about. Sure, there are no real undertones or overtones that interfere with the picture, but the crispness of pictures doesn't really offer anything new.
I also found that the auto focus on the video recording aspect of the device wasn't working properly, leading to further away images coming out blurred. This is not a big issue if you don't plan on recording much video. However, it's still an annoying fact that reminded me that the camera simply isn't up to par with stronger cameras being released on today's market.
For basic picture taking, with an output of 2592 x 1944 pixels, the camera is fine. Heck, even the flash works wonders in low light. However, for someone trying to replace two devices (digital camera and phone) with a single device, I would look at the IDOU or other 8 MP offerings that are already available.
Not a bad camera by any stretch, but I expected more in this 2009 N-Series Device.
Widget Based OS (4 out of 5)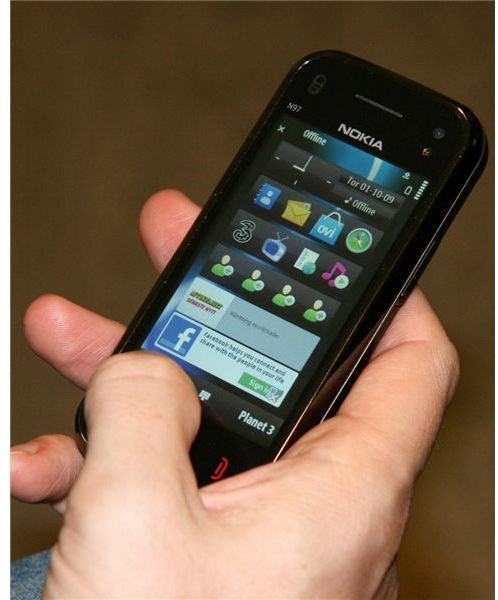 If you want to compete in the mobile market, you need to have a mobile OS that's easy to use yet extremely functional. The N97 has managed the extremely easy part by offering a widget system that allows users to press a few quick buttons to add widget based apps to their front display. The Facebook application is the perfect example of this function. The program displays your friend's most recent updates, allows you to update your status and much more, directly from your N97's front page display.
Aside from widgets, I loved the ability to swipe my finger across the screen to move between screens including the application screen which users can sort in any manner they wish. If you want the feel of an iPhone on your N97, I recommend taking a look at the apps screen.
Overall, the OS is simple to use, offers quick navigation abilities and works quickly enough on the device's 434 MHz processor.
Conclusion
Although there are newer N-Series devices out there such as the Nokia N8, the Nokia N97 offers some very nice features from a large 3.5 inch display to a cool OS that is very simple to use. The smartphone also comes equipped with an easy to use keyboard that makes browsing the net over the various connectivity options extremely simple and actually rather enjoyable. On the other hand, the processor is a bit clunky and the camera doesn't offer anything new in terms functionality, even though it still takes suitable pictures.
Overall, the Nokia N97 is a suitable business device that also offers a ton of personal practical uses. I've read some bad reviews about the device. However, after 3 short days, I haven't run into any major issues. In fact, I've rather enjoyed the overall look, feel and operation of this N-Series offering, although some improvement could definitely be made for future device releases.
References