Dedit Text Editor Review: Simple Editing on Your Symbian S60 Smartphone
Overall (4 out of 5)
I have to start by mentioning that it's not easy to get excited about a text editor, inherently they are basic, offer very little in terms of new functionality and are rather boring. With that being said I love Dedit for Nokia Series 60 Smartphones. The program like its predecessors offers a very simple interface (just launch it and start typing).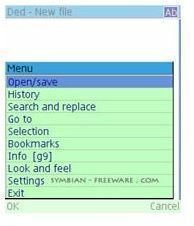 While also offering a bunch of new functions that can save a user from retyping entire messages if the window closes, while also resuming exactly where they left off. This first save function can quickly save and pull up the last 20 messages that the user has been working on. This is a great function if you happen to be working on multiple files and need to close the application for any reason. With that being said users can edit several files at one time while jumping between all of their files, a great option if you happen to be cutting and paste files together to form one master file.
In terms of the quick resuming function Dedit remembers where you last left your cursor when you jumped between files and even when you close the file and reopen it at another time. This is very important if you've typed a few pages on your Smartphone and you don't want to navigate around your devices small screen to find the section you were editing before you closed the application. I placed my cursor in the middle of a 2 page document and when I started the program again the cursor was just where I left it.
Dedit also offers "Search and Replace" I used this function when I realized I needed to change a few .CSS files on my websites, I found the area to change quickly, used the save file function to save under the same name, and then used my Symbian FTP program to upload the file once again to my website. The search and replace function can find any string of info you ask it to find which means any info can be quickly replaced or deleted.
The program is also setup with hotkeys that makes one handed navigation and quick information access extremely easy. The hotkeys can help you save files, open files and much more. I'm a huge fan of hotkeys and this freeware application didn't disappoint. Simply type a two key combination such as "Green Dial Button" and the 7 key as an example and specific areas are accessed.
Finally my favorite function is the "bookmarked" text function, using this option you can tell Dedit to remember where you have placed important information within your file, a great option if you want to reference information at a later time or edit them when you have a chance. This may be a simple bookmark function but it works well.
Conclusion
Dedit is a powerful, yet simplistic editor for Symbian S60 devices from Nokia, its quick, offers some excellent functions and best of all it's offered for free at Symbian-Freeware. If you need to edit files and you don't require an MS Word editor or a specific file editor then this is the text editor for you, give it a free try and you won't be disappointed.