Review: Mobiola Web Camera 3 for Symbian S60 Smartphones
Connectivity (5 out of 5)
Connecting your Mobiola Web Camera App to your PC couldn't be easier. Users can connect via USB, WiFi and Bluetooth connections, however in order to use Bluetooth your Laptop or Desktop require Bluetooth support or in the least a Bluetooth Dongle. I attempted all three types of connections and found that each method offered approx. the same data connection quality. Bluetooth was my preferred method because my Acer laptop includes Bluetooth built-in, however other users may prefer their own methods.
In terms of AIM connectivity Mobiola supports a wide range of message features that includes Skype, Yahoo, YouTube, MSN, AOL IM, ICQ and other less known options. Yahoo and AIM are my programs of choice and I didn't have a single problem while connecting to them, the webcam motion and picture were decent but not great, while the connection connected quickly from the get go.
The application also supports a wide range of screen dimensions including 160 x 240, 176 x 208, 208 x 208, 240 x 320, 320 x 240, 320 x 480, 352 x 416, and 800 x 320 which gives almost every user the ability to access Mobiola Webcam 3.
Here's a look at the process flow that Mobiola Webcam 3 uses to accomplish its Mobile to PC functionality: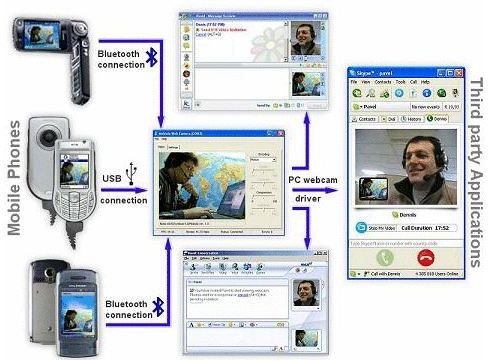 Conclusion
Mobiola Webcam 3 is a great overall application, its simple to configure, it offers excellent connectivity features, and the overall quality of webcam related video is on par with standard webcams. I definitely wouldn't say the picture quality is perfect, even via my 5MP camera phone, but it's definitely not bad on the fly and it will only improve as stronger cameras become available.. I did have some delays when loading the application, while trying to position my phone so I could get a good angle when using it as a webcam was a bit difficult. However when push comes to shove for $19.95 via Mobihand this Symbian S60 Smartphone based webcam is not only fairly priced, it's a great buy for on the go users who want to stay in touch with more than phone calls and IMs. Check Mobiola Webcam 3 out today!