Review of Ovi Suite for Nokia Phones
Requirements (4 out of 5)
At the time I'm writing this article Ovi will only work with Windows based PC's. However, Nokia offers a number of programs to help you transfer files and data from your Nokia phone to a Mac computer and they can be found here. In terms of current requirements, here are the specs for Ovi Suite as set forth by the developer.
Microsoft Windows® 7 (excluding Starter Edition), Windows® Vista with Service Pack 1 or later, or Windows® XP (Professional

or Home Edition) with Service Pack 2 or later

For Windows XP, the installation of the Microsoft .NET Framework 3.0 or later

2 GB of free hard disk space

1 GB RAM

1 GHz processor

64 MB display memory or graphics card

1024 x 576 resolution and 24-bit colour

USB cable, Bluetooth or infrared connection between your mobile device and PC
In most cases, you'll have all of this available since Nokia devices come with the USB cable and most modern computers offer the required specs listed above.
I would have given the requirements a perfect 5/5 but the lack of MAC support is a little bit annoying. Otherwise, it's a great application with more than reasonable requirements.
Sync Files (5 out of 5)
Even without Mac support, the program is nearly flawless. I would put it on par with Microsoft ActiveSync (Windows XP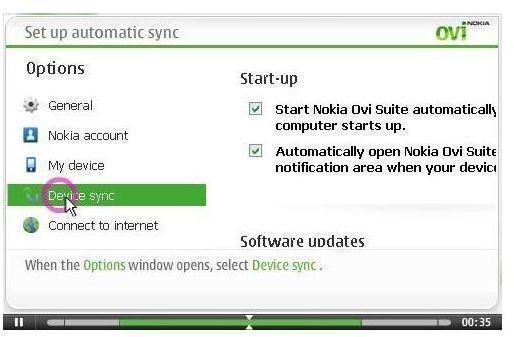 ), and Windows Mobile Device Manager (Windows Vista). The program installed quickly and my Ovi Suite online user account was created in a flash. Overall, it was a simple install that any Nokia phone user should have no problem with.
Once I had my Ovi account created, I was able to easily upload and store my photos and videos. It was easy to sync and backup my content in order to keep it safe in case something happened to my phone.
The best part of backing up files on Ovi? No space limitations apply. You can literally store as much as you require. It really gives added peace of mind.
Navigation Abilities (4 out of 5)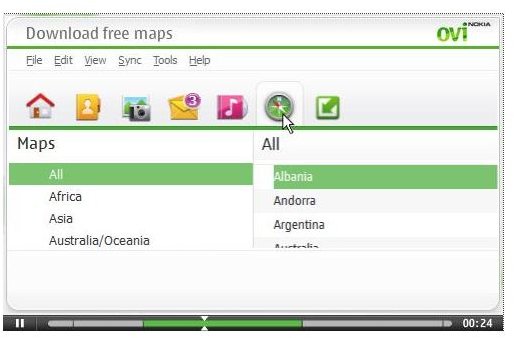 The Ovi Suite does more than just share and download files, users can also use Ovi Maps along with their device's GPS receiver to find their way to their favorite destinations. Users can use Points of Interest, or type in a business name or address and the mapping software easily guides them to their destinations.
I liked the Ovi Maps, they offered very clean lines and the POI's were easy to look up and access from all of my locations.
I also liked that I could save my own favorite points of access and use them at a later time, or even send them to a friend for their own quick navigation purposes.
Overall, a very competent mapping application for Nokia phones.
Calendar And Contacts (5 out of 5)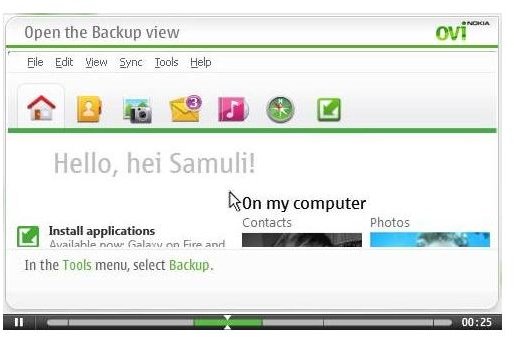 These options are my favorite part of Ovi. It's easier than ever to store your contacts which means if your device fails or you buy a new Nokia, you can easily transfer your saved contacts to your new device with ease. You don't have to worry about storing info on your SIM card or using carrier provided programs which I quite frankly find bulky and useless in a lot of cases.
I also like the calendar option; it makes it easy to store all of my appointments and then access them, delete them, and add new contacts from both my computer and my mobile. Whether the adding, editing or deleting is done from your PC or Nokia phone, you'll be able to access those changes from both locations.
Overall, the calendar and contacts abilities are on a par with ActiveSync, while offering the extra functions of Ovi on top.
Software Updates and New Applications (4 out of 5)
Ovi easily keeps your Nokia phone updated. Keeping your phone updated is very important and I found this function of the program to be simple, easy to use and very useful.
Ovi Suite regularly checks for the latest updates for your phone as well as updates for Ovi Suite itself. It also checks for new and useful applications and recommends them to you. Once you connect your phone to the suite, it gives you the option of installing the software updates and choosing which application updates and new applications you want to install. You can also buy and download apps from the Nokia Ovi Store.
Conclusion
If you need an application that can do more than just sync your device, then Ovi is the way to go. From backing up your phone to the ability to sync files, contacts and calendars, the Ovi Suite is a top notch program. Ovi Maps adds to those abilities and shows why so much press coverage has praised this competent application. There are plenty of more uses that Ovi offers, much too many to list here, so be sure you check out Ovi.com for more info.
I just have one question for Ovi Programmers. Where is my MAC support?
References