Nokia Lumia 710 Review: The Nokia Re-awakening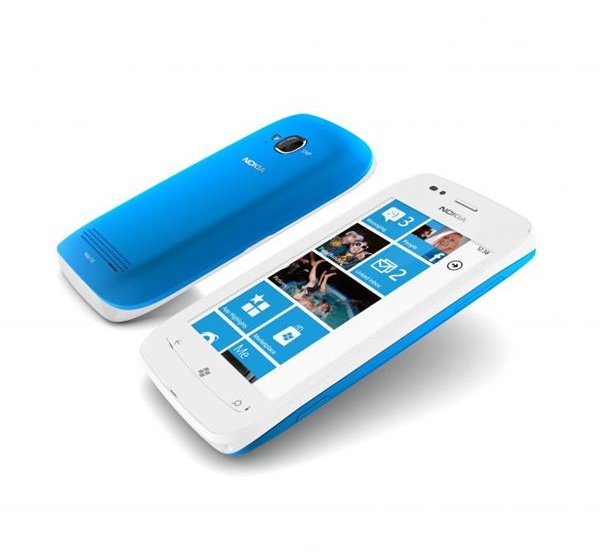 The Nokia Lumia 710 was announced in October 2011 at the Nokia World conference in London. With an expected release date of November 2011. This fun and colorful smartphone is aimed at bringing a low cost full featured Microsoft Windows Phone smartphone to the masses.
This smartphone lacks some standard features such as support for Java and Adobe Flash applications and games. The Nokia Lumia 710 is a great looking phone that comes with interchangeable covers.
This smartphone and the Nokia Lumia 800, are the two pilot Windows Phone based smartphones to come from the agreement between Nokia and Microsoft that marks Nokia's switch from using Symbian to adopting Windows Phone as the preferred operating system for high end Nokia phones.
We start off by taking a closer look at the design.
Design (3 out of 5)
The Nokia Lumia 710 is a medium sized phone that is suitable for most hand sizes. The back of the phone is curved therefore providing optimum comfort to the user.
This Windows Phone based device comes in an array of five main colors. These colors include black, white, cyan, fuchsia and yellow. The front face comes with options of either white or black.
The Nokia Lumia 710 has dimensions of 4.69 x 2.46 x 0.49 inches (119 x 62.4 x 12.5 mm) and has a total weight of 4.43 ounces (126 grams).
The front face of this phone comes with the proximity sensor and the ear piece right at the top. Below this is a 3.7 inch glass display followed by the three Microsoft Windows Phone keys for search, menu and back functionality. The mouth piece then completes the picture for the front face.
The right side of this phone comes fitted with the volume keys and the dedicated camera button. On the left side there is a single button for switching off the display. As for the back, there is a 5 MP camera with the single LED flash. The loud speaker comes at the bottom end of the back panel.
The top of the Nokia Lumia 710 is reserved for the microUSB slot which doubles as the power charging port. Also on the top panel there is a 3.5 mm audio jack slot and the power button.
User Interface (5 out of 5)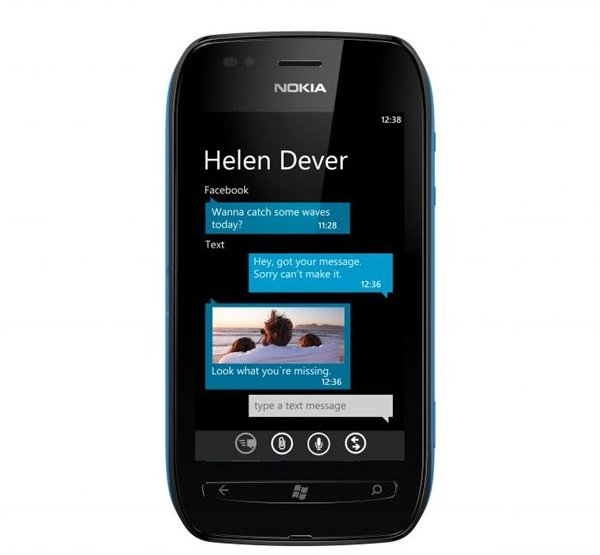 The Nokia Lumia 710 features a minimalistic user interface with clean transitions and great contrast for ease in identifying features and shortcuts. This Nokia smartphone features a Micrososft Windows Phone 7.5 Mango interface which is full touch-screen apart from the three dedicated keys for accessing the phone menu and the device search feature.
There is also support for threading in text messages and social network communication.
Placing and receiving calls can easily be handled using the on-display gestures. Other gestures include pinching, swiping, flicking and flipping. These are essential for zooming in on images in the gallery, navigating through menus and message inboxes, launching apps and all other in-app requirements on the phone.
Text can be input into the phone using the full QWERTY soft-keypad.
Apps can be installed directly from the Windows Marketplace with an interestng feature which allows the user to shake the phone and get a random app suggestion for installation.
Features (3 out of 5)
The display on the Nokia Lumia 710 is a Nokia ClearBlack display measuring 3.7 inches. The display is a TFT capacitive touch screen with a resolution of 480 x 800 pixels. In addition to this the display features Gorilla Glass with a multi-touch input method, a proximity sensor for auto turn-off, and an accelerometer sensor for UI auto-rotate.
There is a single 5 MP camera on-board with a maximum resolution of 2592 x 1944 pixels, autofocus, Geo-tagging and face detection. It is capable of recording 720p video at 30 frames per second.
Internal memory is limited to 8 GB mass memory and SDRAM of 512 MB. There are no options for external memory on this smartphone.
As for connectivity the Nokia Lumia features support for GPRS, EDGE, 3G at HSDPA 14.4 Mbps while HSUPA is at 5.76 Mbps. Wi-Fi is included as well as Bluetooth and microUSB.
This Nokia phone comes with a music player that supports MP3, WAV, eAAC+, WMA file formats and a video player that supports MP4, H.264, H.263, WMV file formats.
A stereo FM radio is included in this hardware with options for listening to audio using the stereo 3.5 millimeter compatible headphones or an external speaker.
In addition to the above the Nokia Lumia 710 supports micro SIM cards. It comes pre-loaded with Nokia Music, Nokia Drive, Nokia Maps and Bing Maps. Flight mode is available as a profile as well.
Included is an ambient light sensor, a built-in A-GPS receiver, a 3D accelerometer, a digital compass and a 3D Graphics Processing Unit.
Performance (4 out of 5)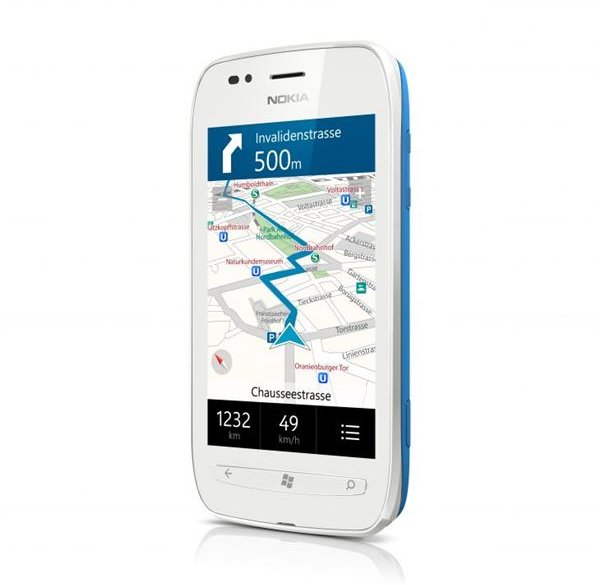 The Nokia Lumia 710 boasts Microsoft Windows Phone 7.5 Mango as the underlying operating system which is powered by a 1.4 GHz Scorpion CPU. On-board there is an Adreno 205 GPU that uses a Qualcomm MSM8255 Snapdragon chipset which gives this Nokia phone 3D hardware accelerated graphics support therefore making this phone a great performer on demanding apps and 3D games.
The 1300 mAh battery has a capacity of a maximum of 6.9 hours of talk time on 2G and a maximum of 7.6 hours on 3G. Maximum standby time is 400 hours. Music playback capability is up to a maximum of 38 hours with only 6 hours of video. These specifications are quite satisfactory as far as power usage goes.
The call quality on the Nokia Lumia 710 is excellent with great background sound interference blocking being quite effective on both ends of the line. The sound quality on the default stereo headphones is very good and crystal clear.
Radio reception is also quite good as long as you are in an area with a clear signal. A-GPS is quite responsive and accurate for that matter and takes only a few moments to lock into the GPS signal.
Picture quality could be termed as average on the 5 MP camera. Unless you have extremely steady hands it is difficult to get a clear focus on the camera.
In general applications launch very fast and the display is very responsive to user gestures.
Verdict (4 out of 5)
The Nokia Lumia 710 is a smartphone that grows on you. At first sight I did not like it much, but as you get to know it you appreciate its beauty and what it has to offer all at an average price of about 270 Euros.
This phone is elegant and attractive with a wide choice of colors. The processor behind this phone is very much appreciated, as is the built-in 3D graphics accelerator which opens up a wider list of games to choose from. Unfortunately this does not hold true for Java and Flash based games.
All-in-all this Nokia Lumia 710 review reveals a friendly phone that can be used by the budget conscious user as well the user who loves high end devices. This is a phone worth buying.
References