Fun and Performance with the Nokia 500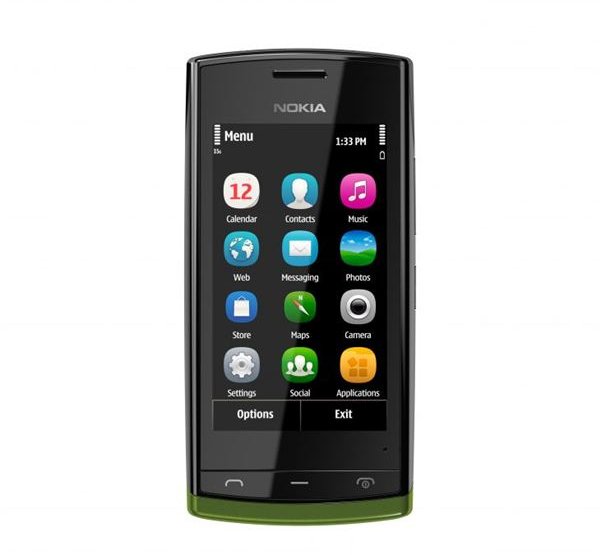 Announced in August 2011 with an expected release in Q3 2011, the Nokia 500 comes out as an entry level mobile phone with high end features. Externally it is visually noticeable with its wide array of bright, fun colors while internally it boasts of a super fast processor and the latest Symbian Anna operating system which features software enhancements, an improved web browser and the latest Nokia Maps.
The Nokia 500 is a phone that appeals to the budget conscious and the free spenders alike. It allows the user to express their personality while enjoying the enhanced capabilities to play games and do more over the Internet.
Design (5 out of 5)
The Nokia 500 comes in a sleek form, it is a great size and should be comfortable to handle for most people. This phone weighs 93 grams and measures 111.3 x 53.8 x 14.1 millimeters. It comes with a range of two distinct colors. The front half being either black or white while the back cover range includes Black, Azure Blue, Coral Red, Purple, Pink, Green, Orange, Khaki and Silver.
The front end of the phone has the ear piece right at the top followed by a 3.2 inch touch-screen display, with the call start, the menu key and the call end buttons sitting right below the display. Below these is a band that extends the back cover adding a nice look to the front of the Nokia 500.
The right side of the phone bears the hardware dedicated volume key and the camera activation key. The left side of this phone has no controls or slots.
The back side of the Nokia 500 is taken up by the external speaker, the camera and the rest is the back cover which houses the battery underneath.
The top the of the Nokia 500 has the 3.5 millimeter audio jack, the power button and the microUSB slot.
User Interface (4 out of 5)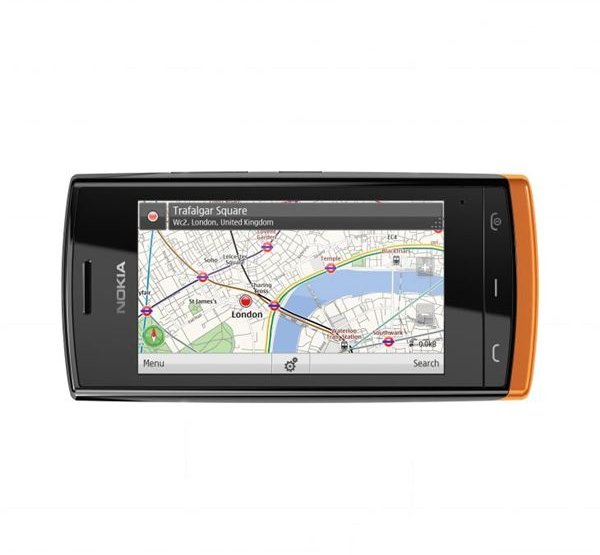 The Nokia 500 comes with three fully customizable home screens which can be populated with either application shortcuts, alert widgets or home screen widgets by simply tapping and holding the finger to access the home screen edit mode.
Usage on the Nokia 500 supports multi-touch gestures for navigation and access of applications. There is a dedicated hardware menu button below the display that gives you a good start to accessing applications.
Calls can be made using the soft key on the bottom right or using the dedicated call start key.
To input text into the device be it emails, text messaging or other operations, there is a full software keyboard that can be used to enter alphanumeric characters, symbols and emoticons if you are in messaging mode.
The camera can be accessed using a dedicated key and the same applies to controlling the volume of voice calls and when listening to audio and watching video.
Finding your way around individual applications exhibits slight differences as each application implements its own navigation control interfaces. In general you can scroll through long lists by either swiping down or up or flicking the list in the same direction. Accessing applications is done by tapping on the application shortcuts.
Features (4 out of 5)
The Nokia 500 comes with a 360 x 640 pixels resolution capacitive touch screen that supports up to 16M colors. It also comes with an accelerometer sensor for auto-rotate and a proximity sensor for auto turn-off.
There is a 5 MP camera on this device with a resolution of 2592 х 1944 pixels with support for Geo-tagging. With this phone you are also capable of video recording at 15 FPS.
There is an external speaker on this device as well as an option for inserting 3.5 millimeter audio headsets. With these you can listen to the built-in stereo FM radio, listen to MP3, WAV, еAAC+ and WMA audio formats or watch videos in the following fie formats – MP4, H.263 and H.264. Using the flash player you can access additional formats such as the FLV videos among others.
This device comes with a built-in GPS receiver with A-GPS support. There is also a digital compass on the device.
Browsing the web can be done using the WAP 2.0, with support for full HTML, web browser through either GPRS, EDGE or 3G at 14.4 Mbps. Also available for Internet access is Wi-Fi.
For device to device connectivity you have the option of using either Bluetooth Version 2.1 or microUSB.
Memory on the Nokia 500 is limited to 2 GB internal storage and 256 MB RAM with a 512 MB ROM. The storage can be extended to 32 GB using a microSD card.
This device comes with Nokia Maps preinstalled, Nokia Social Networking, Shazam Encore and web TV widgets.
Performance (5 out of 5)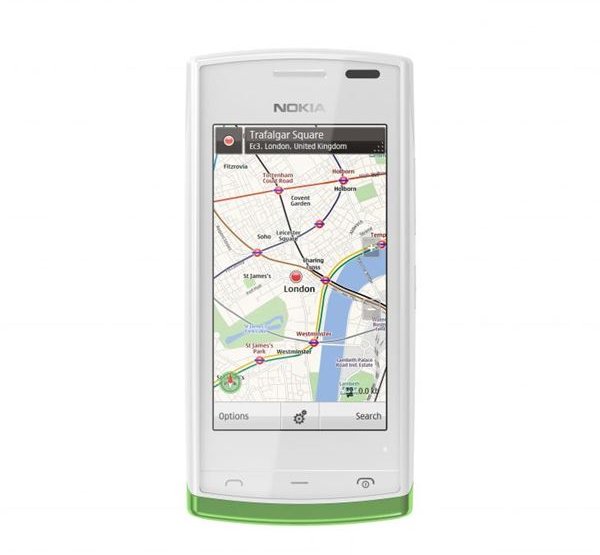 The Nokia 500 will give you talk time of up to seven hours on GSM and up to five hours on WCDMA (3G). It has a maximum standby time of 500 hours. With video playback you get about five hours and 35 hours for music playback.
Internet connectivity speeds are excellent on this device, with 3G speeds of up to 14.4 Mbps and Wi-Fi topped with an enhanced web browser and better performing operating system.
Application downloads are much quicker with the Qt 4.7 web runtime preinstalled.
To top all this there is the 1 GHz ARM 11 processor for blazing fast speeds, even though this device lacks a 3D/2D hardware Graphics accelerator, therefore limiting the performance of some gaming titles that rely on this feature.
The camera performance is below par as it does not have the benefit of a flash to light up the subject of the photo. This tends to result in grainy photos, especially in low light situations.
With A-GPS support the car and pedestrian navigation is quite accurate and reliable and with maps locally stored it works even when out of cellular network range.
Verdict (4 out of 5)
The Nokia 500 is an entry level smartphone that gives good first impressions and does not disappoint. It may lack important features such as the camera flash, but this phone is rated as an entry level phone which relieves the user of high expectations.
It is worthwhile having Nokia's latest operating system backing this device as well as the generous memory and processor speed to go along with it. With the right applications you can certainly get your money's worth out of the Nokia 500.
Speaking of money, the Nokia 500 is expected to retail at about US $215 plus taxes for an unlocked version.
References