Exploring the World with Nokia 3D World Gaze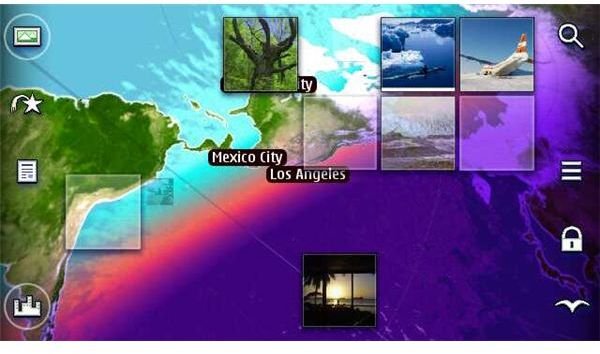 Nokia 3D World Gaze is a truly remarkable application, especially since it is not only tagged as experimental, but is also in Beta mode. I used my Nokia E7 to test drive this Nokia Beta labs app and after a seamless installation process it was up and ready to go in less than a minute. Other compatible Nokia phones, in addition to the Nokia E7, include the Nokia X7, Nokia E6, Nokia N8, Nokia C6-01 and Nokia C7.
Nokia 3D World Gaze allows you to view, mainly city and country, information by pointing your Nokia phone in the general direction of the place you are interested in.
I must admit that before I laid my hands on it, I had never seen anything quite like it before. Well almost never. You could say that this app is kind of a Google Earth with a twist.
Ease of Use (5 out of 5)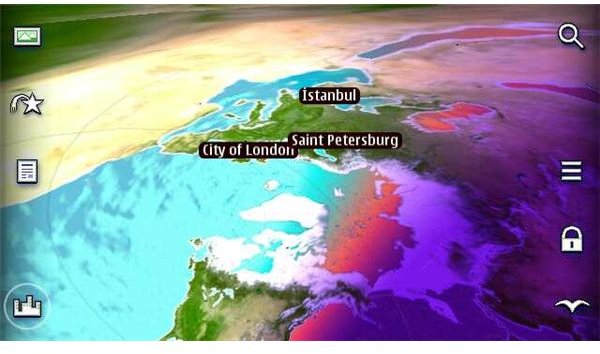 Nokia 3D World Gaze is set from a user point of standing on a giant sphere, which is the earth. This sphere or earth happens to be transparent, meaning that if you point your phone downwards you will see right through to the other side of the planet. Quite interesting.
Before I realized this I thought there was something wrong with my phone as I was looking at the continents of Asia, Europe, North and South America, as if looking though a mirror.
Using Nokia 3D World Gaze reminds me of using the Nintendo Wii. Once your app is running and calibrated, all you need to do is point it in any direction and keep your eye on the screen. When toggling between options all icons are available on either side of the screen and can be accessed by tapping on either of them. All there is to using this app is ample elbow room and a place where you are free to turn in all directions.
Features (4 out of 5)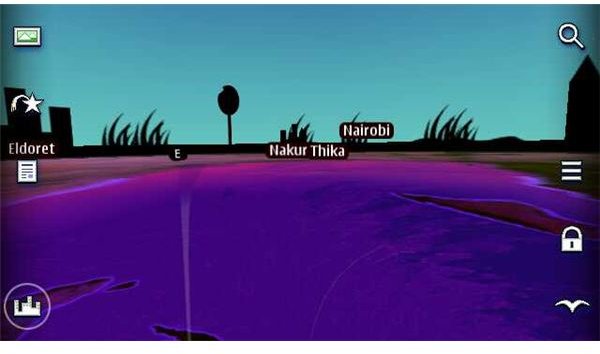 The app comes with a 3D map of the world which has two views, a bird's eye view and a ground view. You can use your volume keys to zoom in and out of either view. Looking down on ground view will allow you to see right through the earth to the other side of the planet. The 3D map is aware of daylight and night cycles and makes a good representation of them on screen. Pointing your phone towards the sky allows you to determine the position of the sun. This is ideal on an overcast day or when indoors.
The ground view comes with a graphical silhouette of an artist's impression of cites and landscapes, depending on the proximity of the city. There are markers on screen that can be turned on and off. These include, images from Panoramio overlaid on the view, news from Wikinews, general city information from Wikipedia and geographical information on cities from Geonames.
You can also access the distance of a city from where you are, its population, geographical co-ordinates and the country where it is, by tapping on the name when it pops up.
With this app you can also search for places, and show and hide clouds from the view. You can also freeze a view port and while in that state you can pan the view.
Performance (4 out of 5)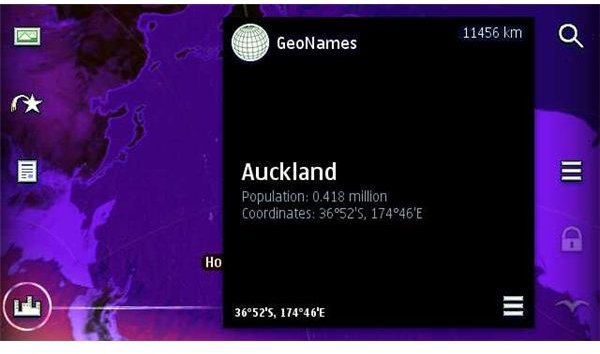 Nokia 3D World Gaze is highly dependent on your device's built-in A-GPS receiver, digital compass and Internet connection. The A-GPS and Internet connection are key influencing factors in how well the application performs.
For starters, it would be ideal to be in a location where there is good 3G connectivity or Wi-Fi connectivity available. As for the GPS features, an outdoor location will be most ideal.
In near perfect conditions the performance of Nokia 3D World Gaze is amazingly fast. Images and content are downloaded rather fast and cities and landscapes pop almost instantaneously as you go about shifting your phone's direction. Loading online content is also a breeze – this not only goes for text content but images as well.
Using Nokia 3D World Gaze still works well in an enclosed room, though finding locations might be a challenge.
Verdict (4 out of 5)
On the usefulness scale, I would give it a three, perhaps a four. There is a lot of potential in Nokia 3D World Gaze with endless possibilities and who knows what might be included in future. This is an application that will surely excite the user for a couple of days until the novelty wears off, unless you are an explorer type of person, in which case this app is for you. I would give this app a well deserved thumbs up for innovation and great use of the Nokia phone's location based capabilities.
Now, I have not had time to check it out from a different location on the planet as I have not traveled since I first installed it. I guess that gives me something new to look forward to on my next trip.
References