Review of Nokia 6102i: A Basic Clamshell Phone
Nokia 6102i is a GSM clamshell phone that is similar to Nokia 6102 in many respects. This triband (850/1800/1900 MHz) handset is light, compact and stylish. The handset usually comes with a battery, charger, headset, and user manual. This mid-range phone is available for a budget price and is ideal for someone looking for a basic phone for calls.
Design (4 out of 5)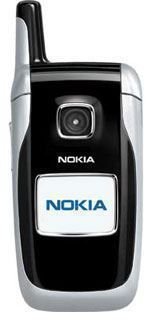 The clamshell design of the Nokia 6102i is impressive. It has two screens: internal (128 x 160, TFT with 65,536 colors) and external (96 x 65, STN with 4,096 colors). They support animated wallpapers and screensavers. The external display enables you to see the battery life, signal strength, time, profile (silent, meeting, etc), alarm, calendar note, and caller ID without opening the phone. The internal screen comes to life by opening the flip.
This light and compact handset weighs 3.42 ounces and measures 3.35 x 1.77 x 0.94 – it is not a thin phone. The VGA camera lens is located above the external display. Volume control is located on the left spine of the phone. The camera button and the IR port is located on the right spine of the handset. A multi-functional port is located at the bottom; you may use this port to charge the phone or to connect your headset.
User Interface (3 out of 5)
The 6102i enables you to sync phone contacts and calendar information to your PC. Two soft keys and a 5-way keypad facilitates easy navigation through various menu items. The handset offers 4.2 Mb of memory which is less than substantial, and does not have a microSD slot. This makes it difficult to store various contents on the handset. The predictive text (T9) feature helps to key in error free text messages quickly.
Features (3 out of 5)
The phone is Bluetooth compatible, which enables you to connect with other devices (like a headset, laptop, etc) wirelessly within a 30 foot range.
The handset comes with a small VGA camera (640 x 480 pixels resolution), with the internal screen acting as a viewfinder; you can use external display for self-portraits. The handset offers three image-quality options (high, normal and basic) and three modes (standard, portrait and night). The handset offers a gallery for storing and editing images.
You can store 500 contacts in the phone book. You can also record videos (128 x 96) using this phone, but the quality is poor.
The Nokia 6102i is USB compatible, which facilitates fast file transfers and easy sharing of files with other devices. The handset also has an infrared facility. It is IM compatible and supports AOL Instant Messenger, MSN Messenger and Yahoo Messenger. The Nokia Xpress audio messaging feature enables you to record your voice and to send it as a message.
The handset is also MMS compatible enabling you to send and receive multi-media messages (containing text, audio, video, and images). The handset supports SMTP, POP3 and IMAP4 protocols; this enables you to check third party email accounts.
The phone also comes with a speaker phone feature. The handset supports voice dialing and accepts voice commands. You can also record calls using this phone. You can download MIDI and MP3 files and use them as ring tones. The handset also offers Truetones and polyphonic ring tones.
Unfortunately the handset does not have an MP3 player; although it comes with an FM radio feature that allows you to preset up to 20 stations.
Speed dial, call conference, last number redial, call waiting, calculator, countdown timer, alarm (with snooze), stop watch, caller ID with photo, keypad lock, and vibrating alert are other useful features of this handset.
The 6102i allows you to download Java games and applications and also features GPRS and EDGE compatibility.
Performance (3 out of 5)
Nokia 6102i uses a Li-Ion battery (820 mAh) that gives you up to 4 hours of talk time and 14 days of standby time.
The call quality is very good – no distortions were noticed on a test call.
The Nokia speakerphone works very well giving loud and clear sound, but the quality of videos recorded using this handset was poor – the video was blurry.
The quality of images captured with this handset was poor, but that's to be expected. The camera does not offer a zoom facility and it's also not possible to adjust the brightness.
The IM feature worked flawlessly while testing.
Overall Rating (3 out of 5)
Although the phone offers multiple options to connect with other devices, you will be disappointed if you look for high end multimedia rich features in this handset. The Nokia 6102i is a basic handset with decent performance
Reference:
Images: https://www.nokiausa.com/find-products/phones/nokia-6102i
https://www.nokiausa.com/find-products/phones/nokia-6102i/technical-specifications