Nokia N9: Swipe Gestures at Their Best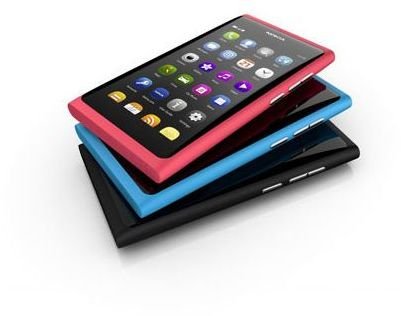 Announced in June 2011, the Nokia N9 is the latest and probably the last of the MeeGo smartphones from Nokia. This smartphone comes preinstalled with Linux OS running the MeeGo v1.2 Harmattan distro. It is based on the Qt Framework, also from Nokia. The Nokia N9 focuses on usability and simplicity. It features a fast and easy way to perform the most common actions any mobile user would want in their day to day usage, other than just making phone calls. This MeeGo based Nokia phone introduces a fresh new look and precision design that we can now look at in detail.
Design (5 out of 5)
The Nokia N9 comes in three colors which are Black, Magenta and Cyan. It weighs about 135 grams and measures 116.5 x 61.2 x 12.1 millimeters. This Nokia smartphone takes a minimalistic approach to design with a single ear piece slot and a 3.9 inch glass display on the front side of the phone. The left side is bare. The right side does not have much either, except for the volume keys and the dedicated device wake-up key.
On the top side of the the Nokia N9 if held upright, you will find the power control key, the 3.5 millimeter audio jack and the TV-out slot. The back of the Nokia N9 has the camera and LED Flash.
The bottom end of the phone is fitted with slots for the external speaker.
One interesting thing about this phone is that if looked upon from the front it reveals a perfect rectangular shape with hard square corners. If looked upon from the side it reveals a totally different design with prominent curves.
User Interface (5 out of 5)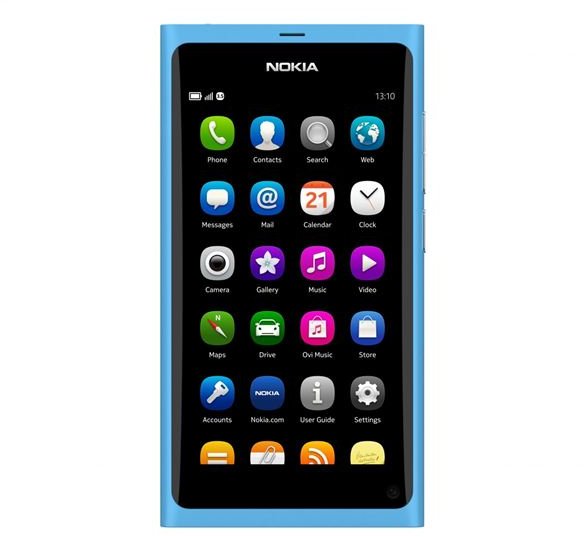 The user interface on the Nokia N9 is well designed and consists of three major home screens and one active application view. We start with the Application Grid view. This is where you have a list of all the applications and services you have installed on your phone. This grid allows you to rearrange icons using drag and drop features. You can launch any application by simply tapping on its icon.
By swiping the screen to the side you come to the next home screen which handles events. This is the Events View which is an aggregation of notices and alerts from several applications and services. Here you can access all of your alerts including text and email messages, social media updates and missed calls among others. This view also includes updates from your RSS feeds.
Swiping again takes you to the third home screen which is the Multi-tasking View. This view displays thumbnails of all your running applications. You can bring to focus any of those applications by tapping on the respective icon. Leaving the active application and going back to the Multi-tasking View is done by swiping from the edge of the screen. From the Multi-tasking View, you can pinch to zoom in and out to allow you to see more detail about the application without launching it full screen. The most recently used application shifts and takes up a position on the top left of the screen to allow you to better manage your active applications.
The rest of the in-app usability features and navigation depend on the individual applications.
Features (4 out of 5)
The Nokia N9 comes with support for both GSM and CDMA networks. It comes with an AMOLED capacitive touch screen capable of 16M colors at a resolution of 480 x 854 pixels. This display is a piece of curved surface glass with LED rendered close-to-surface graphics.
The display is made of Gorilla glass with anti-glare polarization and multi-touch input. There is a proximity sensor for auto turn-off and and accelerometer sensor for UI auto-rotate. This phone has a 3.5 millimeter audio jack and external speaker for music, video and game lovers.
Also you get Angry Birds Magic, Real Golf 2011 and Galaxy on Fire games preinstalled on the Nokia N9 in addition to a host of other applications. The Nokia N9 is capable of playing audio output in Dolby Digital. The audio file formats that this phone is capable of playing are MP3, WAV, eAAC+, WMA, FLAC, as well as MP4, H.264/H.263, WMV formats for video.
There is an 8 MP camera with Carl Zeiss optics, auto-focus and dual LED flash. The camera features Geo-tagging, touch focus and face recognition. The camera on the Nokia N9 can also record HD video at 720p at 30 frames per second. Included in this phone is a secondary video call camera. There is a video and photo editor to help you touch up your images and videos.
Internal memory on the Nokia N9 is either 16 GB or 64 GB. RAM is set at 1 GB. This phone comes with no option for external memory but allows you to connect to external flash memory USB storage.
The connectivity options on the Nokia N9 include GPRS, EDGE, Wi-Fi, Bluetooth, USB and 3G at a maximum of 14.4 Mbps.
There is an internal GPS receiver with support for A-GPS and preinstalled Ovi Maps. This device also includes a digital compass.
Performance (4 out of 5)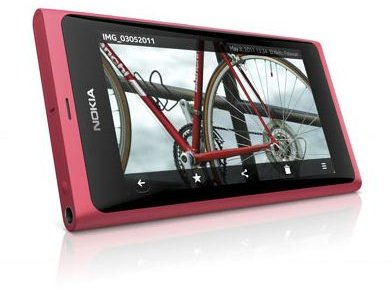 The Nokia N9 comes with an ARM Cortex-A8 processor and a 2D/3D Graphics HW Accelerator with OpenGL ES 2.0 support. With 1 GHz clock speed, this CPU is almost twice as fast as other high end devices which come with the ARM 11 chips.
Applications are therefore bound to launch much faster and operate more efficiently. The Nokia N9 is capable of multi-tasking in a true form rather than perceived multi-tasking. This means the applications are actually running simultaneously and not suspended when out of focus.
Call quality on this smartphone is enhanced using active noise cancellation with a dedicated mic.
The battery life on the Nokia N9 is rated at a maximum of 380 hours on 3G and 450 hours on 2G with up to 11 hours of talk time. Music playback is up to a maximum of 50 hours.
Performance of GPS is better enhanced in Assisted mode rather than accessing GPS data exclusively from the GPS satellites.
Verdict (4 out of 5)
The Nokia N9 is a fresh and welcome addition to the Nokia N-Series of smartphones. With the use of bold primary colors, a unique design and a swipe navigation model, there is a lot in store for this smartphone from Nokia with endless innovative possibilities.
It would have been better if the Nokia N9 came with a FM radio or better yet, a FM transmitter. Despite that, with a massive 64 GB internal memory, I can confidently say the Nokia N9 is a phone definitely worth having. It is important to note that this smartphone only supports the microSIM cards format.
There is no price tag on the Nokia N9 so you will have to check back later on this page to get an estimate on this phone.
References