Nokia C3-01 Review: Another Budget Release from Nokia
Nokia has been the king of budget phones for as long as I can remember. Until recently, it also was the top smartphone manufacturer in the world, but Android has taken over on both counts. Even so, there are still plenty of good Nokia options in the budget phone market.
The Nokia C3-01 is another budget phone by Nokia. It runs the S40 UI optimized for touch-screen phones and comes with a 5 MP camera. In this review you'll learn everything you need to know about the Nokia C3-01.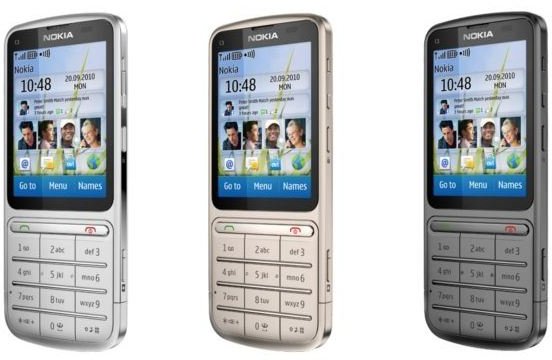 Nokia C3-01 Specifications
Dimensions: 111 x 47.5 x 11 mm
Weight: 100 gms
Display: 2.4 inch TFT resistive touchscreen display, 240 x 320 pixels
OS: S40 6th edition
Memory: 30 MB internal, 32 GB microSD card
RAM: 64 MB RAM
Camera: 5 MP camera, 2592 x 1944 pixels, LED flash
Connectivity: GPRS, EDGE, 3G HSDPA, Wi-Fi 802.11 b/g/n, Bluetooth 2.1 with A2DP
Battery: Li-ion battery, 1050 mAh
Design (4 out of 5)
Some people don't like a touch-screen phone; they prefer phones with physical keypads and tactile feedback. Nokia is trying to please both types, with Touch and Type phones like the C3-01.
The Nokia C3-01 has dimensions of 111 x 47.5 x 11 mm and it weighs about 100 grams. It is quite slim and moderately stylish. It has a standard candy bar design with good build quality. It feels quite durable.
It has a 2.4 inch TFT resistive touch-screen display with a resolution of 240 x 320 pixels. The display is quite small compared to new smartphones, but it is big enough compared to phones in the same range. It has decent brightness but the contrast is ok at best. The display is quite sensitive and has vibration feedback.
It has a keypad right below the display. The keys are quite big and easy to use. The right side of the phone has the lock button, volume rocker and the camera key. The top has the microUSB port and the audio jack along with the charger slot. On the back, there is just the camera lens and the LED flash.
OS and User Interface (3 out of 5)
The Nokia C3-01 comes with the S40 6th edition Touch enabled UI. It is the best version of S40 yet and is optimized for touch-screen phones. You can operate it fully by touch, and also by using the keypad.
While the UI is not perfect, it is one of the best options you'll find in this price bracket. It's extremely intuitive and easy to use.
Features (4 out of 5)

The Nokia C3-01 comes with a nice image gallery app which allows you to browse through your images easily in different modes like a grid, full screen view and a slideshow. You can use your finger gestures to browse through the gallery.
It has a music player app as well which has all the standard interface options. The audio quality is quite good, especially when coupled with good headphones.
It can also play videos in the 3GP and MP4 formats, but watching videos on the small display isn't recommended. It also comes with an FM radio with RDS.
It has a 5 MP camera which can capture images at a maximum resolution of 2592 x 1944 pixels. The camera interface is great but the camera doesn't have autofocus. It has an LED flash though. It can record VGA videos at 15 FPS, but the video quality sucks.
The phone also has 30 MB of internal storage and supports up to 32 GB microSD cards. The Nokia C3-01 comes with all the basic connectivity options. It has GPRS, EDGE, 3G HSDPA, as well as Wi-Fi 802.11 b/g/n, and Bluetooth 2.1 with A2DP. It also has a GPS transceiver with A-GPS and comes with a nice web browser.
Performance (3 out of 5)
Call quality is good and this is a reliable phone for making calls.
It comes with a 1050 mAh Li-ion battery which lasts for more than a day, even with a lot of usage.
The Verdict (4 out of 5)
The Nokia C3-01 is a nice budget phone which offers almost everything you can expect in this price range. If you are an old fashioned keypad fan, this should help you make the transition to touch-screen phones. I would recommend it, in this price range at least. You could also check out the Nokia X3-02 Touch and Type which offers similar specs.
If you want to go Android, which is a much better idea, then check out this list of the best budget Android smartphones.
References