Ultimate PDF Application for Nokia 5800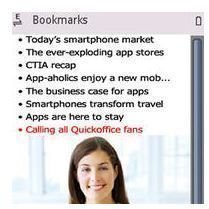 Introduction
Very common on computers, PDF documents can also be viewed directly on your Nokia 5800 XpressMusic phone by using a suitable PDF application for Nokia 5800. There may be several sources for getting these PDF documents on the Internet but, as is known, some sources may be reliable while others may not be safe. Without dwelling on that too much here are three good PDF apps of interest.
Adobe Reader LE
With support for Italian, German, French and Spanish in addition to English, Adobe Reader LE by QuickOffice is a PDF application for your Nokia 5800 that supports resizing of PDFs optimized for the mobile display. You can open larger files without the "Out of Memory" Error that usually prevents large files from being opened on your mobile phone.
Adobe Reader LE has also got seamless integration with the QuickOffice suite. Text in the PDF document can be re-factored in reflow view to allow for improved reading.
Complex layouts and detailed images and other formatting are retained in Adobe Reader LE. There is also zoom functionality to allow you to easily read any PDF document.
Just like on the Desktop version, you can navigate PDF documents using the embedded bookmarks as well as embedded fonts. The search facility is also available on Adobe Reader LE.
The display of the PDF documents can be rotated to make the best use of the display. Encryption and password protection is enabled in this PDF application for Nokia 5800.
Document properties such as Author, Keywords, Date Created, File sizes and other standard PDF property features are available through this application.
With Adobe Reader LE you can also navigate your Nokia 5800 file system for better document management including access to recently opened documents, sharing of files via email and Bluetooth, and opening of email attachments directly using this application.
You can download Abobe Reader LE from here for about US$14.
PDF+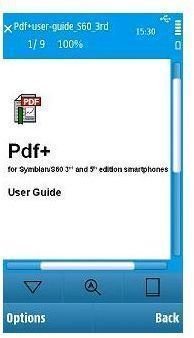 PDF+ from mBrain software is another PDF application for Nokia 5800. It comes with a file browser for easy access to PDF files on your mobile phone. This extends to opening password protected files and encrypted documents.
Searching for text is available with PDF+. For better legibility you can zoom in and out of documents and read documents in full screen mode .
With PDF+ on the Nokia 5800 you can use the Go to page feature and even use the embedded bookmarks and links to navigate the document. Phone numbers within the document can be dialed directly.
The text re-formatting reflow feature is available with PDF+ for Nokia 5800 which allows you to realign content to fit on the display. In addition to this there is a column mode feature that allows you to read documents by column.
You can share PDF documents using Bluetooth and email and even use PDF+ to open PDF attachments.
You can download PDF+ from here for about US$14.
AlternateReader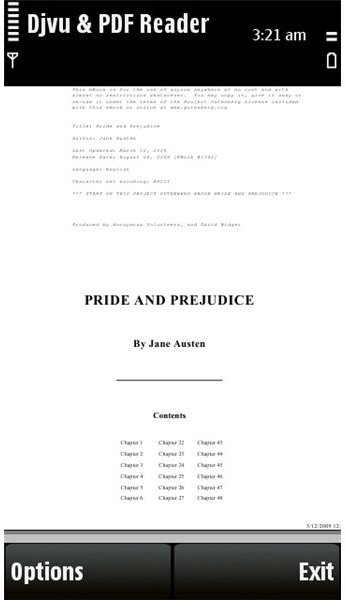 Alternate Reader is an open source option for a PDF application for Nokia 5800 based on the DJVU and PDF Reader project. I decided to add this option because it comes absolutely free. It is capable of most basic features, such as search and accessing the Nokia 5800 file system for sharing of PDF documents. It is also capable of opening large PDF files. Though not as optimized as the other two options mentioned above, you can open and zoom in to be able to clearly read the PDF files.
You can download AlternateReader from this location for free.
My Favorite Choice
Based on the feature rich, development activity and continued growth of the PDF application plus the seamless integration with QuickOffice document suite for Symbian, I would definitely say that Adobe Reader LE is the best PDF application for Nokia 5800.