How to Make the Best of Your Nokia 5800
Getting Started
For starters, to know about all the Nokia 5800 tricks you need to know about your phone which can be found in this Nokia 5800 review. Next you do not want to damage your phone by storing it in dusty places or in excessively hot or cold areas. Avoid knocking the phone and placing it near magnetic fields. Always remember to remove the battery entirely before removing the SIM card. It is recommended that you use a Nokia approved stylus with the Nokia 5800 as other sharp objects may damage the phone. The stylus is crucial for handwriting recognition. Other touch screen operations may be accessed by tapping with the finger or the stylus. At any time during phone operations, the help functions can be accessed using Menu > Help. At times you may need to free memory on the Nokia 5800. This can be done by going to Menu > Applications > File mgr and removing data you no longer need.
Voice Calls and Text Messaging
To make a phone call by using the dialer, you can access it using the dialer icon on the home screen then type in a number to call or search for a number from the contacts. The Nokia 5800 has a proximity sensor which disables the touch screen during calls. When placed close to the ear. Never block this sensor with tape or anything else. To make video calls you need to contact your network service provider and have a USIM card and be in a UMTS network area.
You can enter text into your Nokia 5800 by tapping the characters on the on screen keyboard using your finger or the stylus. You may also use your handwritten text using the stylus. For this to work optimally you need to train the handwriting by going to the keyboard icon and selecting Handwriting > Handwriting training. For text messages you send often, you can save them as templates to save time. Text messaging features can be accessed through Menu > Messaging.
Personalization
The Nokia 5800 allows you to personalize your phone by changing the themes and setting up profiles. To change the theme of your phone you would need to go to Menu > Settings and Personal > Themes and to manage your profiles you can go to Menu > Settings and Personal > Profiles.
Multimedia Services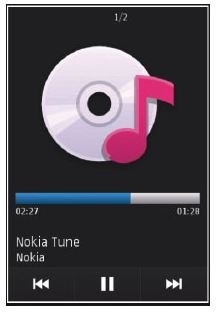 Listening to music and podcasts on the Nokia 5800 can generally be done through the music player found here Menu > Music > Music player. You can play music copied to your phone from your PC or downloaded from various other sources. You can also take advantage of the Ovi Music Service from Nokia though this may incur additional network charges. To listen to radio on the Nokia 5800 you must have your compatible headset plugged into the phone.
To manage your music, video and pictures you can go to Menu > Gallery. Using the settings tab you can set up your device to view your images on a TV set using the Nokia video out cable. This can be configured using Phone > Accessories > TV-Out.
You need to be aware that even though the Nokia 5800 gives you a choice between cameras, one in the front and another in the back, the camera in the front is low resolution so you need to be careful when you choose which to use. You can use the front camera by selecting Options > Use secondary camera. To capture yourself in images, you can use the built in self-timer to delay the shot by a few seconds. The same delay can be good to get more steady photographs.
Connectivity, GPS and Maps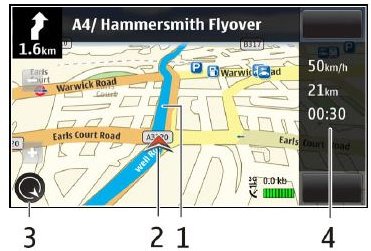 If you do not have a fixed cost data plan then you would probably want to use WLAN whenever possible to save on costs. In some countries like France WLAN is restricted outdoors so you may need to contact the authorities in your area for more information. You can set up your WLAN by selecting Menu > Settings and Connectivity > Wireless LAN > Options > Settings.
To use the Assisted GPS (A-GPS) functionality, you must have an access point defined to your cellular network service for faster GPS positioning. Holding your Nokia 5800 correctly helps reduce the time it takes for your phone to get enough information from the GPS satellites. Your phone needs information from at least four satellites to function so calculating your position can take anything from a few seconds to a few minutes.
The Nokia N5800 uses Ovi maps to handle mapping operations. One Nokia 5800 trick to save time and data charges is to pre-download maps of the area you are in and the area you will be traveling to whenever needed. This will save you a bundle in data connectivity charges. As a general rule, always consider the the maps to be inaccurate and incomplete to some extent. This is just the reality of the situation.
Miscellaneous Nokia 5800 Tricks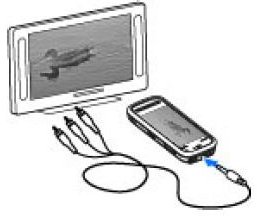 To get the best out of your Nokia 5800 always ensure you download the latest applications, games, themes music and videos and keep them all up to date through Nokia Ovi Store available on your menu. Use your file manager, Menu > Applications > File mgr to delete unwanted data and to manage your phone memory better. You can use your dictionary by going to Menu > Applications > Dictionary and using it to translate words from one supported language to another. Your translations are also kept in history. All settings on the phone may be accessed through Menu > Settings.
To close an application that is not responding, press and hold the menu key. Select and hold the application icon, and select Exit. If you need to recalibrate the touch screen, select Menu > Settings and Phone > Touch input > Touch screen calibration and follow the instructions. You can prolong your battery life on the Nokia 5800 by reducing brightness on screen and then closing unused applications, network and services when not in use.
You may find other similar Nokia user guides of interest such as the Nokia C6 User Guide, the Nokia N97 User Guide and the Nokia Nuron User Guide.