The Ultimate Nokia N8 Guide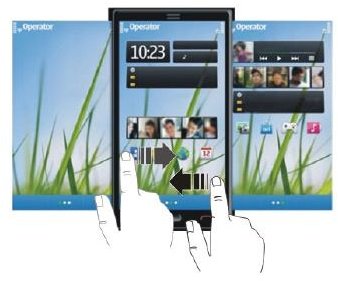 Getting Started
The first thing you need to know is that the Nokia N8 comes with a non-removable battery, which is unlike other Nokia N-series phones. Any attempt to remove it may damage your phone. The SIM card should not be removed whenever your Nokia N8 is switched on. You will need to fully charge your battery once you unpack it from the box, even though it may be partially charged.
Always remember that the Nokia N8 goes into power saving mode when the battery is low and in this mode you may think the phone is off. Restore the phone using the power button. Some application settings cannot be changed in this mode so you will need to recharge your phone to get back maximum control of the Nokia N8.
To get the most out of your Nokia N8 ensure that you install Nokia Ovi Suite on your computer so as to be able to sync your phone with your computer and to be able to install applications, and maintain and update the Nokia N8 firmware. You may also get a Nokia account on Nokia's Ovi Services. There you can have email, share files and get music. The rest of this Nokia N8 guide will show you how to personalize and configure your Nokia N8.
Basic Usage and Personalization
To use the Nokia N8 in general and to get around the device you will tap the relevant application or screen element. Tapping and holding gives you access to the menu system. Swiping is also supported when scrolling through several items. Profiles for customization purposes can be accessed by selecting Menu > Settings and Profiles on the device. There you can set up ringing and message tones as well as changing themes and home screens. To access calling functions select the "call" icon from the home screen to activate the dialler. Calls can be made by tapping in the number and selecting the green call button.
You can use the dialer to search for contacts to call. To make a video call select Menu > Contacts, and search for a contact, then in the contact card, select Video call. Remember you need to be on a 3G network and this could incur some additional costs. Calls on the Nokia N8 can be recorded by going to Menu > Applications > Office > Recorder.
Setting Up Messaging And Email
By going to Menu > Messaging on your Nokia N8, you can easily access text, audio and multimedia messages that support video and pictures. In most cases these settings will automatically be set up for you.
As for mail, you can set up several mailboxes by going to Menu > Applications > Mail then selecting "New". From there you will be able to fill in the relevant details such as incoming and outgoing mail servers, the ports to use and other common mail settings. Each mailbox can be placed on the home screen using the home screen widgets.
Internet and Social Networking
Setting up Internet on the Nokia N8 can be done using the menu through Menu > Web. Email can be accessed through the phone service provider using 3G or through the WLAN. With the latter being convenient when you don't have a fixed rate data plan with your provider.
In most cases you will not need to set up Internet as your access points will automatically appear depending on your data provider. Remember to clear the cache after each use. The Nokia N8 will prompt you to do so.
Internet connectivity can be set up by going to Menu > Settings and Connectivity > Settings and following the instructions.
By signing in to Ovi by Nokia and going to Menu > Applications > Social on your Nokia N8, you can have your social network accounts aggregated into a single view. With this service you can follow friend's updates, share pictures, link your friend's profiles with your contact book, and add events and location information to your status updates. All these features can be accessed once you sign into Ovi by Nokia.
Using Multimedia Features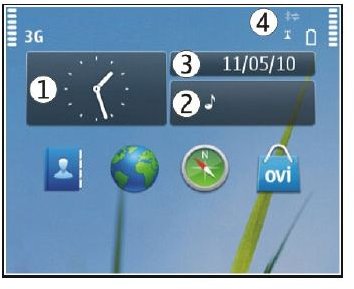 The Nokia N8 has some highly rated multimedia features. With these features you have access to a high resolution camera that can be accessed through Menu > Applications > Camera. Through this menu item you have access to taking photos, face detection and saving location information by going to Options > Settings > Save location info > Yes.
The Nokia N8 has presets for taking pictures in the dark, of moving objects and close-ups. With Nokia N8 tips, such as using both hands to keep the camera steady, you should be able to capture some great photos. You should also note that when you zoom in, the image quality may decrease. You can set user defined scenes to be used as the default scene every time the camera is activated by going to Select > Scene mode > User defined > Edit. The flash should never be used on people or animals at close range.
The pictures you take can be edited using Menu > Applications > Photo editor. Pictures can be combined with videos, effects, text and sound to turn them into movies and slide shows. You can do the same using the video editor through Menu > Applications > Video Editor, while movies can be created with the Storyboard feature by going to Menu > Applications > Video Editor > Storyboard. Depending on the Country or location, you may have Web TV services. To access these you can go through Menu > Web TV.
Music on the Nokia N8 can be accessed though Menu > Music player with additional music available from the Nokia Music Store through Options > Go to Music store. Some multimedia files may be Digital Rights Management protected content. To manage or remove those setting you would go to Menu > Settings > Phone > Phone management > Security settings > Protected content on your Nokia N8. By accessing the FM radio through Menu > Applications > Radio and plugging in the headset you can listen to available radio stations in your area.
Office Documents
To access Microsoft Office documents on the Nokia N8, you would need to use Quickoffice by going to Menu > Applications > Office > Quickoffice. With Quickoffice you will not be able to edit the documents until you purchase the editor version of Quickoffice by selecting Updates and upgrades.
With the Dictionary application on the Nokia N8 found here - Menu > Applications > Office > Dictionary, you can translate words between supported languages.
Final Nokia N8 Tips
Avoid shaking or knocking the Nokia N8 as internal damage can occur. Keep the phone away from magnets, do not store it in cold places as warming can cause moisture to form and damage the electronics. Keep away from excessive heat and dusty areas.
There are also some other general phone tips that may be relevant to the Nokia N8 such as those found in the Nokia N97 User Guide and the Nokia Nuron User Guide.