Guide to Using the Nokia C6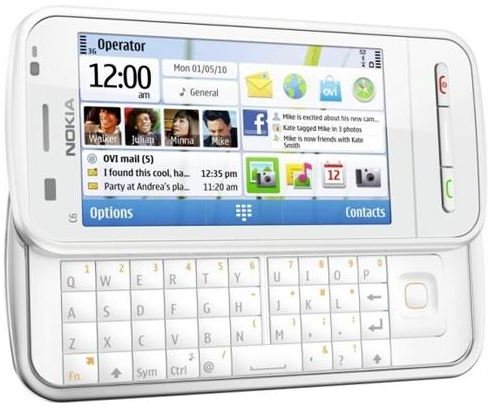 Basics
Whenever possible remember to update your Nokia C6 firmware, preferably through your computer using the Nokia PC suite or Nokia Ovi Suite software. At any time during operations you can access the Nokia C6 help menu by going to Menu > Applications > Help. Also make a point of visiting online resources to get other Nokia or third party software to get the most out your Nokia C6.
Be sure to close any programs you are not using as this helps to save your battery power. The same goes for data connectivity functions such as WLAN, Bluetooth, GPRS etc. For better call quality, hold the phone on the sides during calls as this causes less interference with the antenna.
If you have just gotten the Nokia C6 you will need to transfer your content such as phone numbers, calendar or images from your previous phone. If you previously had a compatible Nokia phone, you can use the phone switch application to do the transfers via Bluetooth otherwise you will have to copy them using Nokia Ovi suite.
User Interaction
Interacting with the Nokia C6 is best done using the touch screen interface. You can either use your fingers to tap away at icons and buttons or you can use the provided stylus to use the hand writing recognition features to input text. Other methods to input text include the full QWERTY keyboard and the soft numeric pad.
Multimedia
You can use the music player option Menu > Music > Music library for accessing podcasts or music files. To add either of these file types to your Nokia C6 phone you could either Synchronize your music with your PC using Window Media Player or use PC suite or Ovi Suite to transfer music to your Nokia C6. Another way is through connecting your phone as a mass storage device and simply copying the music to your memory card. You could also use the Ovi Network service to upload and download music directly to your Nokia C6. Handling of videos is similar to audio files except that you will need to use the Menu > Videos & TV option instead.
Imaging
You can use the Nokia C6 to edit photos and videos you have captured with the built-in camera. To access these features from the menu you can go to Menu > Photos. With these features you can crop images, reduce red eye, add effects, change resolution, change color, sharpen images and so on. You can also string images together, merge videos together or clip an image at the end of a video using the editors provided on the Nokia C6. When you are done editing photos, with one click you can email them, save, send to your computer or print and even share the photos online.
Messaging
The Nokia Messaging service allows you to automatically transfer mail from your existing mail address to your device. You can read, send and organize your mails on the Nokia C6. All this can be set up online at ovi.com
Before you can use the regular messaging services on the Nokia C6, found under these options, Menu > Messaging, you need to make sure your Nokia C6 is configured properly. The good news is that in almost all cases you will not need to set anything up as your mobile service provider will have this configured automatically with the exception of email services which you will have to do yourself. Fields for mail configuration are provided on the Nokia C6. The details to be put into the fields depend on your email service provider such as Yahoo or Gmail. You should be able to get the relevant details from them.
GPS and Ovi Maps
To get the most out the Ovi Maps and GPS you will need to download the maps from the Nokia Ovi Maps service. This depends on the region in which you live. There are quite a few details and options available when setting up the Navigation on the Nokia C6 and I have provided this article on Activating Navigation on Ovi Maps for more instructions.