User Guide for the Nokia N97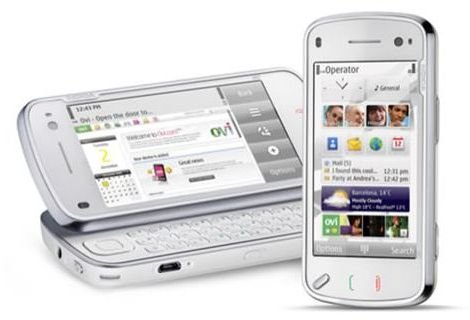 Getting Started
The first thing you would need to do to get started with the Nokia N97 is insert the battery, SIM card and memory card. This can be done by removing the back cover by lifting it from the bottom end. Assuming the battery is not yet inserted, slide the SIM card into the slot just above the battery compartment, insert the memory card by sliding it from the right side then insert the battery making sure the contacts on the battery match those on the phone. There are directional arrows on the device to guide you on inserting these accessories.
Close the battery compartment and look at the top of the phone and use the single key to switch on the Nokia N97. Your new battery should already be charged and working right out of the box. You can still operate your Nokia N97 without a memory card or a SIM card. To operate without a SIM card simply hold the power button for a few seconds and it will give you the option to switch to Offline Mode.
Handling the Nokia N97
It is also important to note that the antennae locations are usually on the top quarter or the lower quarter of most Nokia phones when holding the phone with the back facing towards you. So avoid handling those areas during calls as it can interrupt call quality and even speed up the draining of the battery. Holding the sides of the Nokia N97 is the best way to handle the phone during calls.
Charging The Battery
With the Nokia N97 it is possible to charge the phone using the supplied charger as well as the USB cable. The phone functions fully during charging whichever method you use. If the Nokia N97 becomes warm during charging, do not worry as it is normal behavior.
Text Input.
It does not matter what application you run. The Nokia N97 supports three methods of text input. You can use the hardware keyboard, the onscreen keypad or the hand writing recognition using the supplied stylus. The choice is yours, you do not need to be chained to one method of entering text when another would be more suited to you.
Synchronize, Send or Receive Content
Have you just switched to the Nokia N97 and now you have all this content you need to transfer from another phone? Well, no problem because you can easily copy your content across different Nokia phones. Using the phone switch application found under Menu > Settings > Connectivity > Data transfer > Phone switch, you can either synchronize, retrieve or send data to another compatible Nokia phone using Bluetooth. The Nokia N97 will automatically tell you whether the other device is compatible or not.
Ovi Network Service
This online service allows you to find new places and services, and stay in touch with your friends. With Ovi you can create an email account, plan trips and view locations on a map. You can also download games, applications, videos, and ringtones.
Internet
When you are in an area where there is free Wi-Fi like at home and selected public places, depending on your carrier plan, it would be wise to switch to WLAN connectivity to save yourself some costs. You can change your data access by using the Access point settings from this location. Select Menu > Settings and Connectivity > Destinations. Another way to save on data costs is to disable images in the web browser by going to this location on your browser. Options > Settings > Page > Load content > Text only. If you have accessed confidential information with your password, remember to empty the cache after use by selecting Options > Clear privacy data > Cache. Other preferred Internet settings of your choice can be accessed from here: Menu > Web and Options > Settings.
Messaging
All messaging operations can be accessed via Menu > Messaging. Most carriers will have these configured automatically. There are little things like using templates to save common messages so as to avoid rewriting similar messages over and over. Also under the same menu item you can set up mail for exchange allowing you to receive your work email and calendar to your device. These settings depend on your work setup and your systems administrator can give you the setup details.
GPS and Ovi Maps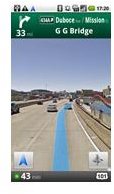 When using GPS ensure that you don't block the GPS receiver (which is located beside the ear piece) with your hands. The other thing to remember is that the GPS receiver can drain quite an amount of power from the battery so you need to be careful to use it only when needed. For better accuracy make sure A-GPS is activated through this menu option: Menu > Applications > Location and Options > Positioning settings > Positioning methods > Assisted GPS.
Be sure to use your PC when loading maps to your Ovi maps as the maps are a large amount of data which you do not want flowing through your carrier network. You can read more about Ovi Maps in this article on how to activate Navigation on Nokia phones. Be sure to use the traffic information on your Ovi Maps as this can save you a lot of trouble and help you avoid getting stuck in traffic jams.
Multimedia
With the Nokia N97 you can have access to your favorite songs and videos by copying them from your computer as described here using Nokia PC suite or Ovi Suite. Make a habit of storing your multimedia files on your memory card. If your Nokia N97 has an FM transmitter you can use it to broadcast your music over the air and listen to it on a compatible radio, for example on your car stereo system. You can set up your FM transmitter here Menu > Music > Music library. In the Now playing view, select Options > FM transmitter.
Miscellaneous Settings
There are a few more tips that can help you appreciate your Nokia N97 more like having your phone read out your messages. This can be set up by going to Select Menu > Settings > Phone > Speech.
Under the date and time functions here: Menu > Settings and Phone > Date and time, you can set up time for several cities across the world and customize the date formats.
Always remember to prolong your battery by closing applications and data connections, when not in use, decreasing the brightness of the screen, using power saver mode on the minimum period of inactivity and activating unnecessary sounds, such as key tones all from the Menu > Settings options.
Finally you can truly extend your experience on the Nokia N97 by installing third party applications from the Internet. Here is a list of must have Nokia N97 applications. You can also check out this article for an overview of other Nokia N-Series phones.