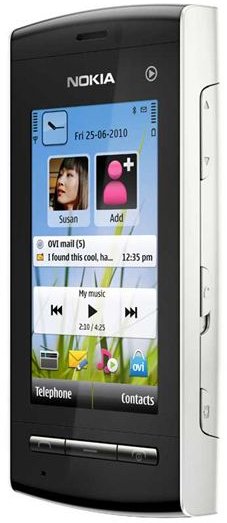 Nokia 5250 Preview
Despite the incredible progress that Apple and Google have made in the smartphone market with the iOS and Android platforms, Nokia still remains a major player in the budget smartphone segment. Its sales surpass those of any other mobile company, though it has very low profit margins on its cellphones.
Soon after the launch of the iPhone, Nokia had launched the Nokia 5800 Xpress Music which had enjoyed quite some success. It was followed by the Nokia 5230, Nokia 5233 and the Nokia 5530 which were priced even cheaper but omitted some features.
The Nokia 5250, however, takes the cake when it comes to pricing. It will probably be Nokia's cheapest touchscreen smartphone.
The Nokia 5250 doesn't offer much by way of features, but more than makes up for it on price. It is ideal for those who want a cheap smartphone with a touchscreen. It is very similar to the Nokia 5233 in terms of specifications, but has a smaller display.
Design
The Nokia 5250 has the standard touchscreen candybar design like the other phones by Nokia. It will have a 2.8 inch TFT resistive touchscreen display with a resolution of 360 x 640 pixels and support for 16 million colors. The display size is smaller than the 3.2 inch display usually found in Nokia's touchscreen smartphones.
The 5250 has dimensions of 104 x 49 x 14 mm and weighs 107 gms. It is quite compact, but a bit thick compared to other smartphones.
Hardware and OS
When it comes to the hardware, the Nokia 5250 isn't very impressive. It sports the standard ARM 11 processor clocked at 434 MHz. It offers 51 MB internal memory with support for up to 16 GB microSD cards. It runs Symbian S60 v5, the same OS as the 5230 or the 5233.
Multimedia
The Nokia 5250 will be quite good when it comes to music playback. It supports 3GP and MP4 video playback, but the 2.8 inch display isn't suited for video playback. It will also have a 2 MP camera with an image capture resolution of 1600 x 1200 pixels. It can record QVGA videos at 30 FPS. It also has a stereo FM radio with RDS.
Connectivity
The Nokia 5250 is severely lacking when it comes to connectivity. It offers only GPRS, EDGE and Bluetooth 2.0 with A2DP. It also has microUSB but skips Wi-Fi and 3G. It also doesn't have GPS.
It has a standard Li-ion 1000mAh battery with a rated talktime of close to 8 hours.
Conclusion
The Nokia 5250 is a nice budget phone which is priced at around $140, but I see no point in buying it when for just a few dollars more, you can get the Nokia 5230 with 3G, GPS and a bigger display size. Check back for the complete Nokia 5250 Review. We will be posting it soon.