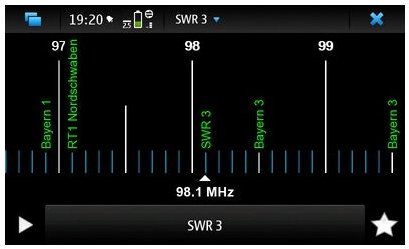 FM Radio Player
The Nokia N900 apparently comes installed with Stereo FM hardware on board but the funny thing is that it provides no native radio apps to capitalize on the hardware. Therefore one of the things you really cannot afford to do without is the software radio app. The FM radio player closes this gap. Just like any other FM radio app for your mobile phone, you need to plug in your headphones for the app to work as they also serve as your antenna. FM radio player offers no real out of the box feature but one unique thing about it is that it adopts the old style radio tuning display and this adds class to this app. FM radio can be downloaded from this location using your Nokia N900.
Mozilla Firefox for Mobile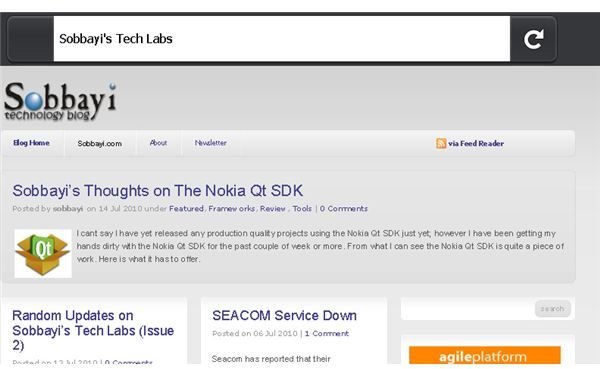 Mozilla Firefox for mobile, also known as Fennec, is a mobile browser for Maemo devices and that includes the Nokia N900. It brings the stability and power of Firefox to the Nokia N900. Fennec supports tabbed browsing and is capable of accessing full xHTML/HTML pages. On top of that, with Fennec you can sync all your tabs, bookmarks, passwords and browsing history with your Firefox desktop version. Add-ons and extensions are also supported on this app and that brings endless possibilities. Firefox for mobile has a simple and intuitive UI and supports kinetic scrolling.
OMweather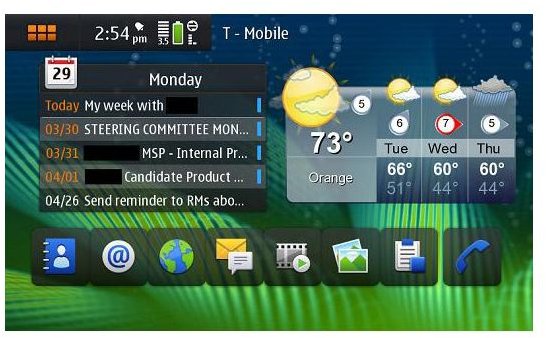 OMweather is one of many weather apps for mobile devices on the market today. On the Nokia N900 it comes in the form of a desktop widget which is capable of saving up to four forecast locations which can be scrolled via the Homescreen widget and current conditions viewed on that Homescreen using the in-built GPS, though this only works with other apps running such as Ovi Maps. OMweather has multiple day views offering up to 10 days of forecasts. OMweather has an intuitive UI and it is easy to search for countries, regions and cities for weather conditions. All data can be downloaded and resides on the device with the user being able to set when to update the data and choose units of measurement. OMweather can be downloaded from maemo.org using your Nokia N900.
BlueMaemo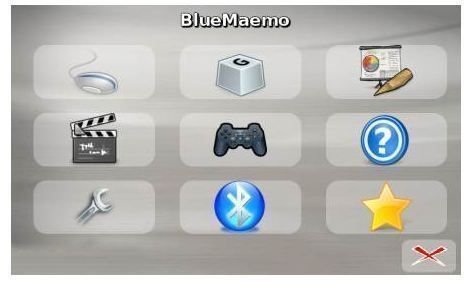 BlueMaemo is a remote controller app for the Nokia N900. What this app does is to turn your Nokia N900 into other virtual devices. These could be anything including a Bluetooth wireless keyboard or a wireless mouse. With this app you do not need to buy a PC remote for presentations as BlueMaemo does the trick. BlueMaemo also allows the user of the Nokia N900 to control Windows Media on PCs and Macs. BlueMaemo can also act as a wireless PS3 Controller, though it is not not specifically good for gaming, it sure is more convenient to use for text inputting and navigation. BlueMaemo does all this through the HID Bluetooth profile on your Nokia N900. You can download BlueMaemo on your Nokia N900 from this location.
Skype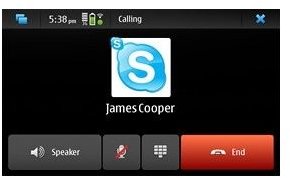 Skype comes preinstalled on the Nokia N900. Skype lets you make Internet calls free of charge to other Skype users and to other mobile and land lines at a minimal fee. With Skype there is deep integration with your phone book and it allows the user to see their online status. With Skype on the Nokia N900 you can initiate an IM chat session if you prefer not to make voice calls. With a Skype-to-call number you can travel anywhere including abroad and retain the same local number throughout so that you can be reached easily and at no extra cost. So with Skype you no longer need to worry about roaming and other charges other than the data costs of wherever you are. The alternative would be to route calls through Wi-Fi.
Mobile Maps Application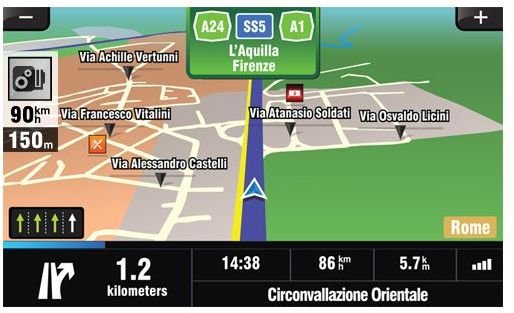 Mobile Maps Application by Sygic is a Nokia N900 app that turns your Nokia N900 into a voice guided turn-by-turn navigation device. It features label assistance when approaching intersections, has notifications about upcoming service stations, restaurants, ATMs and other points of interest. It features great route calculations, address search and 3D maps. Mobile Maps Application on Nokia N900 offers multi-stop route planning and will give warnings on speed limits, keeps history of places visited and allows you to install the maps on the device. The Mobile Maps Application on Nokia N900 comes free for a seven day period and can be downloaded from the Nokia Ovi Store directly to your Nokia N900.
Fring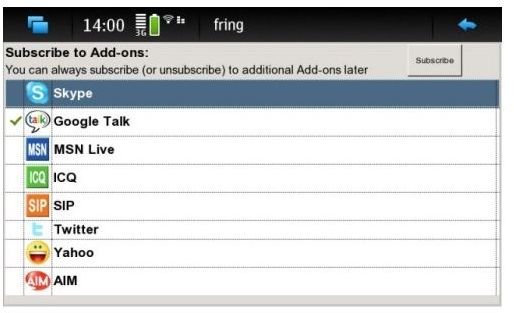 Fring is a social networking mobile internet community and communication service that allows users to connect, communicate, share experiences and make calls to one another. Fring for Nokia N900 allows users to choose from several online services on how they prefer to communicate with friends. Not only can you choose specific services but you can aggregate them all and link them with your address book on the Nokia N900. These include services like Yahoo, MSN, Skype, sip and Google Talk. Others include social networking sites like Facebook and Twitter. With Fring you do not need to launch any other app even if it is to make voip calls, as all this can be done from within Fring. Fring can be downloaded directly to your Nokia N900 from this location.
gPodder Podcast Client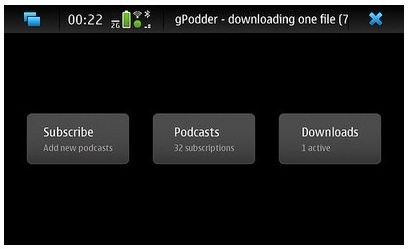 gPodder Podcast Client is an app that is available for the Nokia N900. It is an optimized client that allows you to listen to and manage your podcasts. With gPodder Podcast Client on your Nokia N900 you can manage both video podcasts and audio podcasts with ease. gPodder Podcast Client lets you install and subscribe to podcasts from services all over the world. The Nokia N900 gPodder Podcast Client does not just work alone but it also has a PC app that you can use to sync your podcasts between your PC and your Nokia N900. You can use your Nokia N900 to download gPodder Podcast Client from this location.
eCoach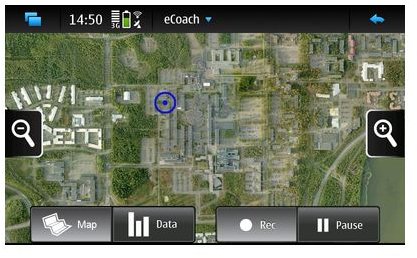 Using your Nokia N900 with the eCoach app installed you can turn your phone into a sports tracker and use your Nokia N900 to record and manage your sports activities. The eCoach app on Nokia N900 uses the GPS to keep track of all outdoor activities such as speed traveled, distance, heart rate and time all in realtime. It has a built-in training diary which can be used to track progress of your training program and goal setting. eCoach is based on Open Street Map, Google Maps and Virtual Earth and therefore you can look at your routes using the maps provided. eCoach can be downloaded from your Nokia N900 here.
MaStory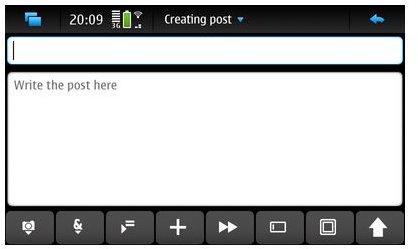 MaStory is a blogging client for Nokia N900 that lets you do your blogging right from the palm of your hand. Currently supporting Wordpress, Blogger and Livejournal, MaStory for Nokia N900 allows you to add new blogs, edit and delete existing blogs as well as manage the comments for those blogs. With MaStory you can create blogs in offline mode and post them later. It supports HTML text formatting, add and edit images from the Nokia N900 as well as Internet services like Flickr and Picasa. MaStory for Nokia N900 can be downloaded from this location.