Feel the Spirit of Christmas with Free Nokia Christmas Ringtones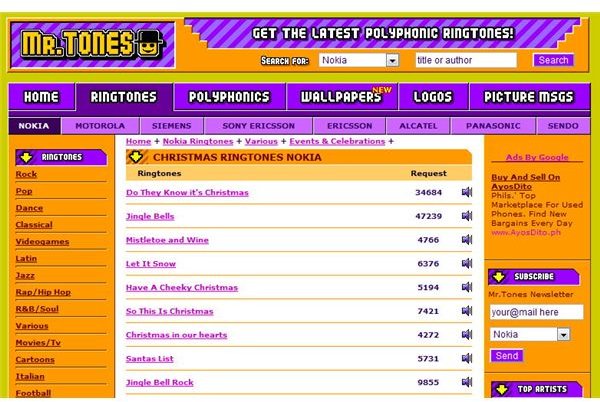 Christmas Ringtones for Nokia Phone
Listening to Christmas songs is one of the things that reminds us of the Christmas season. To feel the spirit of Christmas this coming December, check these online sources of Christmas ringtones you can download for free. Here are some recommended sites where you can get free Nokia Christmas ringtones.
Mr. Tones
Mr. Tones website not only offers Nokia Christmas ringtones, it also offers all kinds of ringtones and several other kinds of content for a wide range of mobile phone brands. Its section for Nokia Christmas ringtones is vast and includes popular and traditional Christmas songs like Frosty the Snowman, Jingle Bells and Joy to the World. The collection also includes modern and obscure Christmas tunes that will give your cell phone its own personality come Christmas time. Mr. Tones also offers these ringtones in polyphonic form.
Free Ringtones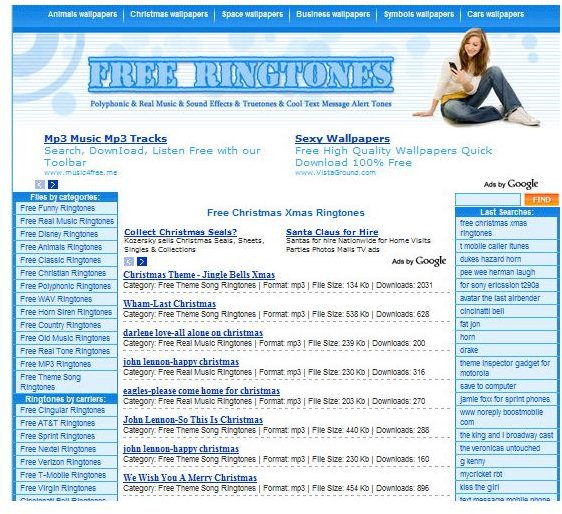 Free Ringtones offers tons of content that includes truetones, sound effects, alert tones, polyphonic tones and ringtones. Its collection of Nokia Christmas ringtones offers a lot of Christmas songs performed by contemporary artists. These songs include Last Christmas by Hilary Duff, All I Want for Christmas Is You by Mariah Carey and So This Is Christmas by Celine Dion. These ringtones can be downloaded straight to your Nokia phone or to your computer.
UMnet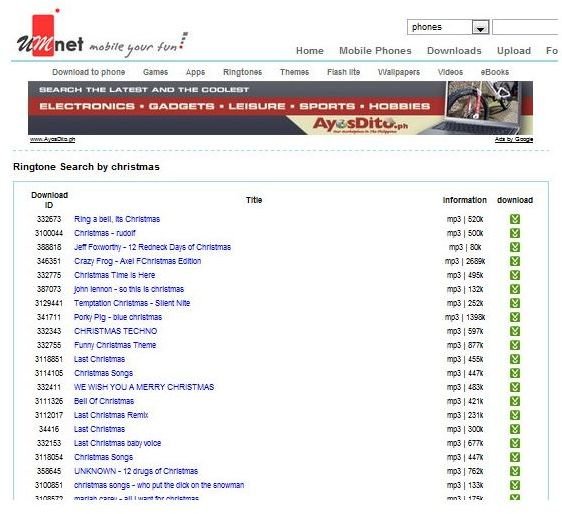 UMnet is a website that offers a wide range of mobile phone content like ringtones, wallpapers, themes and apps. It has a formidable collection of ringtones that include Christmas songs. There are a lot of fun non-traditional Christmas songs in UMnet's library, which include 12 Redneck Days of Christmas by Jeff Foxworthy, Blue Christmas by Porky Pig and Christmas Don't Be Late by Alvin and the Chipmunks. The list of Christmas songs in UMnet contains a lot of edgy, humorous and provocative tracks that suggests younger people use this site more than the older crowd.
Free Nokia Ringtones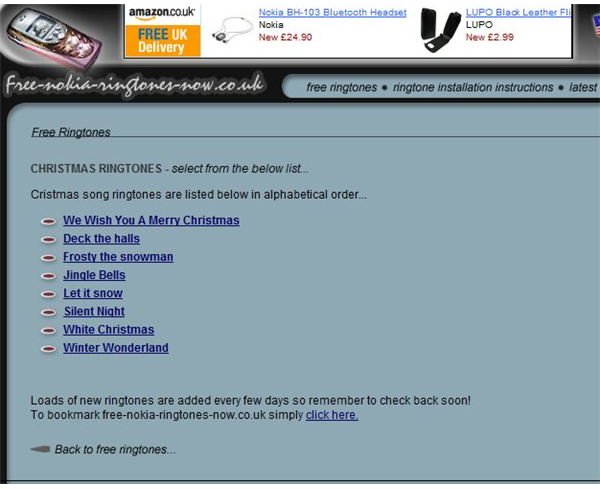 Free Nokia Ringtones doesn't have an extensive collection of Christmas ringtones but it does offer a list of the most popular traditional Christmas songs of all time like Deck the Halls, Silent Night and Let It Snow. These ringtones require you to enter the songs into your phone via the Nokia Composer application or the Nokia Keypress routine. It only takes a couple of minutes to put a song into your phone. The site adds new Christmas ringtones every now and then, but not as often as the other websites in this list.
2 Thumbs WAP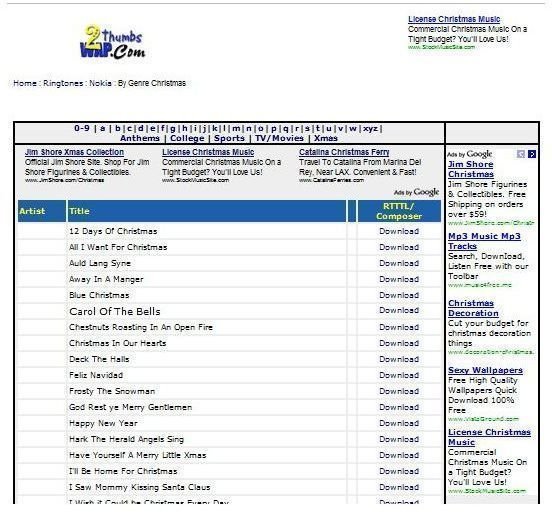 Like Free Nokia Ringtones, 2 Thumbs WAP also offers ringtones that need to be entered through the Nokia Composer application or the Nokia Keypress routine. 2 Thumbs WAP also gives you the option to enter the ringtones using Nokring/RTTTL. It does offer more ringtones than Free Nokia Ringtones, though. These ringtones include Auld Lang Syne, Feliz Navidad and I'll Be Home for Christmas.
More Free Downloads for Nokia Phones