Download Free Nokia 7510 Themes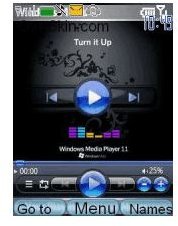 Nokia 7510
The Nokia 7510 is a flip phone that has a stylish and elegant design. Its cutting edge exterior design can be complemented by its simple and elegant user interface which can be customized with free Nokia 7510 themes. Here are 5 recommended free Nokia 7510 themes that you can use to modify your phone to cater for your own taste and style.
Music
This aptly named theme caters for music lovers. The theme features music-based graphics like media player control buttons and other media player components. The look is inspired by Windows Media Player. Some of the theme's components are animated, giving the theme a dynamic look and feel. Navigating through the phone is still a seamless experience thanks to the theme's clean lines and unobtrusive color scheme.
Night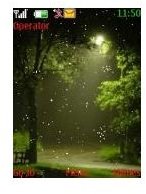 This theme's premise revolves around the background image of a section of park being partly lit by a lamp post during the night. It gives a dark and mysterious feel to the theme without being depressing and bleak. The green icons complement the colors of the background image quite nicely. The icons appear to be a little cartoon-like, giving the dark theme a playful feel. The theme features components that are animated, giving it a little bit of life to take away some of the darkness.
Amazing iPhone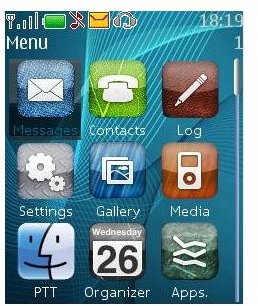 As the name suggests, this theme was inspired by the iPhone. The icons are similar in look and design to the icons found on an iPhone, but a little bit customized to give it a fresh feel. These icons come in different vibrant colors and most of them use a grunge texture background, adding contrast to an otherwise very clean and neat theme. The theme comes with a neat screensaver that complements the entire look and feel of the theme.
Sunsets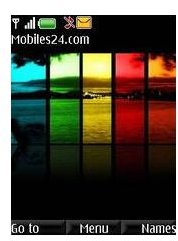 Deceptively simple and relatively more quiet to look at than other free Nokia 7510 themes, Sunsets uses 5 images of sunsets in different colors to give the user interface an elegant charm and appeal. Aside from the colorful photos, the rest of the theme is simply in different shades of black, bringing the focus to the sunset images. It's a simple look and feel but it successfully gives the user interface an elegance that complements the cutting edge looking of the phone's exterior design.
Digital Clock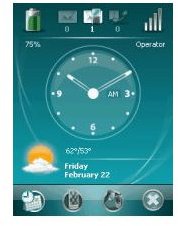 The Digital Clock theme features a shiny glass look and feel with transparent components and sleep design elements. The centerpiece of the whole design is the digital clock and the weather information icons that show off some sleek and shiny design pieces. There are design components that are a little muted in terms of colors and shine, but it doesn't take away the effect imparted by the digital clock. The entire look and feel of the theme has the same elegant and modern charm as the Windows Vista user interface.