Must-have Free Apps for Nokia Phones

1. bump
Interestingly, all a user needs to know about this mobile application is right in the name, as 'bump' stands for 'Back up my phone'. The user can download the application, connect it up to a computer or create an online account, and the software application backs up all the contents of the phone.
Unlike most synchronization applications, bump will also back up personal data like text messages. A number of people like to maintain their inboxes when changing phones, and bump can also be used to transfer data from one handset to another.
2. Forticlient Antivirus for Mobile
Viruses and malware is no longer solely restricted to computers; they have now percolated into mobile phones, and can wreak greater havoc that most give them credit for. Viruses on mobile phones can lodge themselves into the device, and then work their way into a main computer network; or the device itself can be made completely unusable.
It is important to protect mobile phones from unsecured downloads and untrustworthy applications. In addition, a mobile antivirus solution is a vital component to have.
3. Opera Mini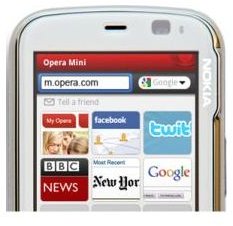 Perhaps the best free and platform-independent mobile browser, Opera Mini has remained consistently good from the very beginning. The menus are simple to navigate, with hot keys assigned to commonly used functions. It is one of the few browsers that has tabbed browsing on mobile phones.
The pages load faster because the images are optimised for a smaller screen and slower memory, before they are loaded – saving time and bandwidth. Opera Mini is as good as a desktop browser on a mobile phone.
4. Nokia Point and Find for Mobile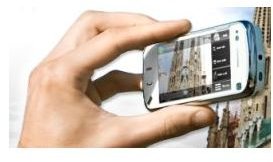 Firmly ushering in futuristic-style capabilities, the Nokia Point and Find browser is the first one to bring augmented reality technology to Nokia phones. The camera is used to point at objects, click a picture and then use the image and Internet to discover information about the object in question. This feature is especially useful for finding directions, through the use of real-life landmarks. For example, clicking a picture of a subway can potentially bring up information like adjacent street names, and train timetables. The information is immediately usable.
Augmented reality is still at a nascent stage, relying mainly on user inputs and web entries to provide information. However, it is certainly going to grow into a very useful technology in the future.
5. Google Mobile app
Bringing together all the Google products in one mobile application, the Google mobile app is a must-have for all users of Gmail, Google Calendar and Google Reader. The app integrates all the various services in convenient place.
However, apart from the great integration, Google's mobile app applies the Google-style searching to content on the phone. Users can search through contacts and emails, for example. It also incorporates Voice Search, a relatively new component for the app.