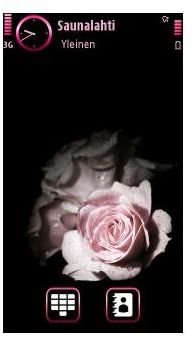 What is a Theme?
All phones have a specific design for their user interface; however the default user interface can get boring after a while. Themes were created to customize the visual aspect of the phone, overriding the default settings with new ones. Themes are essentially a collection of icons, graphics, sounds and animations that make the user interface look different. The idea is to give the user the flexibility to make their phone look the way they choose.
Most themes have a particular subject, around which they are designed. Popular themes change very often, as they usually follow trends like movies, games, sporting events or celebrities.
Themes are created by different kinds of people, and therefore vary greatly from one to another: graphic artists, enthusiasts and developers all enjoy creating mobile phone themes. It is up to the user which kind of theme to install. However, users must exercise caution, because although themes are intended to be fun, they can sometimes hide malicious software.
Top Five Nokia Themes
Although there are hordes of themes available on the Internet, free for download and use, this list is a compilation of a few top ones:
[Rosa](https://www.symbianthemes.us/free,nokia/10723,rosa/) - This theme is definitely a feminine one, with delicate pink roses on the home screen and a pink and black colour palette used throughout. The design has been done well, with elegant icons and a sleek look overall. Every conceivable icon has received a makeover, including third-party applications like Fring. The theme is available for both Series 60 phones, and the new Nokia touchscreen ones as well.