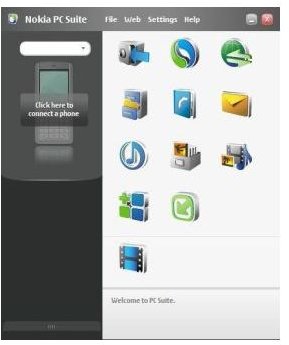 What is Nokia PC Suite?
As handsets become more technologically advanced, the camera quality has improved, audio and video playback is better, and they can be used for more functions than just simple communication.
Nokia's PC Suite is a collection of tools and utilities that are installed on a user's computer. These tools enable the user to extend the functionality of their mobile phone handsets onto their computers.
The PC Suite creates an interface between a user's phone and their computer: files can be transferred back and forth, and used on either device; the interface can be used to connect to the Internet from the computer, using the phone as a modem. The functions are varied, and cover practically most possible interactions between a computer and mobile phone handset.
Connections to the computer can be made via USB cables, Bluetooth or even Infrared. The idea is to link two devices symbiotically, generating a better user experience overall.
Where to get PC Suite?
Nokia's PC Suite is easily available for download from any Nokia site. It is best to log on to a site that is made expressly for the country in which the user has bought the phone, since the suite is available in multiple languages. Also, certain models are only available in particular regions, and there are different versions of the software suite available for download.
If downloading PC Suite is not convenient, most mobile phone handsets come packaged with a CD or DVD with the installation. However, it is always best to check for updates online, even if the phone is brand new. There are always bugs that have been fixed, and patches that are released which are important for smooth functioning phones.
Data Transfer Mode and Nokia Mode
After the installation is complete, the PC Suite usually needs to sync with the mobile device. The software applications can be used independently of the phone, however for the first setup it stores information about the type of phone.
There are two modes with the PC Suite: Data Transfer mode and Nokia mode. Data Transfer mode, as the name suggests, is used to back up the application and personal data resident on the phone, on the computer. After the initial backups are done, the Data Transfer mode is used for synchronization.
The Nokia mode has features, apart from the standard data transfer functions, including the ability to use the handset as a modem.
Ovi by Nokia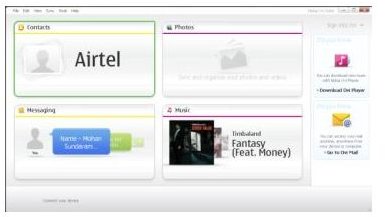 Nokia PC Suite will slowly be phased out, and replaced with Ovi Suite. Ovi is Nokia's new users' community, with various downloads, like applications, themes and games. It will also have firmware updates for handsets, which will be automatically detected by the suite.
Ovi by Nokia has been designed as a community. It will enable Nokia users to share content with other users across the globe, as well as store their content online.