The Symbian Gravity Twitter Client is Surely a Must Have App for Symbian Phones
Why Gravity?
For those that spend a lot of time on Twitter and own a Symbian phone, it is widely known that there is also a mobile version of Twitter and several other Twitter clients that work on most Symbian phones. So where does that leave Gravity?
Like all good software, Gravity combines ease of use with desirable features. It is the most fully-featured Twitter client for Nokia and Symbian phones. It is on a par with iPhone favorites like TweetDeck.
Gravity also happens to be on the Must Have App of the Year 2009 Awards list.
Just Like the Twitter Website with More Layout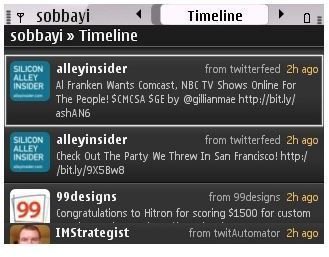 Developed by Mobileways.de, Gravity is packed with features and common actions such as tweet and retweet, follow and unfollow, blocking users, searching, marking favorites, following links or even viewing users' profiles. Functions that are also available on the Twitter website.
Practically all the things you do regularly while on the Twitter website are easy to find and start using right out of the box after downloading and installing Gravity.
Even though most online features are maintained, Gravity takes a different approach in the layout of the Twitter specific content by dividing it into four tabs labelled Time-line, Mentions, Messages and Friends.
And More Social Features
As far as social features go, there is a significant difference in what Gravity can do. It has the ability to post URLs, share and view links and pictures with other major social networking websites. For instance, Gravity can share URLs with del.icio.us and Instapaper and pictures with MobyPicture, TwitPic, TwitGoo, Flic.kr, Yfrog, and img.ly, among others. These can be done without leaving the Gravity Twitter Client at all.
Also provided by Gravity is a news & info tab that you can use to track messages on updates, registration instruction and other important issues from mobileways.de.
Gravity supports full screen views, audio alerts and multiple accounts. In addition to adding multiple Twitter accounts, you can also add several Identi accounts, a twitter-like service powered by StatusNet (formerly known as Laconica). Another feature worth mentioning is that of themes. Gravity supports themes and currently there are two choices available after installation.
And Nokia Specific Features
In addition to the regular features, it is worth mentioning that Gravity for Symbian S60v5 has some added features including kinetic scrolling. For those of you with a Nokia N97, Gravity comes with the added bonus of a Home Screen Widget.
Conclusion
I would definitely recommend the Gravity Twitter Client for anyone using Twitter on their Symbian Phone with any regularity. You can get the demo version of Gravity here and try it out before buying the full version. Though the full version costs about $10 (USD) its a worthwhile purchase if you like to tweet on the go. You can find other suggestions in Twitter for Symbian.