Using Nokia PC Suite to Add MP3 Songs into your Symbian MP3 Player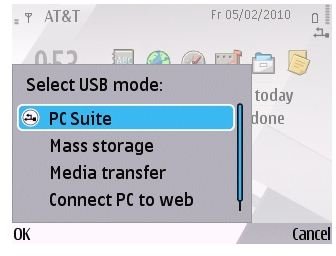 Must Haves
Before your phone can officially be called a Symbian MP3 player, you may need a PC with Nokia PC Suite or Nokia Ovi Suite installed. You will however see later that this is not necessary as there is a way to add MP3s without any special software. With that said, those running PCs with Linux or those with Macs can still add MP3s without worrying about Nokia PC Suite or Nokia Ovi Suite. You will also need to have either the USB connection cable, an Infrared (IrDA) port on your computer, a serial connection cable with a compatible port on your computer, or Bluetooth wireless technology equipment and software.
If you would still like to use Nokia PC Suite and don't have it installed, now would be a good time to jump to the article about Activating Navigation on Ovi Maps where I have given a little overview on how to download the latest version of Nokia PC Suite and install it onto your PC.
First Steps
In this guide we are going to use the USB connection cable as it is the simplest method of all. I will then show you three ways of adding the MP3 files to your Symbian Phone. We start off by connecting the Symbian phone to the PC using the supplied USB cable. When the device is ready, you will select either "PC Suite," "Media Transfer," or "Mass Storage" modes from your phone's display.
1. PC Suite Mode
Once you have connected to your Nokia Symbian Phone using the "PC Suite" mode from your phone's display, the Nokia PC Suite Software on your phone will automatically be activated in the System tray at the bottom right hand corner of your PC. Double-click on the little phone icon to launch the Nokia PC Suite interface.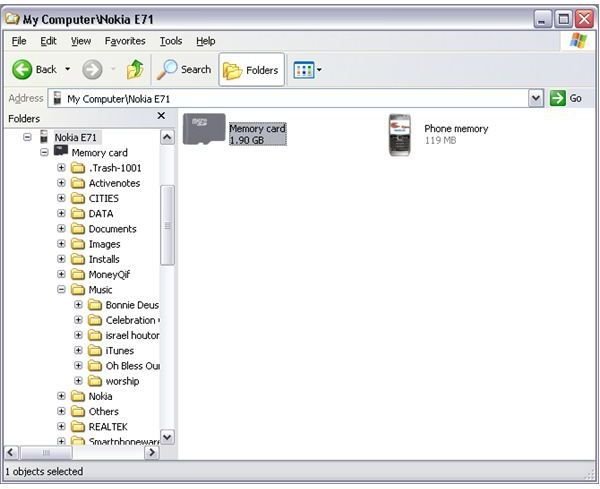 Find the "File Manager" icon in PC Suite's Dashboard. It resembles a file cabinet. Use it to launch Windows Explorer where you should see the two storage media on your phone namely "Phone Memory" and "Memory Card." Double-click your way through the Memory Card icon and go into the Music folder. You will be happy to know that you can Copy/Paste MP3 files and folders from your PC into this folder. The Nokia PC Suite application will then transfer the music to your Symbian phone. You are now half-way into having your Symbian MP3 Player.
2. Media Transfer Mode
This Mode works in a slightly different way. PC users have access to this mode, too. To get to this mode simply select "Media Transfer" from your Symbian Phone at connection time. From your PC's program menu, select Nokia, then Ovi Player, and launch the program.
Once the Program is open and you have your list of Albums, you can simply transfer your music to your phone by dragging and dropping your album icons into the Nokia Handset icon on the left hand side of the window. Again at this point you are now half-way to having your very own Symbian MP3 player.
3. Mass Storage Mode
This mode is probably the least restrictive in terms of software requirements. It will work regardless of the operating system you have on your PC, and will work on your Mac as well. Just like the previous two modes mentioned above, you still must select this mode from your Symbian phone's display.
Your Symbian phone now should behave like a USB mass storage device and an icon should appear on your PC or Mac to access the phone's memory card. Open the Symbian Device's memory by launching the icon and again, like above, browse to the music folder on your phones memory card. You will be able to drag and drop your desired MP3 files into the music folder on your Symbian device. Once that is done, disconnect the phone from the PC. Yet again, you are now half-way through setting up your Symbian MP3 player.
Playing Your MP3 Files on Your Symbian MP3 Phone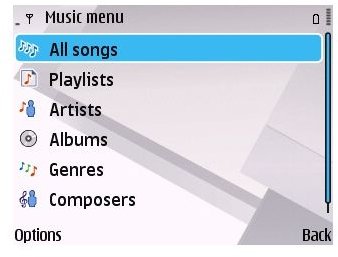 Whichever mode from the above you chose, if it all went down without a hitch, it means your Symbian MP3 Player is ready to be used. First things first. You will need to go to the Media section on your phone and launch the Music Player App. The first thing your phone will do when this App is launched is it will update its own playlist. It will then allow you to select either Music or Podcast depending on what kind of MP3 files you transferred to your phone.
Select Music and then you will be shown a list of play options. Select what you want to play by choosing options such as Genres, Artists, Albums, or simply choose All Songs. At this point you will get the entire Playlist displayed to you. Pick a song you want to play and Music Player will start playing your music right away.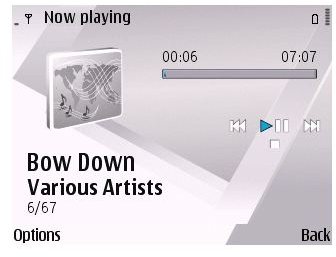 The controls on the player are quite basic, and simplicity here is the key with four buttons you can use. These buttons need not intimidate you as they have the Standard Player functions that you would normally find in any MP3 player. They basically control the Playing/Pausing, Stopping, Skipping forward, and Skipping backward actions.
Other Features
In addition to the basic control buttons, your Symbian MP3 Player comes with a basic equalizer and the ability to shuffle and repeat songs within the Play-list. It has the ability to use any song as a ringtone as well as set audio to stereo or mono, balance the sound, and create Play-lists.
In a nutshell, Symbian phones make very good MP3 players and better still, this feature comes at no extra cost to those that already own the Symbian phone, which, by the way works in a multi-threaded, multi-tasking environment, meaning that you can do things like listen to your MP3 music while accessing your favorite websites, and other stuff your phone does.