Activate Navigation on Ovi Maps for GPS Equipped Nokia Phones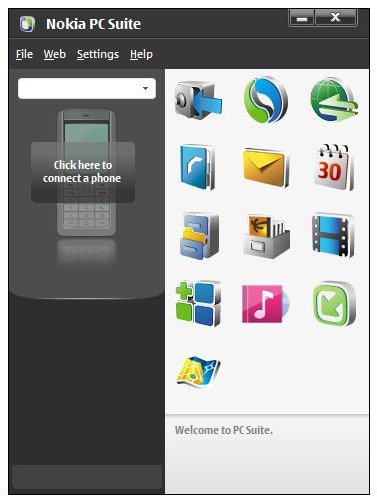 What is Ovi Maps? To make a clear distinction, it basically means two things in the least. Ovi Maps, formally known as Nokia Maps, is free map software for Nokia Mobile Phones that can be downloaded and installed on selected Nokia devices. Ovi Maps is also a free service for both PCs and Macs, which can be run in your chosen web browser directly through the Ovi Maps Website. In some cases you may need to install a plug-in.
As far as Ovi Maps for your mobile devices goes, there are additional services that are not readily available for the PC or Mac, the most valuable of which is turn-by-turn voice guided navigation. This free service, as of Ovi Maps 3.0, does not just cover those traveling with cars but also gives voice guided assistance to pedestrians. It's free, and can be used even if you don't own a car. That should be enough to convince anyone with the right device to activate this navigation feature on their Ovi Maps compatible phones.
What I Need to Activate Ovi Maps Navigation
The first thing you would want to ensure when installing Ovi Maps is that you have the right mobile handset, which is generally one that has a GPS receiver within it. Now, it's good to note that Ovi Maps can also use cell information services in certain areas to triangulate the users general location; however this lacks the required precision to be used for navigation with Ovi Maps. For practical purposes you would definitely need a phone with a GPS receiver to enjoy navigation using Ovi Maps.
The other thing you would need is a PC or Mac installed with the latest version of Nokia PC (or Mac) suite. In addition to that you would also need the latest versions of Nokia Maps Updater and Nokia Map Loader. Note that while either PC or Mac can be used to activate navigation features of Ovi Maps on your phone, we'll be using a PC to do it today. You can also use the website to get an sms message with a download link and get the software onto your phone directly, but this could eat into your precious usage capacity.
Once these packages are downloaded, installed and your PC is fully up-to-date, you can then connect your mobile phone to the PC via USB cable. Keep an eye on the phone display as you do this because you will be presented with modes for how you want your USB connection to function. The mode that would interest you for now is the "PC Suite" mode.
At this point you should launch the Nokia Maps Updater application on your PC. The application basically connects to your phone and checks for the presence and version of map software currently on the phone. Nokia Maps Updater will then download and update your phone with the latest Ovi Maps software, if you aren't already running it. Generally the phone will prompt you for confirmation, often at several steps in the install.
Downloading Maps for Nokia Ovi Navigation
Once the updates are installed, the next thing to do is launch Nokia Map Loader. This adds the Ovi Maps data and human voices to your phone based on a region specified by you. Of course your phone is still plugged into the USB port, in "PC Suite" mode, when using the Nokia Map Loader.
The first time you run this application it may take a while to update the phone information (maps of continents and sound files are quite large after all). The Map loader will present you with two tabs right at the top of the application's window. One for maps and another for voices. Let's start with the one for maps. Under the "Maps" tab, the grid is laid out on three columns. The left most column has a list of continents. Clicking directly on a name of a continent instantaneously displays the list of countries within that particular continent in the center column.
You will notice a little plus "+" sign to the right of each item in the list. You may want to take note that at the continent level, what you do not want to do is click on the plus sign as doing so transfers that item to the far right column which lists the items you are eventually going to install on the phone. Unless you do A LOT of driving, in which case you may just want to download the whole continent. Downloader beware: the items in these columns is that in terms of storage they are quite large. You will only want to add the relevant Ovi Maps data for the region you are in, or planning to visit. That way you will not end up clogging up the memory card on your phone with Ovi Maps data for regions that you may never see in your lifetime, let alone the phone's.
Activating Ovi Maps Voice Navigation
The next step is to select the "Voices" tab at the top, we had been working in the "Maps" tab. Here, depending on the language you want, you will have an option to choose either a male or female voice to use for turn-by-turn navigation instructions. Once you have made your pick you may click on the "Download" Button at the far right and wait for the process to run it's course; again, you will need to respond to prompts on the phone as well.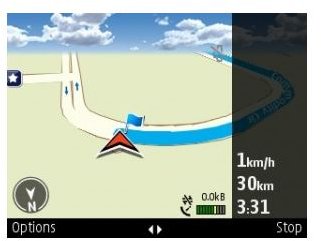 Once that is done you may disconnect your phone and confirm your installation. In the GPS folder on your phone, launch the Application marked "Maps". If everything went as planned you should now be looking at a map of the location where you are standing with a little red dot in the center of the screen. That's you!
To test the actual Navigation with Ovi Maps feature you will need to go to the "Options" menu and select "Search". This will allow you to search by either an address or choose from popular destinations (those searched for frequently by other users) nearby.
Once a search is made, choosing the desired result of the search results opens an "Options" menu which has several items, one of which is of immediate interest to you. One must choose between "Walk to" and "Drive to." These are quite self explanatory.
That's it: turn-by-turn voice navigation on your Nokia device (GPS-enabled, of course) through Ovi Maps, free. Happy Navigating!