Best Blacklist Symbian App Review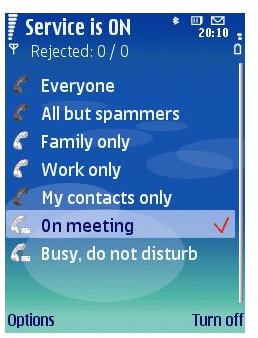 Introduction
There are quite a few blacklisting utilities available on the Symbian platform. Smartphoneware's Best Blacklist differentiates itself by being a no frills application that accomplishes blacklisting of calls based on user defined lists. It features a well implemented scheduler that actually switches between lists based on preset timings. You could, for example block calls from the office during the night and co-workers during business hours on working days. The application runs on both Series 60 3rd edition as well as 5th edition phones.
Overview
Upon activation Best Blacklist filters calls before they ring by identifying the number. The caller will flash on your screen for a second before Best Blacklist kicks in. The user on the other end will hear a busy tone which is a polite way to reject a call.
The activation can be utilized in two ways. One is to create a black list and specify which callers you want to block. All other callers will be accepted. You can also choose to create a white list and accept calls only from contacts specified on that list. This method would be ideal when you are on vacation and only want to accept calls that are actually important. The list can also be customized to work with unidentified numbers, contact groups and even number templates. Number templates allow you to block calls from numbers conforming to a particular syntax. For example, you can use it to block calls from specific states/countries if required.
The application performs well on lists of any size. Surprisingly, there was no delay in blocking calls on lists with multiple contacts as compared to a smaller list.
Additional Features and Conclusion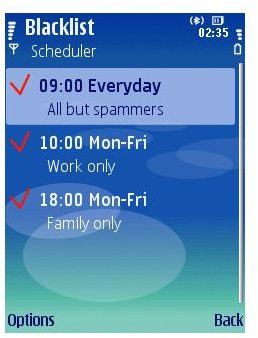 Best Blacklist features a scheduler that allows you to activate different lists at different times of the day. I found it perfect to block calls from people outside my contact list in the night. If you activate a call divert service on your phone, all rejected calls are diverted. You can take only the important calls and allow the rest to be diverted.
The application also has a log, It serves two purposes. You can test if the application is working and blocking all unwanted calls. You can also look up which calls were rejected and call them back if required.
Best Blacklist is a fast loading application which works like it should without any hiccups. It is priced at $10. You can download and evaluate a 15 day trial here.