Symbian Guru LoudSpeaker Review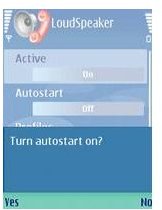 Symbian Guru's LoudSpeaker allows you to automatically take calls using your speakerphone on your Symbian phone. It automatically enables your Symbian phone's loudspeaker when you receive a call. The application's functionality can be enabled for specific profiles on your phone. The application is compatible with both Series 60 3rd and 5th edition phones such as the 5800 Xpressmusic and N97. The application loaded quickly and the speaker on my device launched the moment I hit answer which made this app a simple to launch and use option.
Startup
The application is installed via a SIS file. Series 60 5th edition phone users will require an additional piece of software called VoipAudioServer v 2.0 which must be downloaded from the developer's web page and installed prior to working with the application.
On starting the application for the first time, you can turn on autostart if you want the application to run each time your phone is turned on. I preferred to have this turned off as I only used the application while driving or doing some household work. This on/off simple launch ability was appreciated because it was easy to turn on and off as you can see from the picture to the left of this section.
Configuration options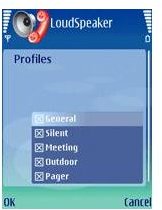 The application can be configured to work only when a certain profile is activated. Upon selecting the profiles option, you can enable the auto answer function of the application on a certain profile such as Silent or General. I created a new profile for using the application. Each time you want to use the application, all you need to do is enable the newly created profile. The application can also be activated or deactivated from this menu.
You can configure other options such as the time period before which you want to answer the call. You can also set a particular sound to play when the call is taken and when you hang up. You may want to set the application to take the call after 5 seconds so that you are aware of the call before it is automatically taken. This also gives you an opportunity to identify the caller.
The menus for profiling and auto calling were again easy to operate thanks to straight forward options offered by the app. For example you can see in this sections picture that the profile you want to use is displayed alongside every other profile, simply choose the option you want to use (one or more options can be chosen) and the program begins to work immediately on that profile.
Conclusion
Overall Symbian Guru's LoudSpeaker works as per the developers claims and it really can function as an alternative to a Bluetooth headset. It is priced at 9.99 USD. You could use this application when you are unable to answer a call manually while doing your chores or driving.
You can download and evaluate a 10 day trial of the app from here.