Top Five Nokia X7 Apps for Entertainment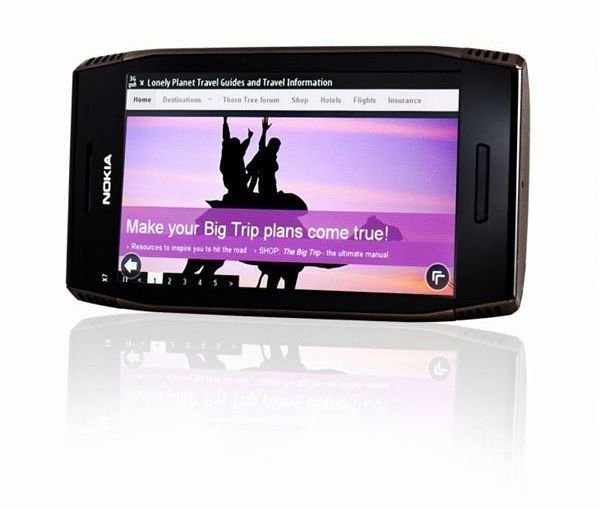 The Nokia X7 is a Symbian Anna based smartphone primarily designed for those who take their entertainment seriously. It has the memory to support multimedia content that you can enjoy on the stereo external speakers or through the standard 3.5 mm audio stereo headphones.
There is a large 4 inch 360 x 640 pixels resolution display that summarizes this phone's capabilities. So let us take a brief tour of the apps that best take advantage of the Nokia X7.
Nokia Internet Radio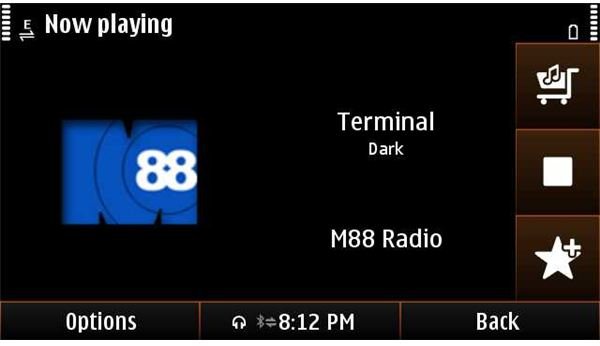 Nokia Internet Radio puts unlimited music on your Nokia X7 mobile phone. With a directory of over 1,000 radio stations from all over the world, this app extends the built-in FM radio in an unprecedented way.
This free app from Nokia allows you to search for the perfect collection of songs by allowing the user to search through this directory of radio stations. Searching through this extensive database can be daunting and therefore this app allows you to search for songs by genre, album, artist, language, country or region.
Nokia Internet Radio brings a social touch to this device by allowing you to share your favorite radio stations with friends and family. If sharing is not what you are interested in then you can simply save your favorite stations as favorites.
Do you have limited Internet connectivity speeds? There is no reason to worry as this app will determine the quality of your connection and download the audio streams at the appropriate bit rates. The app can sacrifice the quality of the content to ensure that you get an uninterrupted listening experience.
The drop in audio quality in most cases will not be noticed and therefore does not affect the experience. This app comes preinstalled on your Nokia X7 device and can also be upgraded and downloaded from Nokia Ovi store directly on your phone.
Opera Mobile 11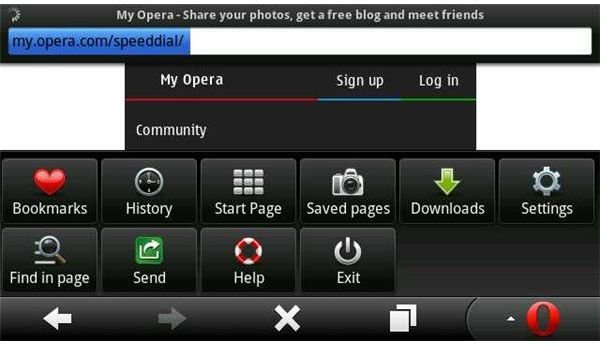 Opera Mobile 11 is the latest browser from the Opera family of web browsers. You may occasionally feel limited in your web browsing experience when using the Native Nokia web browser. The solution is to use Opera Mobile.
This browser brings full desktop web browsing to your mobile phone without compromising on performance. As a matter of fact, performance is actually enhanced with turbo to get a much faster browsing experience.
That is not the only thing Opera Mobile brings to the Nokia X7. There is a fluid user interface on this mobile web browser. It has an appealing look with large, clear buttons that are easy to access.
You can use Opera Mobile to save web pages for later viewing even when offline. In addition to that you can create and save bookmarks of your favorite websites.
Access to your most commonly visited websites is made easy with the home screen speed dial feature that you can customize as you like.
Just like your desktop web browser, Opera Mobile saves your browsing history for your convenience. All these advantages are brought to the table with compliance to the latest web standards, meaning most websites can be viewed properly as the developer intended on your Nokia X7. If the full desktop experience is not working for you, you can always switch to browsing mobile versions of websites.
Opera Mobile can be downloaded for free from Nokia Ovi store on your phone.
Battery Monitor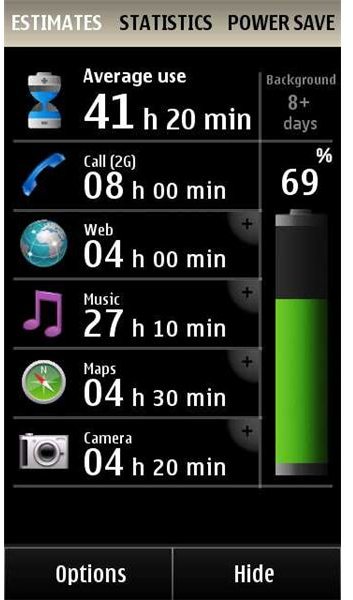 The problem with overindulging in your phone's entertainment features is that you can very quickly drain the battery. This is where this helper app comes in. Battery Monitor is an intuitive battery monitor app from Nokia that lets you keep track of which apps are consuming power.
Battery Monitor will give you tips on how to reduce power consumption or with the tap of a softkey it will switch your phone to power save mode. You can keep track of your power consumption and Battery Monitor also keeps statistics on your installed applications.
Battery Monitor will also give you a more accurate measure of how long it will take to charge your phone or even how long it will take your phone to get drained based on the running and background apps.
All these features are accessible through the home screen widget for the app.
You can get Battery Monitor for free from Nokia Ovi store on your Nokia X7.
Nokia Video Player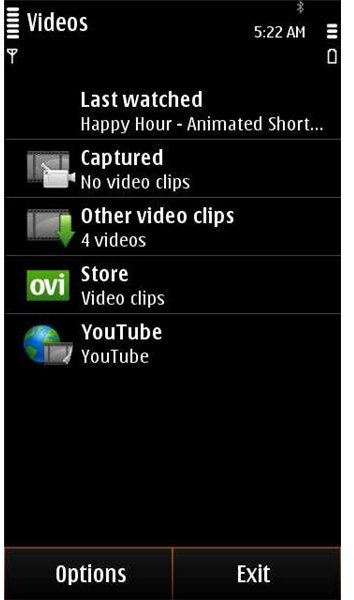 We have seen what sound options there are for the Nokia X7. As for video there are good things in store through Nokia Video Player. This simple app gets the job done in a user friendly way.
With Nokia Video Player you are able to access various video formats such as MP4, H.264 H.263 and Microsoft's WMV format. In addition to these formats you also have access to video clips from YouTube directly on your Nokia Video Player.
Nokia Video Player brings the capacity to watch not only short clips or recorded videos, but also full feature movie clips on your Nokia X7.
Nokia Video Player comes preinstalled on your Nokia X7.
Nokia Social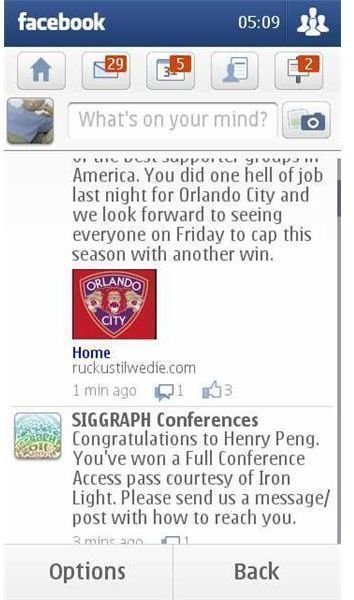 Nokia Social is an intuitive and convenient app for your Nokia X7. It allows you to reduce clutter on your mobile phone and helps save resources including battery power consumption.
Nokia Social allows you to access all your social network accounts such as Twitter and Facebook among others from within a single application. You can have separate views or simply have a single feed for all of your social status updates and those of your friends.
You can also search for friends and add them to your contacts using the built-in search feature.
Nokia Social is available preinstalled on your Nokia X7.
This sums up the apps that can help you to make the best of your Nokia X7 as a premier entertainment device. With these five apps you can take time out to enjoy your favorite music or watch the movies you have always wanted to watch, even on the go. If you want to take things a little easier then you can settle for surfing the Internet or catching up with what your friends are up to.
References