What's the Best E-book Reader for the Nokia 5320?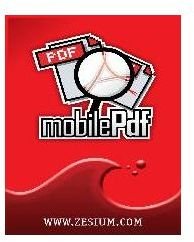 MobilePdf 1.0.0
This is one of the most downloaded e-book readers for Nokia phones which support Java (including the Nokia 5320). It helps you read documents in PDF (Portable Document Format) format easily. The interface is clean and simple and it offers some useful features like enlarge font, reduce font, auto scroll, and full-screen.
Pros: Simple interface, easy to use, free.
Cons: Only supports PDF files.
Licence: Freeware.
Price: Free.
Yong Reader 2.01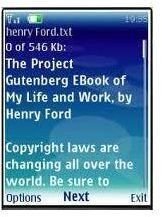 This reader is becoming popular among many mobile e-book readers. It, however, doesn't support any file format other than .txt. In order to read files in any other format through Yong Reader, you first have to save them in .txt format. A good feature worth mentioning is the automatic bookmark which saves your last page when you exit the application, and opens it when you open the application next time.
Pros: Free, easy to use.
Cons: Only supports .txt files.
Licence: Freeware.
Price: Free.
Adobe Reader LE 2.5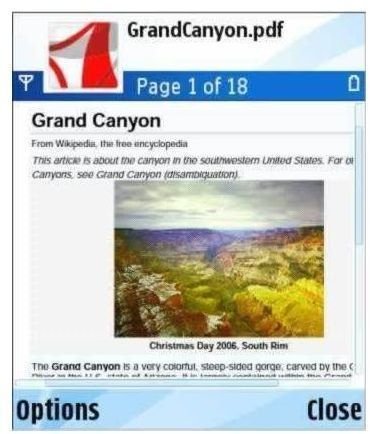 Have you been using Adobe Acrobat Reader on your PC? If yes, you may find this version for mobile phones quite easy to use. Notable features include reflow view for better view, support for multimedia embedded within a PDF document, ability to resize any document to be best viewed on mobile screens, and many more features like document rotation, text search, bookmarks, encryption, embedded fonts, and document properties view. With all these features, this application has a hefty price tag attached to it.
Pros: Many advanced features for easy and enjoyable reading.
Cons: Only supports .pdf files, costs.
Licence: Demo.
Price: $15.
Libris eBook Reader 2.0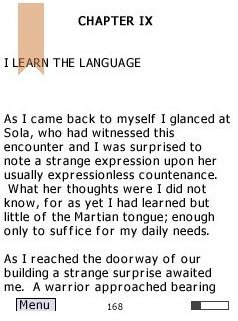 Libris is another e-book reader that supports Java-enabled mobile phones. It supports these file formats – .pdb (Palmdoc Format), .txt, non-secure eReader books, and Libris's own format. The interface is very clean and simple with features like page position, page orientation, font styles, table of contents for easy navigation, dictionary support, reading timer and bookmark. The application also comes with a tool to convert .txt and .html files into Libris format. All these features make this e-reader a paid application.
Pros: Clean interface, many features for easy navigation and reading.
Cons: Supports a few not-so-common file formats, costs.
Licence: Demo.
Price: $9.95.
AlternateReader 1.08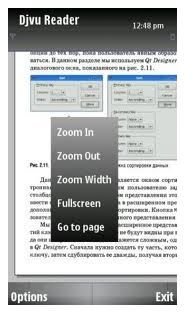 AlernateReader is another choice for you if you're looking for a free PDF e-book reader for your Nokia 5320. It also supports DjVufiles (in .djvu and .djv format) to enable the reading of scanned documents. So, actually it alternates between the two formats. Some notable features include touch screen support, full-screen reading mode, support to fit actual size and width and zooming ability.
Pros: Easy to use interface, many features for easy reading, free.
Cons: Only supports .pdf and .djvu formats.
Licence: Freeware.
Price: Free.
Czytacz 1.01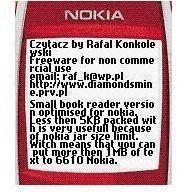 Developed by a Polish programmer, Czytacz is promoted as being a 'small book reader (5KB packed)' and is compatible with most Nokia smartphones. It supports only .txt file format and there's nothing fancy about this simple e-reader. However, it has some good features like brightness control for easy reading, timer to count hours and bytes read, author information and ability to change font size.
Pros: Easy to use interface, free.
Cons: Only supports .txt format, not a great user interface.
Licence: Freeware.
Price: Free.
iSilo 5.11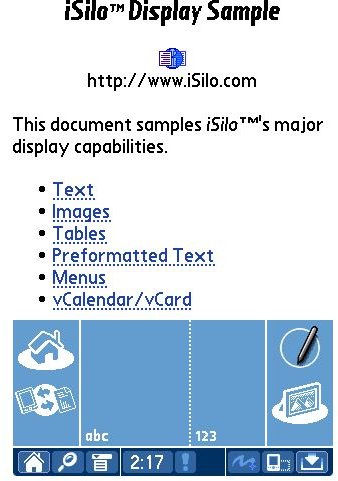 Looking for another text file reader? iSilo is another choice to go for. Though it is not raved about that much it supports .txt, .pdb, and iSilo format. Some good features this application offers include a file explorer to find files easily, documents list containing recently viewed documents history, the ability to categorize documents into single or multiple categories and the option to mark folders as favorites. We also get common file and folder operations like copy, move, delete, and rename. It also supports formatting features such as changing font size and style, applying theme and colors selection, bookmark, text search, auto-scroll and document orientation. It's not free however.
Pros: Many advanced features, great interface.
Cons: Only supports .txt, .pdb and iSilo formats, costs.
Licence: Shareware.
Price: $19.99.
MobiCHM 2.1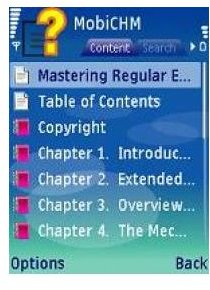 Many e-books we download are in CHM (Compiled HTML) format, but there aren't many CHM readers for the Nokia 5230 around. MobiCHM is perhaps the only e-reader which supports the CHM file format. It has some basic features including index, search, bookmark, page orientation, and charset encoding. However, this reader is not free if you've been wondering.
Pros: Good interface, easy navigation.
Cons: Only supports .chm format, costs.
Licence: Demo.
Price: $16.
References