Nokia 5530 Apps to Enhance your XpressMusic Experience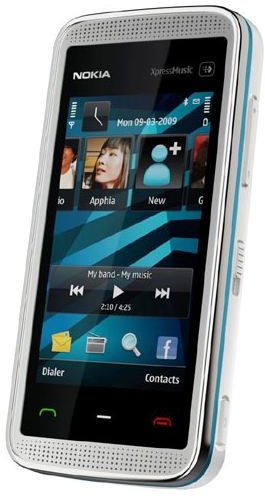 The Nokia 5530 XpressMusic is a touch based music and entertainment oriented phone. When you decide to purchase this phone it is a safe bet that you are looking for some satisfaction as far as entertainment and fun goes. So it is only fitting that we take a look at some apps that are well suited to enhancing the expectations of any Nokia 5530 owner.
YouTube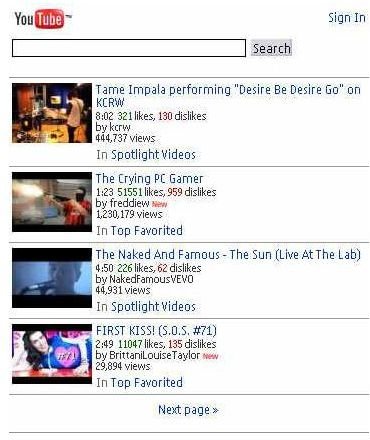 In addition to music on your Nokia 5530, the YouTube app, officially from YouTube, is an optimized app for accessing video files from the popular site. It comes enhanced with features suitable for the Nokia mobile phone. There is an intuitive search that allows you to find videos with the greatest of ease. Everything you need from the YouTube service is available through this app, including access to your online account. This means you can mark videos to watch at a more convenient time. You can also mark favorites and subscribe to channels.
This YouTube app also allows you to create and access your Playlists. The videos are compressed and that makes them ideal for downloading on the limited screen size of the Nokia 5530, as well as transfering over the air on a 3G network or Wi-Fi. The YouTube app gives you a better and richer experience than the one you would get accessing the website using your mobile browser – it offers improved speed and seamless playback. This app is available for free at the Nokia Ovi Store through the Ovi Store app on your Nokia 5530.
Nokia Internet Radio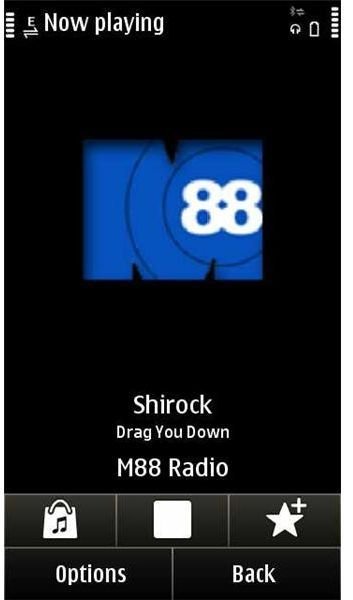 The Nokia Internet Radio app is another option for accessing music beyond your device or personal recordings. This app complements the FM radio built into your Nokia phone. Nokia Internet Radio is a free app that allows you to access radio stations from all over the world in several different languages and genres of music.
With such a huge collection of stations and music, it may be a little bit too overwhelming trying to find exactly what you want. This app has already taken care of that by providing a directory of recommended stations in each genre. As for genres, you can search for stations and music by searching by genre, artist, album, language, country or region.
This app is also intuitive enough to determine the quality of your Internet connection and likewise stream the music in the appropriate bit rate. By doing this you get a seamless experience of streaming audio. You can download Nokia Internet Radio for free from Nokia Ovi Store directly on your Nokia 5530.
Shazam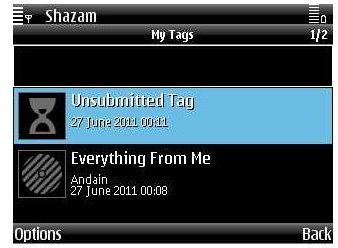 With Shazam's proprietary technology, you can now access information on your favorite songs whether or not you know who sang them or what they are called. It is quite simple with Shazam. If you are at home listening to the radio, watching TV, in a bar or anywhere public you can identify the music you hear by simply activating your Shazam app on your Nokia 5530. This app also works even though there is background noise that could interfere with the songs you are trying to identify.
You can tag songs and video on YouTube. You can also extract more information about the album and artist. You can also go ahead and get information on tour dates for upcoming concerts and buy tickets right from within the Shazam service. In addition to this you can have access to the lyrics of the songs you are listening to.
Tags you create can be posted on Facebook and tweeted on Twitter. Shazam comes fully featured and unlimited for a trial period of 30 days after which you must pay the US $4.99 to continue using the unlimited features. Continued use of Shazam for Free limits you to five tags a month. You can download Shazam directly to your Nokia 5530 using the Ovi Store app.
Nokia Battery Monitor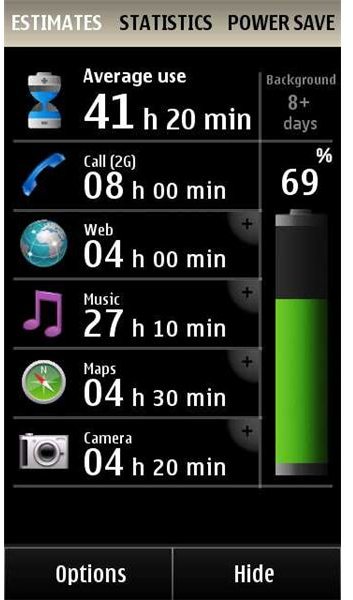 Nokia Battery Monitor is a must-have app for your XpressMusic device which basically keeps tabs on your battery power. This app has an advantage over the regular battery meter for the following reasons. For one, the native battery meter on Nokia devices does not tell you how much time you have left on your phone. The Nokia Battery Monitor app will show your remaining power as a percentage.
Nokia Battery Monitor also shows you which are the top energy consumers for the day, for the past week and all time. It also gives you a shortcut panel to the various ways you can save on power and to turn power save mode on or off. Also available are tips on what you can do to save power consumption on your phone such as turning off Bluetooth when not in use. There are estimates displayed to you on favorite apps and how long they will run on a full battery, as well as estimates on how much usage time is remaining, not to mention battery charge time. This Nokia app is available for free from Nokia Ovi Store directly on you Nokia 5530
These applications, in addition to the preinstalled music and video applications, complete the entertainment experience you would expect to get out of this phone. With these Nokia 5530 apps you now have access to unlimited videos direct from YouTube. You also have access to an unlimited supply of different genres of music from Internet radio stations from all over the world. You have an application that can assist you in identifying the music you love. even if you have no idea who sang it or what it is called, and finally you can now keep track of your power resources as you go about enjoying your entertainment.
References