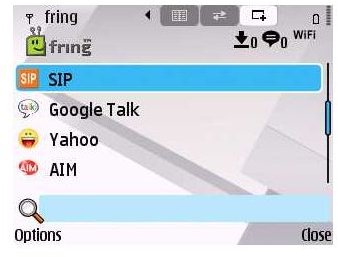 Fring
Fring for your Nokia E63 is one of the best instant messaging and social networking Nokia E63 apps. With Fring you can use all your favorite instant messaging services all from a single application. Fring gives you access to Yahoo Messenger services, MSN messenger services, Google Talk, ICQ, AIM and Facebook chat. In addition to these you can access you Facebook and Twitter accounts, listen to last.FM, make video calls and VOIP calls, all within the Fring application. Fring also supports custom plug-ins which can be used to extend the functionality beyond what comes native to Fring.
Fring can be downloaded directly to your phone by visiting fring.com from your mobile phone.
Dictionary & Translation Pro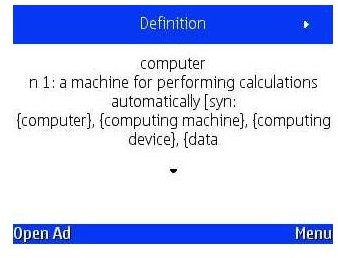 Being a business oriented smartphone, the Nokia E63 is not complete without Dictionary & Translation Pro. This is an extremely comprehensive online dictionary and thesaurus, which is regularly updated with new words which are maintained by a community of language experts. This Nokia E63 dictionary is not only available in several of the worlds major languages, but it also provides translation services between those languages.
Qik Video Camera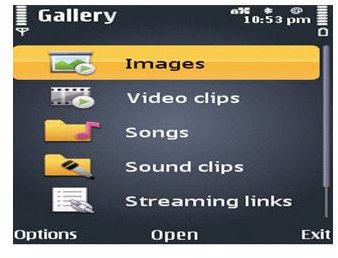 With your Nokia E63 you can record and share videos in a fun and interesting way using Qik Video Camera. You can share the videos you shoot with Qik Video Camera privately with your friends and family, or you can make them available to the general public. You can also share recordings in real-time, so your friends can watch as you record. The recordings you make with Qik Video Camera can also be shared on social network websites such as Facebook, Twitter and You Tube among others. Plug-ins are also available for integrating into popular blog and CMS frameworks. Conversations can also be made with the people viewing you video in real-time. Qik Video Camera allows you to monetize your videos using Brightcove. Qik Video Camera is available for $0.99.
WorldMate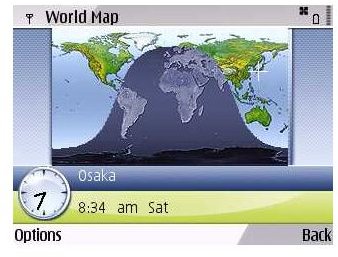 For those Nokia E63 owners that travel considerably, WorldMate is for you. This Nokia E63 travel app has a wide variety of features that include a world clock for displaying up to five cities simultaneously. WorldMate also provides weather information, up to five days in advance. There is also a currency converter that can be kept up-to-date and a world imagery map. With Worldmate you get regular travel updates with information on flight delays and cancellations, airport gate information and alternate flights in case of cancellations.
With WorldMate you can track of the flight status for over 350 international airlines on your Nokia E63.
WorldMate comes on your Nokia E63 with limited features. Full features can be activated by to Gold membership for $49.95 directly from the application. Find out more about WorldMate, check out our article on the best free Nokia E63 apps.
Best Answering Machine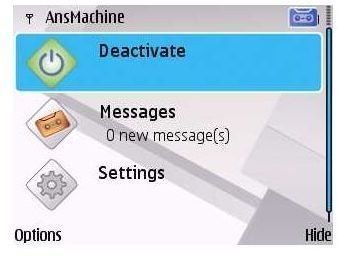 With Best Answering Machine you no longer have an excuse to miss another call on your Nokia E63. You can set up a personalized greeting for all your contacts on your Nokia E63 address book per group, or per individual. You can also set rules based on area code or country code, and customize your messages based on these. With Best Answering Machine you can save on voice mail costs depending on your cell carrier. Best Answering Machine comes with a simple and clean user interface and works unobtrusively, which means you can keep it running in the background, as you let this Nokia E63 answering machine take all your calls. Best Answering Machine can be purchased for about $10.95.
YouTube Mobile Application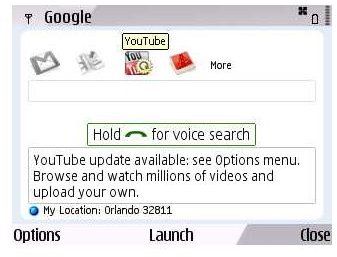 The YouTube Mobile Application is one of the best apps for the Nokia E63, for video content streaming. With the YouTube Mobile application on your Nokia E63, you can have access to YouTube like no other app can give you. You can use this application to upload videos to YouTube straight from your Nokia E63. YouTube Mobile Application has a user friendly navigation model based on tabs and a quick access menu. You can also search for your desired videos. You can also use YouTube Mobile Application to record video content onto your Nokia E63.
You can download YouTube Mobile Application by going to m.youtube.com/app on your Nokia E63 and following the instructions.
PowerMP3 Music Player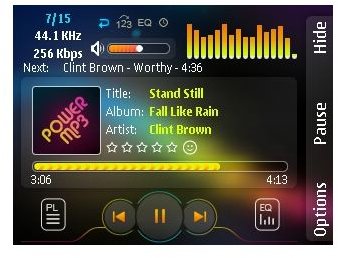 PowerMP3 is a powerful Music player which supports playing most common audio formats on your Nokia E63. PowerMP3 comes with a visually appealing full screen user interface. While playing music, PowerMP3 displays a spectrum analysis of the songs, as well as the bitrate and sample rate. PowerMP3 is able to remember which song you played last and what part of the song you were in. PowerMP3 on your Nokia E63 can download album information and art for each song it plays. You can manage you music with PowerMP3 using play-lists, and make use of the built-in preamp, equalizer and balance controls. Themes and skins are also supported on PowerMP3. PowerMP3 is available for $24.95.
Snaptu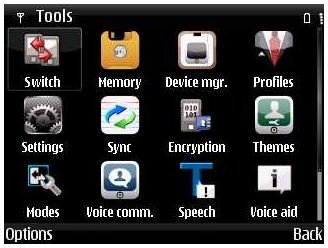 Snaptu is an aggregation of several apps or services on your Nokia E63. The aggregation of apps for the Nokia E63 you get through Snaptu, includes weather updates via AccuWeather. Live soccer scores for major leagues in Europe and Asia are also available on the Nokia E63 through Snaptu, as well as cricket scores. MyMovies provides information on the latest movies. Yahoo's Flickr and Picasa photo websites are accessible using Snaptu also. You can use Snaptu on your Nokia E63 to access popular social networking websites such as Twitter and Facebook.
Nokia Internet Radio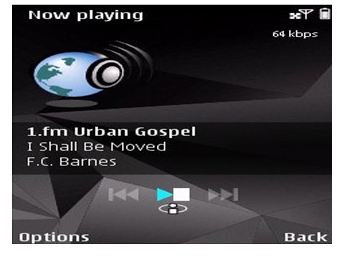 Nokia Internet Radio comes on the Nokia E63 and is Nokia's app for accessing Internet radio on Nokia E Series phones and other Nokia Phones. This Nokia E63 app gives you access to hundreds of Internet radio services through the world. Users of Nokia Internet Radio have access to an extensive directory for searching out radio stations, using criteria such as language, country, genre or radio station name. For those that are not sure what they are looking for, there are hourly updates for information on what is hot and trending. This Nokia E63 application can throttle bandwidth and song bitrates to suite you Internet speeds. Internet Radio depending on your mobile phone model, comes preinstalled with the latest updates.
Opera Mobile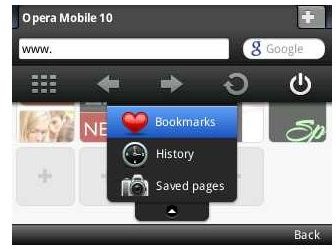 This is a free web browser that concludes the list of apps for Nokia E63. It has an incredible user interface, and is quite fast compared to other mobile browsers, as it supports data compression. Opera Mobile handles large web pages pretty well on the Nokia E63. Opera Mobile is easy to use with its zoom in feature and its tool bar offering easy access to important functions. With this app you can view websites in desktop versions, as well as mobile versions by changing the preferences.
Browsing history can be saved as well as bookmarks and even configuration of quick launch icons for your favorite websites. To download Opera Mobile you can access m.opera.com with your Nokia E63.
References
Source: author's own experience.
Nokia Ovi Store, store.ovi.com
Youtube, www.youtube.com
Screenshots provided by writer.