Guide to the Best Symbian MP3 Player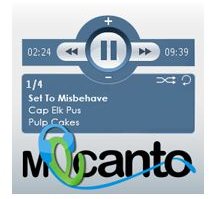 Mecanto Music Player
Mecanto music player is a Symbian MP3 player that lets you manage all your music files online and therefore can be accessed from anywhere you wish. In addition to the mobile app you can install a client for your PC or use your web browser to manage your MP3 music further, including your iTunes music library. Your MP3 files can be played by author, album or genre and you can search for songs using the same criteria. You can also organize your music into play-lists. The strength of the Mecanto music player is its ability to turn your MP3 collection into a Internet music service that gives you full control. You can download Mecanto from Nokia Ovi store for free and subscribe for the service at $1.99 a month.
PowerMP3 Music Player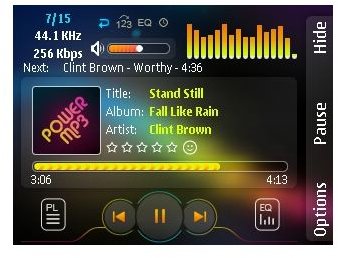 PowerMP3 is an MP3 player with outstanding performance and an excellent user interface. This MP3 player comes with stunning visuals that include a full spectrum analyzer. PowerMP3 also displays the current MP3 bitrate and sample rate as well as showing the progress time-line. PowerMP3 supports album art and song information which it can retrieve from the Internet. You can also manage your MP3 music by classifying tracks into play-lists by genre, album and artist. You can play back your MP3 by mood with this Nokia MP3 player. On start-up PowerMP3 can remember what you last played and continue from there. Audio volume and bass can be boosted for greater performance. Other features on PowerMP3 include a balance control, a preamp, playback filters based on file size and bitrate as well as support for themes and skinning. You can download PowerMP3 from Nokia Ovi store for $24.95.
Nokia Music Player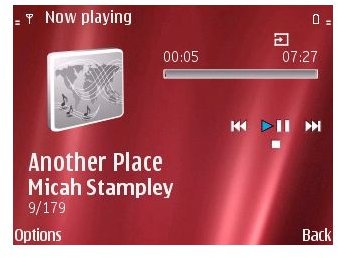 Nokia Music Player is an app that can easily be described as a great Symbian MP3 player. If you are looking for a hassle free, cost free and simple MP3 player then this is the option for you. It comes installed on Symbian phones right out of the box. With Nokia Music Player you can create MP3 play-lists as well as play your music by genre, album, artist, folder or just play all the MP3 music on your mobile phone. This music player comes with a preset equalizer and the ability to shuffle music, or repeat and loop through all your music.
Check out this information on how to use your Symbian phone as an MP3 player.
ALON MP3 Player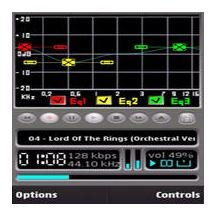 For those with Nokia phones using the older Symbian S60 Second Edition, ALON MP3 player gives you another option to turn your phone into a portable MP3 player. ALON MP3 comes with enhancements to your MP3 audio files with a built-in 3-band parametric equalizer, a digital font display which shows the MP3 timer with information on the sample rate and the bit rate of your MP3 files. The user interface is quite easy to use with access to all features via the number keys on the alphanumeric keypad. With ALON MP3 player you can organize your MP3 music with the use of M3U play-lists as well as the phone play-list to store your MP3 music in preferred locations. Playback can be looped, randomized on track or play-list basis. To crown it all ALON MP3 Player gives you access to Internet radio services. You can download ALON MP3 player from Nokia Ovi Store for $15.99.
Make sure you take time to check out the Nokia music store.
References
Source: author's own experience.
Screenshots provided by writer.
Additional Image credits: Alon Software alonsoftware.com and Mecanto mecanto.com