Some Neat Zip Apps for Mobile Symbian S60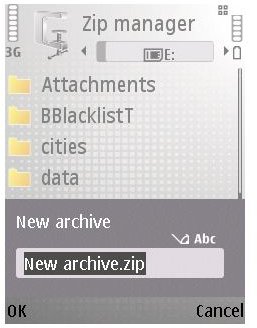 Zip Files
Like any computer that uses a file compressor and archived program, a mobile phone can also send and receive files that were zipped or compressed. Compressing or zipping files helps reduce the file size and also to secure the files with a password, if you wish. There are several zip apps for mobile Symbian S60 phones and below are some of these applications that you can rely on for accessing, creating, extracting or transferring after archiving.
Zip Manager and Handy Zip
Most models of Nokia phone come with the zip file manager from Epocware. An example is the Nokia E71 mobile phone that includes the Zip Manager free edition. Epocware provides Zip Manager Pro for the Nokia 9300 and 9500 Symbian phones and Handy Zip for Symbian S60 2.0 and higher.
The built-in Zip Manager free edition on your Nokia phone is of course, a limited version only, but it's enough for end-users that only wish to create or view zip files.
Any of the above zip apps for mobile Symbian S60 allow you to easily create compressed files for transferring or sending to another device using Bluetooth or e-mail messaging. You can choose to compress not only the folders but the sub-folders.
The only issue I noticed in using Handy Zip or the free Zip Manager is it failed to handle files compressed using the PKZIP format by Pkware.
X-plore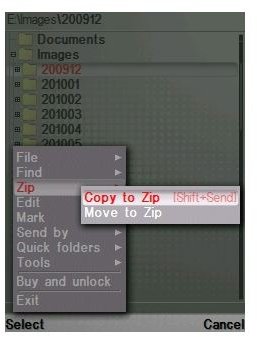 Lonely Cat Games' X-plore is a file manager for Symbian phones which includes an option to manage compressed files in several file formats e.g. zip, rar and jar file extensions. The option to extract zip files and also to pack files to zip archives is quite easy to use. The only downside with the free edition of X-plore is the delay in opening the program itself with its startup screen window, but this limitation is removed when you register for a license.
I had no issue in creating or moving files to zip format using X-plore because it simply works like a charm. The only issue I had with this program is it couldn't transfer the zipped files using Bluetooth. I keep getting an error in sending the files but did not have issue when I used the default File Manager on my Nokia phone. Check out the full review on X-plore here.
FExplorer Pro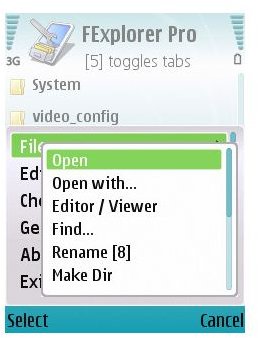 One of the most widely-used file managers for Symbian phones was developed by SBSH Software Ltd – FExplorer Pro is the ultimate file management software that includes a zip files manager. It only cost $9.95 to keep your mobile device free from unused space, free the memory and also to create compressed files or extract zip files. This program is often updated for fixes and new functions. Note that I failed to test this program because I can't, for some reason download a copy. I keep getting the buy page instead of trial download without paying.
Best FileMan
Smartphoneware also provides a file manager for Symbian S60 devices but can only be installed on 1st and 2nd editions of S60. Best FileMan by Smarphoneware includes a zip utility that allows you to create or unpack zip files. The program is not freeware and it cost $4.95. You should consider using the above-mentioned applications e.g. X-plore or built-in zip app for mobile Symbian S60 instead of purchasing Best FileMan because it has not been updated for years. I did not bother to try the software since there has been no update for years already.
Final Words
The best zip app for mobile Symbian S60 is X-plore or the built-in Zip Manager in your device. There's no need to pay for a zip manager if you only need to use basic compression and extraction commands for files.
References and Images
PK Ware, https://www.pkware.com/
Image credits: Screenshots taken by the author except FExplorer Pro and Best FileMan which were taken from vendors' websites.