Samsung Evergreen Review: An Eco-Friendly Messaging Phone
With the entry of Sprint's eco-friendly Samsung Restore, it seems AT&T wants in on the act too. AT&T has also stepped into the eco-friendly market by launching the Samsung Evergreen SGH-A667 mobile device which is 70% constructed of recycled plastic. This typically designed messaging phone further comes in environmentally friendly packaging made out of 80% recycled paper and it also ships with an energy Star 2.0 efficient charger. Let's move on for a closer look at the Samsung Evergreen messaging phone.
Design (4 out of 5)
The Samsung Evergreen doesn't necessarily speak of any premium quality or anything too fancy. Measuring 4.56 x 2.2 x 0.59 inches, the handset is somewhat average in weight at 4.5 oz and may appear a bit bulky in your hand when compared to its competitors such as the LG Neon II, Samsung Restore or Samsung Gravity 3 devices. Housed in a glossy plastic shell-like body, the phone gives a somewhat slick feeling.
The Samsung Evergreen SGH-A667 messaging phone sports a 2.4 inch QVGA display with a 240 x 320 pixels resolution and 262,000 colors. Underneath the display you'll find the 4-way directional pad along with a central Select button that is just perfect for your fingers. The keypad is spacious enough to fit any size of fingers with hassle free key selection and prominent buttons that can be easily pressed. On both sides of the navigation array there are slightly concave buttons hosting two soft keys, a shortcut for texting and a combined Clear/Back button. The volume rocker and microSD card slot is placed on the left edge of the phone, while the right edge consists of the shutter key, task menu button and microUSB port.
Even though the Samsung Evergreen offers an on board music player there is no headphone jack for it. You have to use the micro-USB port for this. A 2-megapixel camera is placed at the back-side of the handset. The phone is featured with a spacious QWERTY keyboard with domed and responsive keys.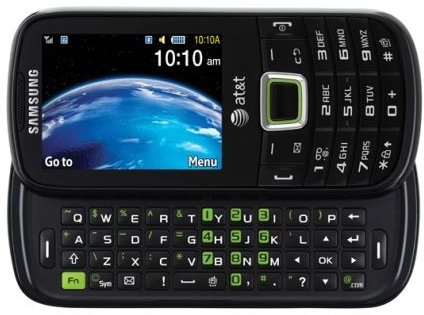 User Interface (4 out of 5)
The user interface on the Samsung Evergreen is somewhat straightforward with nothing new in it as compared to other messaging phones. There's nothing changeable or customizable in the home screen except the wallpaper, but you can surely choose between list or grid view in the case of the main menu. At its core, the Samsung Evergreen has a more than functional user interface.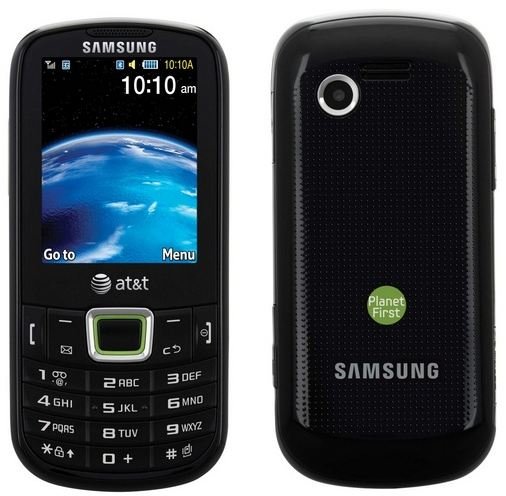 Features (4 out of 5)
The Samsung Evergreen offers all the basic features of a messaging phone with a few other features on top. The phone book has room for 2,000 entries, each offering space for multiple phone numbers and email addresses, caller group, photo ID, caller group, customized message tone and any one of 11 default ringtones. The tools of the phone consist of a calendar, calculator, a tip calculator, an alarm clock, a to-do list, an audio recorder and a note pad.
The phone further features text and multimedia messaging, a voice command app powered by Nuance, Bluetooth and GPS support, AT&T Social Net powered by iSkoot to pull down RSS feeds, MySpace, Facebook and Twitter status updates. There are other AT&T apps included on the Samsung Evergreen such as AT&T Navigator, AT&T Music run by PacketVideo at $4.99 per month and AT&T Maps powered by NavTeq and YellowPages.com. Moreover, there are various other third party apps too such as Where and Yellow Pages Mobile. The phone also supports AT&T video share features on activation, which is capable of streaming video live to another caller who has this service enabled. For Internet, the Samsung Evergreen uses the ATT.net browser and allows online storage for your photos in AT&T Locker.
The Evergreen's 2-megapixel camera supports 1600 x 1200, 1280 x 960, 640 x 480 and 320 x 240 resolutions. Besides video sharing, the camera features an optional night mode, six shooting modes, three focus settings, five color effects, five white balance settings and additional settings to control shutter sound. The camcorder shoots at a resolution of 320 x 240 pixels with a limitation of video messages up to 30 seconds in length and 176 x 144 pixel. The Samsung Evergreen features an internal memory of 256MB and up to 16GB on card.
The music player is quite impressive and functional with onscreen controls to control pause, play and skip options. You can even repeat a song or create playlists in advance and even shuffle songs too with the Samsung Evergreen's music player. The controls are further extended to Bluetooth headsets. A shortcut is provided in the phone from the music settings to AT&T music store, where you can purchase your choice of songs. The Evergreen comes with six onboard games along with an option to purchase more from AT&T's online store. The environmentally friendly features of the phone include its energy saving power settings for automatic adjustment of brightness and screen-timeout, a pedometer, eco-calculator to calculate your efficiency of driving and loads of themed wallpapers and ringtones that are appropriate for the phone.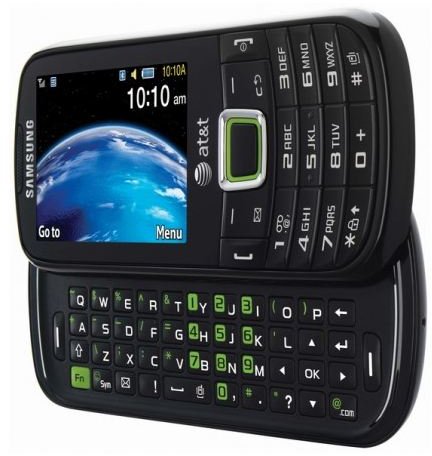 Performance (4 out of 5)
The quad-band Samsung Evergreen is satisfying as far as the call quality is concerned, but not extraordinary when tested using AT&T's network. However, there are chances of getting a digital buzzing sound whenever the caller speaks from the other end. Overall there is no distortion, interruptions or breaks in between at all. The speakerphone is also loud and good but has the same buzzy noise.
AT&T's online services seem to be quite slow in loading, which is again common with most messaging phones. The Samsung Evergreen has a rated battery life of 5 hours with 10.4 days standby time. The FCC radiation test of the phone gives a measurement of 0.41 watt per kilogram of digital SAR.
The Verdict (4 out of 5)
At just $29.99 with a two-year contract from AT&T, the 3G Samsung Evergreen SGH-A667 offers good value for your money. Moreover the phone features enough functions and good enough interface performance to tag it as a good messaging phone for those who can cope without a touchscreen phone.
References
Reference:
Image Credits: