Samsung's Newest Galaxy S: The Samsung Mesmerize Review
With Samsung Galaxy S devices out for Sprint, AT&T, Verizon and T-Mobile, it was only a matter of time before U.S. Cellular got a model of their own, the Samsung Mesmerize. The Mesmerize shares a lot with the Samsung Fascinate, from design to software, but there are a few new features that make this phone its own device. The Samsung Mesmerize has a lot of things going for it, but with an outdated operating system is it really possible to rate this phone very highly? Read on to find out.
Design (5 out of 5)

The Samsung Mesmerize is almost a carbon copy, design-wise, of the Samsung Fascinate. This really isn't that big of a deal, since the Fascinate has probably the best design of all of the Galaxy S phones. The Samsung Mesmerize measures 4.92 inches tall, 2.53 inches wide and only 0.39 inches thick. The device weighs in at 4.16 ounces, which combined with the solid plastic shell makes the phone feel solid in your hand. Kudos to Samsung for not messing with a good design.
The centerpiece of the Samsung Mesmerize, as with all Galaxy S devices, is the stunning 4-inch Super AMOLED touch screen. The capacitive touchscreen has a resolution of 800 x 480 and looks just as good in darkness as it does in a bright room. The screen even looks decent in direct sunlight. Directly below the screen are the four standard touch-sensitive buttons. There is a power button on the right side, a volume button on the left, and a micro-USB port and 3.5 mm headset jack on the top. As you may have noticed, there is no dedicated camera key, as there is with many other phone models.
User Interface (3 out of 5)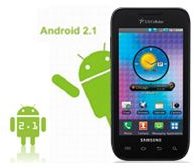 The Samsung Mesmerize ships with Android 2.1, with Samsung's TouchWiz 3.0 overlay. Android version 2.2, named Froyo, has been out for months now and it is simply unacceptable for Samsung to continue to release devices that use an outdated operating system. Android 2.2 offers a number of performance, application and communication improvements, amongst many other things. The Samsung Mesmerize will be able to be updated to 2.2 once the other Galaxy S devices are, but Samsung has constantly pushed that date back. Once the Mesmerize gets the 2.2 software, this score will be greatly improved.
This all isn't to say that the 2.1 operating system is bad, it certain isn't, it's just outdated. The Samsung Mesmerize has seven customizable home screens, which can include a number of helpful Google and Samsung applications and widgets. It is easy to scroll through the screens and the phone hardware makes the transition between screens and applications fast and painless. The application screen is just a touch away and it lists all of your applications on several connected screens that you swipe to move between. The settings on the Samsung Mesmerize are easy to locate and modify to your liking.
Features (4 out of 5)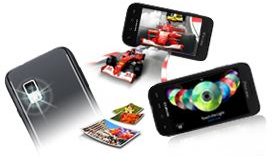 On the back of the Samsung Mesmerize you will find a 5.0 megapixel camera with an LED flash. There are a ton of camera functions, like ISO manipulation, white balance settings, autofocus, 4X digital zoom, image stabilization and even blink detection. The pictures taken with this device are excellent, at least as far as a camera in a cell phone goes. The camera also takes 720p HD video, which looks very good when replayed.
The Samsung Mesmerize comes with the standard Google and Samsung applications and bloatware, but thankfully U.S. Cellular only added three programs. The added programs include ThinkFree Office, CityID, My Contacts Backup and U.S. Cellular's navigation software which is powered by TeleNav. If you don't find any application to do what you need to do, you have access to over 100,000 applications in the Android Market, plus the Mesmerize can handle third-party apps.
The Samsung Mesmerize comes with a host of applications for email, messaging and social networking, which is expected as these are becoming standard fare on any smartphone. There is also a unified inbox for all of your messaging, email and social networking accounts which makes life that much easier. The device also comes with an application that will let you compose a message in a single application and then decide how to send it, to prevent you from having to change applications to send messages through different services.
The Mesmerize has a robust music player which will play a number of different file types through the headset or over a Bluetooth connection. The music player will get updated to the Samsung Media Hub, which offers a central application for all your media needs, with the 2.2 update.
Performance (5 out of 5)
Inside the Samsung Mesmerize is a 1 GHz Hummingbird processor and you feel all of that power when you are using the device. Navigating between screens and applications take no time at all and even tabbed browsing doesn't make the device slow down. The Mesmerize has 2 GB of integrated flash memory, which you can use to store applications, and a 16 GB microSD card, which you can use for media storage. Once the Mesmerize gets the 2.2 software, you can use the external card for application storage as well.
The Samsung Mesmerize uses CDMA 2000 EVDO technology, and both the call quality and data speeds are excellent. The device can also connect to 802.11 b/g/n Wi-Fi networks and the speeds there are as fast as you would expect. The battery is rated at 420 minutes of talk time, which is very good considering all of the features in the phone.
Verdict for the Samsung Mesmerize (4 out of 5)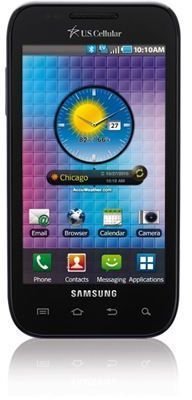 The Samsung Mesmerize is a beautiful device with a lightning-quick processor and a whole host of features. The only serious knock, well the only knock at all, is that this $200 smartphone is released with a six-month-old operating system. Six-months is an eternity in the mobile device world, and the features in 2.2 are just too good to overlook. With any luck, the new operating system will be out within a few weeks, and there will be no reason not to recommend this device. Until that time, while this is still the probably the best phone in the U.S. Cellular lineup, at least right there with the HTC Desire, it might not be worth spending all that money on.
All images from Samsung.com