Samsung Rugby SGH-A837 Review
Introduction
The Samsung Rugby takes a prime spot as AT&T's one and only rugged phone in the PTT series. The phone runs nearly an identical multimedia interface to the Samsung Propel. The Rugby is a fine choice phone for calling and walkie-talkie use, but it definitely needs an update on some of its features to give it more of a corporate or workforce touch and make it a perfect walkie-talkie phone. Let's roll over to the Samsung Rugby review and get to know it better.
Design (4 out of 5)
The Samsung Rugby. also dubbed Samsung SGH-A837, has a black exterior, durable plastic skin and a sturdy hinge mechanism. The handset is extremely durable with an easy-to-use design and it is resistant to shock, rain and vibration. With the 4.66-ounce weight and 3.95 x 2.05 x 0.90 dimensions, the phone is a bit bulky but has a cozy feel in your hand.
The external display of the Rugby is almost the measurement of a postal stamp and it has an internal display of 2 inches supporting 262,000 colors. The external display shows all the essential information, such as the battery life, date, caller ID, time and signal strength. The internal display of the phone is bright and vibrant with sharp text and graphics. You have an option to select from two easy-to-use menu styles to adjust the backlighting time, brightness and the dialing font, type and color. Just above the handset's display there's a large speaker for PTT and voice calls. The lens of the camera is placed exactly below the external display with no flash/self-portrait mirror.
The PTT button and a volume control are placed on the left spine of the phone, so it can be easily found. The right spine of the device contains the combined charger port and headset jack and a dedicated speaker button. The combined charger port-headset jack is not so convenient as it not only requires a dedicated connection headset/adapter, but also limits you to use one device at a time.
The keypad on the Rugby is well designed with large comfortable keys and spacious alignment. Although the numbers on the keys seems to be a bit small, but there is a bright backlight. The navigation line-up offers lots of space and there's a squared toggle for moving around the menus. There's an 'OK' button placed in the middle of the toggle. Other buttons include 2 soft keys, Talk, End or Power buttons, GPS feature shortcut, a clear control and a Favorites menu that is programmable. The toggle can be further programmed and set to make it single-touch to access 4 user-defined functionalities.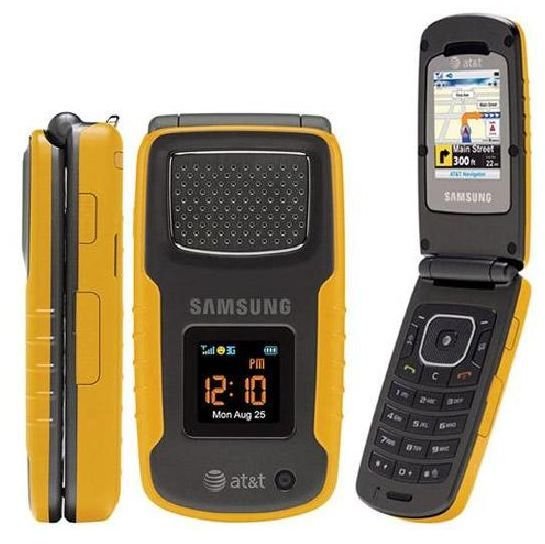 User Interface (4 out of 5)
The Samsung Rugby's user interface could be made simpler by offering quick launch icons for multimedia features. The user interface has actually made the access to the multimedia applications a bit cumbersome. The Rugby's multimedia functions are placed in the menu and you need 2-3 clicks to access them. On the other hand Web browsing is good and online surfing can be made possible by an Access Netfront browser. In short, the Rugby has proved to be much better than what was expected.
Features (3 out of 5)
The Samsung Rugby offers a wide range of features such as PC syncing, AT&T Video Share application support, voice recorder, USB mass storage, GPS and stereo Bluetooth with AT&T Navigation Service support. Apart from these, the Rugby also supports the PTT network of AT&T for walkie-talkie dials to compatible AT&T phones. The device further supports the AT&T Cellular Video Services and Mobile Music as well. It also has loads of other features related to music such as a Billboard Mobile channel, Music ID application, XM Radio Mobile support, music videos and a community part too from where you can access fan sites and download.
The Rugby features a phone book for 1,000 contacts with space for 6 phone numbers, 2 email addresses, 2 URLs, a nickname, a company name, notes, job title, a birthday and an instant messaging handle. The callers can be further grouped and paired with any of ten polyphonic ringtones. If you wish you can even use files from the Rugby's audio recorder as ringtones. Other features of the phone include text/multimedia messaging, currency/unit converter, a calendar, a calculator, a timer, an alarm clock, a task list, a world clock, notepad, vibrate mode, a tip calculator and a stopwatch.
The 1.3 MP camera offers 3 quality settings and is capable of taking pictures in three different resolutions. Other options of the camera being a self-timer, white-balance controls, brightness, mosaic, multishot, night modes, panorama, 20 fun frames, 4x digital zoom, three color tones and 3 shutter sounds. However, the camcorder has limited options for editing and records in a resolution of 176 x 144 with sound. The Rugby further offers a shared internal memory of about 130MB with a screen-meter that says how much memory-space is still left. It can be personalized with a range of wallpapers, alert tones, background colors and greetings.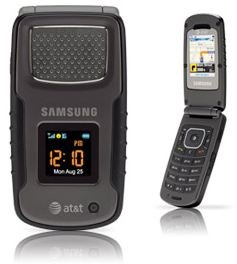 Performance (4 out of 5)
The Quad Band Samsung Rugby was tested using the AT&T service and the call quality was good with a little harsh audio but relatively loud. Even though the earpiece showed a little echoing effect there was no so-called static interference. You might face a few issues while using a Bluetooth headset, but on the whole the Samsung SGH-A837 is remarkably clear and loud. Unfortunately the volume during streaming clips is a bit low. Multimedia is OK with average picture quality. Streaming videos might take a few seconds to load and are pixelated. Furthermore, the 3G connectivity is unsteady in buildings and the Web browser is slow, even with 3G connectivity.
The Samsung SGH-A837 has a good battery life providing 5 hours of talk time and standby time of 10.4 days. The photo quality with the Rugby's built-in camera is quite good with sharp colors and almost no image noise. Like Nextel's cellphones, the Samsung Rugby is also certified to military particulars on being resistant to shock, solar radiation, humidity, vibration and temperature extremes as well. Another must mention feature of this handset is the locking mechanism of the battery cover that protects the device from dust and water.
The Verdict (4 out of 5)
In spite of the fact that the Samsung Rugby needs to include some more corporate features, it is still a very rugged phone with unique calling features, a good GPS service and satisfactory Web browser. Hold it under a running faucet or hit it with a motorcycle, the $130 Samsung Rugby SGH-A837 holds on like a real champ. Perfect for fans of the outdoors.
References:
Reference:
Image Credits: