Read Our Review of Samsung Gusto: Simple & Functional Phone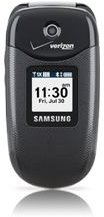 The Samsung Gusto is an entry-level clamshell phone that is available on the Verizon Wireless network. The Gusto has a solid base of features, like a 2-inch screen, VGA camera, and Bluetooth technology, but in a world of smartphones it really doesn't offer anything to get excited about. The Gusto is designed and priced for people who only want a simple phone that they can talk and text with, and in that regard at least, the Gusto is a decent device.
Design (2 out of 5)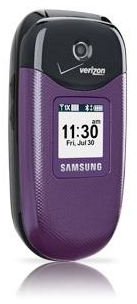 The Samsung Gusto is a small phone, measuring 3.8 x 1.89 x 0.76 inches, so it will easily fit into your hand or pocket. The phone weighs 3.28 ounces, and it feels about right when you hold it in your hand. The phone doesn't really feel solid, which isn't surprising for an entry level device, but when you look at the phone it gives off an aura of craftsmanship that goes away as soon as you pick it up. The Gusto is only available in grey and black, even though the Samsung website has pictures of a purple and black phone as well. I don't know if this is a planned color release, or if Samsung will wait to see how the device is received before creating another color.
The Gusto sports a 1.07-inch external LCD, that is 96 x 96 pixels and can make up to 65K colors. The camera is also located on the front of the device. There are volume buttons, dedicated camera and speakerphone buttons, a Micro-USB charging port and a 2.5mm headset jack along the sides.
Inside, the Gusto has a 2.0-inch 128 x 160 resolution TFT display that supports up to 262K colors. Beneath the LCD is a standard keypad with a directional pad for navigation.
User Interface (3 out of 5)
Navigating through the device is fairly easy, and if you have used a basic phone before you should have no issues finding whatever you need on the Samsung Gusto. The menu system is straightforward, with all the basics like messaging, pictures, Bluetooth and settings being easy to find. The Gusto can download and set up ringtones from both the "My Ringtones" menu and the "Media Center" menu. Verizon Navigator also gets its own menu number, making it much easier to access than if it was buried with the other applications in the Media Center.
Making phone calls and sending text messages is exactly as easy as you would expect. There are some little delays when typing or moving through menus, which is disappointing considering that there shouldn't be too much going on in the background, but overall the interface on the Gusto is passable.
Features (4 out of 5)

The Gusto has a VGA camera, which can only take pictures up to a resolution of 640 x 480 pixels. The camera has a night vision feature and a few other camera settings, but nothing too robust. The phone only has 32 megabytes of internal memory that has to be shared by everything, and no SD card slot, so don't plan on getting too much use out of the camera anyway.
The Gusto has a browser to access the mobile web, and there are plenty of menu options where you can download ringers, games and other applications. The Gusto can send and receive SMS and MMS messages, and you can access instant messaging, chat and email through the browser. When you type messages, the Gusto has T9 predictive text, and while T9 is a little annoying once you have used a phone with a full keyboard, it is still much better than the other keypad texting option, multitap.
The Gusto has a driving mode, which means that the phone will adjust the volume to high, turn off any vibrate settings and will read the incoming caller ID information aloud. The Gusto also comes with support for stereo Bluetooth headsets, and has several voice command options.
One of the strangest additions is a fake call feature, where a few presses of the speakerphone button will make the phone ring with a pre-set caller ID, to allow you to gracefully exit certain social situations. It's a cool little feature, that hopefully you don't have to overuse.
Performance (3 out of 5)
The overall performance of the Gusto was a little disappointing. There was sometimes a little lag as I moved through the menus, which was strange considering the phone didn't have much on it at the time. The lag only popped up a few times, but it was kind of annoying.
The call quality was fine, I could hear and be heard without issue using the Gusto's earpiece and mic. The clarity was a bit worse on the speakerphone, but not outside the acceptable levels for an entry-level speakerphone. The battery is rated up to 7 hours of talk time and I noticed no issues with the battery at all.
Verdict for the Samsung Gusto (3 out of 5)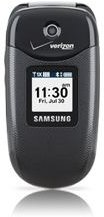 If you love feature-packed phones with state of the art technology, then obviously the Gusto isn't for you. But if you are just looking for a simple phone to talk and text on, you could do a lot worse. I wish the design of the phone was a little better, that the plastic didn't feel as cheap, but beyond that there isn't too much to really complain about. Don't expect the world if you buy this phone, but at the current price of free, with a 2 year contract and a $70 online discount from Verizon, the Gusto is a decent device.