Samsung Intensity- Pocket-Friendly Phone
Introduction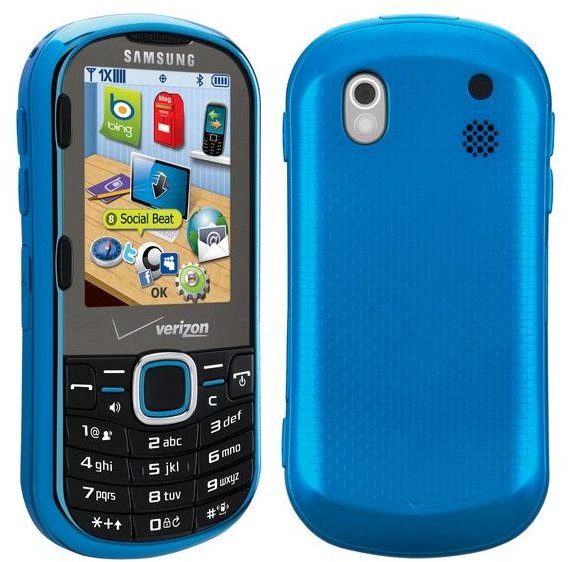 The Samsung Intensity II SCH-U460 is an eco-QWERTY phone, which is especially designed for the young crowd, just like the Samsung Gravity III. A sequel to the original Intensity, the pocket-friendly and text-friendly QWERTY phone for Verizon Wireless is built of recycled plastic that comprises of 35% of the mobile phone. The phone also features a horizontal full-slide out QWERTY keyboard, a normal keypad and provides an amazing user interface. The peanut-shaped Intensity II, introduced in September last year, comes in two different shades such as Deep Gray and Metallic Blue.
Priced for $49.99 after a $50 mail-in rebate alongside a new 2-year customer contract, the Intensity II boasts an eco-calculator that helps users calculate their own carbon footprint by keeping track of the efficiency of car fuel mileage and the estimated amount of carbon dioxide produced.
The follow-ups to cell phones are not new to us, and the sequel to the original Samsung Intensity is a valuable update for Verizon's line-up. Although most follow-ups resemble the originals in look and features, the Samsung Intensity II has an eco-friendly slant to add. Not unlike the Samsung Blue Earth and the Samsung Reclaim, the Intensity II's packaging is partly constructed of recycled materials and is printed with soy ink. Plus the small-sized box is constructed out of 60 % recycled paper.
The original Samsung Intensity U450 didn't have much to wow on the features front, but it definitely filled a gap in Verizon's line-up for a cost-effective messaging phone with a full sliding QWERTY keyboard.
The features of social-networking make this slide-out phone text-friendly. In the box, the excellent messaging-oriented handset also has a wall charger with a detachable microUSB cable, 1000mAh battery, and user guide. The Intensity II sports: 1.3 MP infrared camera with night vision, 2.2 inch QVGA screen with 240x320 pixel resolution, microSD card slot and Bluetooth. The 32GB cards are functional with the phone's micro-SD card slot. The handset also comes pre-installed with some social networking apps, which let users stay connected with their nearest ones on Twitter, Facebook, and additional SNS sites.
Design (4 out of 5)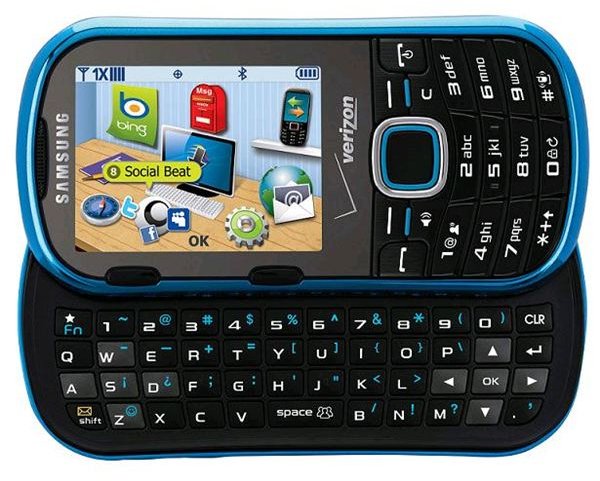 Design wise, the Intensity II U460, as said above, resembles the original Intensity U450. The Intensity II, owing to its sleek profile and curved edges, comfortably fits in the hand or pocket. Though it is made of plastic, it isn't as cheap as its predecessor, and feels sturdier.
Measuring just 2.2 inches, the updated display now provides 320x240 pixel resolution and has support for around 262K colors. Comparing the display of both the models, you will find that the Intensity II offers a better display than its predecessor, since the text and images from the Intensity 2 aren't pixelated and appear sharper.
The display now has a square rather than a circular d-pad below it that also makes it quite thumb-friendly. Disappointingly, the surrounding buttons like right and left soft key, back key and speakerphone are small in size and feel cramped together. Plus, the change in the design of the numeric keypad, although intended to be better, causes frequent misdials due to the close proximity and small size of the keys. The LG Cosmos does a good job here, since it has an easier and larger numeric keypad that can comfortably be operated with big hands. The features on its sides include: volume rocker, micro-USB port, 2.5-mm headset jack, voice command, camera key, and microSDHC memory card slot supporting up to 32GB cards.
Features (4 out of 5)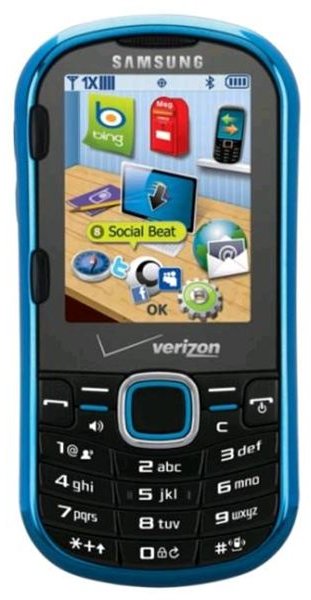 The Samsung Intensity II, on some fronts, may have some downsides, but on the features front, it boasts oodles of great features. Its phonebook can store around 1000 contacts, including multiple numbers, email addresses, picture, ringtones, IM screen name, street address and birthday. Plus, users are allowed to save contacts to 1 of 999 speed dial locations as well.
The handset allows two options for composing text messages. Users can either use the T9 predictive entry with the numeric keypad or can slide open the QWERTY keyboard. Additional messaging options are: Mobile Email that allows users to receive and send email via their IMAP or POP accounts and Mobile IM for being connected to people in their Windows Live AIM, and Yahoo! buddy lists. The Intensity II also boasts a new program, known as the Social Beat. This program allows users to hook their accounts up to Twitter, Facebook, Gtalk, MySpace, Gmail, and RSS.
Other than that, the Samsung Intensity II also comes with a 1.3MP camera, which really disappoints us with its quality because the pictures captured outside in day time are blurred in look with poor color accuracy, and have soft edges, while pictures taken indoor are the worst because they are grainy. The handset also doesn't have a flash, but it still has the capacity to capture images in total darkness with the help of infrared Night Vision mode, although the images are in black and white. There is no support for video recording.
The music player on the Intensity II plays back your MP3s much like the original Intensity, files are categorized by playlists, songs, artists, albums and genres. The player's skin can be changed between simple, visualizer, album art, and lyrics. Music quality, through the mono speaker, is pretty much cool on the back, but you are also able to hook the earbuds up to the 2.5-mm headset jack, or enjoy listening to music via Stereo Bluetooth connection. Disappointingly, there isn't any support for multitasking, thus, you cannot enjoy listening to music while texting.
The Samsung Intensity II U460, features wise, doesn't completely replicate the Samsung Intensity, but the majority of software features are still unchanged; such as Mobile Web 2.0 browser, VZ Navigator for GPS driving directions, appointment calendar, and ability to download games and ringtones.
Since the Intensity II, even now, is compatible with the slower 1X network in place of the quicker EVDO network, it offers slow data speeds, and there isn't any support for VCast Video streaming or VCast Music downloads. Plus, the device also brags of a new feature, called the Microsoft Bing search. This new feature allows you to do searches on the Web, VZW Media or Business Directory.
The Samsung Intensity II also boasts an internal memory of 105.5MB, while the original has about 31MB. Out of 105.5MB, only 12MB is worthwhile, while the remaining leaves enough space for apps installation or for pictures saving if a memory card isn't installed.
User Interface (3 out of 5)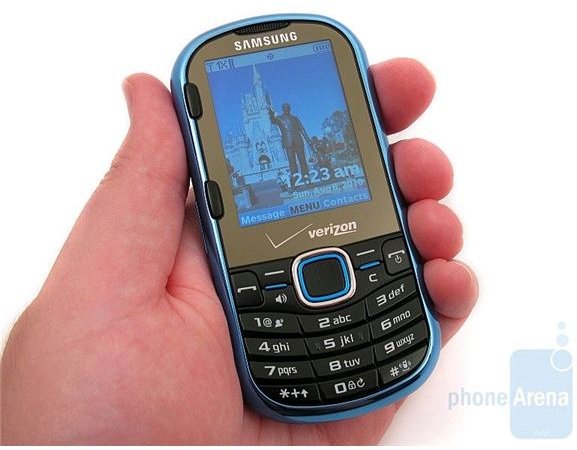 The Samsung Intensity II comes with an improved interface. It has got three themes including planet, slick black and pond. The theme of pond looks a lot like the theme of my place on the Intensity and Alias 2, as it displays a work-desk with 9 animated icons for accessing a variety of menus. Users are able to change the layouts of any theme between grid and tab view, list, font style, its color and the type of clock.
The newly-integrated Social Beat program helps users hook their accounts up for Twitter, Facebook, MySpace, G-mail, Gtalk, and RSS. The new program, on being tested with Facebook, could show the users their feed, inbox, wall and the list of their friends.
Plus, it allows users to update their status and upload a mobile photo but this is a very slow process, you may have to just wait, wait, and wait. So, just be ready to wait, because it may take around 3 minutes to sign in and view latest posts. Quite a few times, it totally stops functioning and you will have to click the Refresh quite a lot to have things load.
I cannot say if it's caused by the program or by the use of the slow 1x data network.
Performance (3 out of 5)
Performance wise, the Intensity II can be touted as a good performer, as while testing, it was found to offer pretty good voice quality. The voice of the caller, at both ends, was quite clear, loud and crisp. There wasn't any distortion or muffling. In fact, the voices, on both ends, sounded natural, but still they aren't better than the LG Cosmos. Despite all this, the integrated speakerphone proved to be a clear winner, because it wasn't just louder, but also didn't have any distortion.
Battery backup (3 out of 5)
The1000mAh battery on the Intensity II is a little up from the 960mAh on the Intensity, although both offer a talk-time of around 5 hours, and a standby time of around 12 days. During the testing, the Intensity II was noticed to offer around 5hrs of nonstop talktime that's 30 minutes longer than the Intensity.
Pros & Cons (4 out of 5)
The good: The Samsung Intensity II boasts of an eco-QWERTY keyboard, solid e-mail and messaging tools, and navigation extras and handy search. The compact, eye catching design and eco-conscious build double as a bonus.
The bad: The navigation keys feel a bit cramped, the 2.5 millimeter headset jack isn't as convenient as in other phones, you are not able to download music straight to the phone, and the call quality might have been much better.
The bottom line: The Intensity II is an amazing entry level phone for youths, thanks to a variety of communications and social networking tools. Though it does come with a few snags, its cost-effectiveness makes it good value for money.
Final Verdict (4 out of 5)
Thus, the Samsung Intensity II U460 is a pocket-friendly and text-friendly message phone, which does not need Verizon's $9.99 monthly data plan, used by more advanced phones, like the Samsung Rogue U820. Though it has copied much from the Intensity, except the upgraded QVGA display, some of its specs make it all the rage among mobile buffs. The setback with the phone is its use of the slower 1x network for data, but if you do not want the web browser or social networking software, then the Intensity II is really an excellent handset.