Detailed Review of the Samsung Hue
Samsung Hue SCH-R500
The Samsung Hue SCH-R500, or simply the Hue, is a great handset offering good voice call quality and a good array of features such as Bluetooth, music player, and 1.3 megapixel camera. This is a mid-priced handset that should be good enough for mobile phone users in need of basic texting, multimedia messaging and essential multimedia functions.
Design (4 out of 5)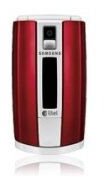 The Samsung Hue comes in a silver and red colored frame with a slim design and vertical display. It is slim with dimensions of 3.72 inches in length, 1.95 inches in width and 0.66 inches in depth and it is lightweight too at 3.34 ounces. A flip phone, the Samsung Hue has an external display that is place vertically on its front face. The screen features details such as network strength, battery life, time, date, and caller ID. The text is quite small, and users can only adjust the backlighting time and contrast resolution. On the upper part of the phone is the camera lens and mirror, but the camera does not use any flash. On its left spine is the jack for charger and headset as well as a volume rocker. On the right side is the micro SD slot and camera shutter.
The screen is capable of showing 262,000 colors and has a measure of 2.12 inches and resolution of 220 x 176 pixels. The screen, although noticeably bright, can display nice graphics and colors. With this design, the Samsung Hue deserves a good score.
User Interface (4 out of 5)
The Samsung Hue's navigational controls and keypads are not any different from other Samsung phones. There is a large, circular toggle as well as an OK button located on the central part of the keypad. There are also two soft keys, voice dialing key, speakerphone shortcut key, and buttons for talk and end on the front of the phone, although the buttons are noticeably flat and slippery. The Samsung Hue's keypad buttons have lights. Users won't have any troubles dialing and inputting text using the keypads which are also supported by bright backlighting. For it's user-friendly interface, it gets a score of 4 out of 5.
Features (4 out of 5)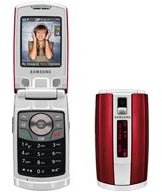 The Samsung Hue has a good range of features for texting, multimedia messaging, voice calling, and web browsing. For instance, it has a phone book capable of storing up to 500 contacts. Each contact can be kept with a maximum of four numbers and up to two email addresses. Contacts can also be assigned with polyphonic ringtones, MP3 tones, and photos. By supporting the My Circle service of Alltel, the phone allows unlimited voice calls to any 10 numbers, regardless of the network, and even on landlines.
The more basic features of the Hue include vibrate mode, speakerphone, notepad, calendar, alarm clock, calculator, world clock, tip calculator, unit converter, and stopwatch. The Samsung Hue also supports Bluetooth connections and voice commands.
The phone has a basic, 1.3 megapixel camera capable of taking pictures in six different resolutions ranging to a maximum 128 x 960 pixels. There is a good range of photo editing options such as color effects (8), shutter sounds (3), quality settings (3), fun frames (29), self timer, night mode, spot metering, brightness settings, multishot, white balance, and digital zoom. The camera's menu is well designed, making it easier for users to pick the setting most ideal for the picture they are taking. The camcorder has the same editing options, and users can use video clips for their multimedia messages at a maximum length of 15 seconds. The Hue also has a shared memory of 64 MB. For maximum storage, investing in a microSD card is recommended.
While the MP3 player of the Samsung Hue is not the most advanced, it comes with a nice set of features such as repeat and shuffle modes, as well as creation of playlists. It also has satisfying visualization options. Users can pick the color background; assign album art, and even the lyrics for selected songs.
The Samsung Hue is customizable thanks to the great variety of color themes, wallpapers, ringtones, clock formats and banners that users can choose from. They can also download more ringtones from the Axcess Web service that can be browsed through the wireless browser of the Hue. However, what is quite disappointing is the lack of games on this phone.
Performance (5 out of 5)
The Hue can be relied upon when making voice calls, as the audio quality is impeccable. Volume level is sufficient for the user to hear the voice on the other line. The Hue's speakerphone also works well on both ends.
The camera can be relied upon to capture good images, although not the most detailed. The music quality using the Hue's MP3 player is also pretty good. For the best output, using stereo speakers is recommended.
Verdict (4 out of 5)
Overall, the Samsung Hue is a good phone. The lack of games and faster web browser hurts, but for its price and the nice combination of features, this phone is certainly a good handset to get.